Grant Lynch has served as chairman of Talladega Superspeedway since 1994, the third-longest tenured track operator in NASCAR.
Yet in all that time, he has never found his way to victory lane after a race.
"I don't have to be the guy that gives out accolades," Lynch said. "I'm comfortable not being there, and I have other people that know how to do that.
"Also, I want the teams to spend time with the sponsors in Victory Lane because they're the ones that pay a lot of money to put on these races. It's just something I do."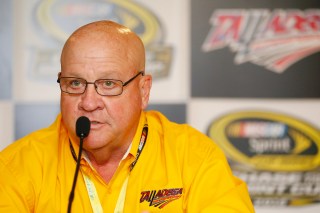 While winning drivers and teams are celebrating, Lynch is usually found directing operations to get race fans on their way out of the track as quickly as possible.
"Bill France Jr. once told me, 'It's your job to get these people out of here so they'll come back.' I believe Bill France Jr.," Lynch said.
It's one of many valuable lessons Lynch learned from France, his former boss. With France's mentoring and leadership, Lynch has turned Talladega into a must-see track on any race fan's bucket list.
NASCAR RETURNS TO 'DEGA THIS WEEKEND
For the 47th time in his tenure, Lynch throws open the gates and doors to his second home, welcoming tens of thousands of fans to this weekend's racing action for the NASCAR Cup and Xfinity series.
During his time as head of Talladega, Lynch has elevated the fan experience with enhancements such as unlimited free camping, alcohol-free campgrounds (even though Talladega is still known for its parties) and Sunday morning church services.
Lynch is the third-longest serving track operator in NASCAR behind Martinsville Speedway's Clay Campbell (assumed his role in 1988) and Atlanta Motor Speedway's Ed Clark (1992) – who are also among his best friends.
But Lynch is more than just a track operator. For several years, he split that role with a role as a high-level operative for parent company International Speedway Corporation, which included overseeing the development of both Kansas and Chicagoland speedways.
He also flew to Washington State 70 times within a two-year period to seek legislative support to build a new racetrack in the Pacific Northwest.
"I'm not known for doing that because y'all see me two times a year at the races," Lynch said. "Most people assume I've been here all the time, but I haven't been here as long as people would think."
IT ALL BEGAN BY DRIVING A SHOW CAR
Lynch has had a long career in motorsports. He began as a show car driver for RJ Reynolds, rising to that company's Senior Manager of Operations and Public Relations during its tenure as NASCAR's primary sponsor, before moving to Talladega in 1993 as general manager.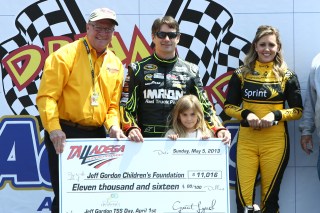 He learned his duties at the track from – and succeeded – a most familiar name in the sport: NASCAR Vice Chairman Mike Helton, who was Talladega Superspeedway's president before handing the reins to Lynch.
"Mike brought me into the fold very quickly and said, 'Here's the deal: I'm going to run May (1993), and you follow me around. And then you're going to run July (1993) and I'll see how you do. And if you do good, then I'll plan to get out of your way.'
"He mentored me and showed me what to do and then he got out of my way. Once I took over, the sport was just blowing up and we grabbed a hold of it, rode it as hard as anybody did and built the place to what we built it to."
A NEW ERA FOR NASCAR — AND TALLADEGA
Like pretty much every other NASCAR track today, Talladega has gone through an evolution due to the downturn in the economy, less demand for tickets and fewer fans attending races.
Lynch remains optimistic that things are turning around for both his track and the sport.
"Of course, we're in a little downturn now and now we're refining it," he said. "We're taking the seats that used to be uncomfortable, the little 18-inch chair back seats – I know I can't fit into an 18-inch seat – and now they're 22 inches wide in the towers and 21 inches wide elsewhere.
"We've spent money wisely here and continue to do things for the fans to tell them we don't just want you here for the races, we want you here for the concerts, for the Big One on the Boulevard party, and we want you to have a good time."
Even though he's been at Talladega for nearly a quarter century, Lynch credits his development as an administrator to the late Bill France Jr. and ISC chairwoman Lesa France Kennedy, who both hired him.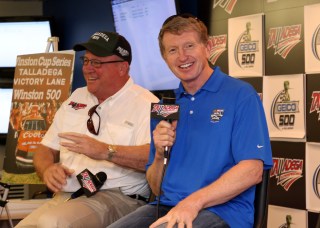 At the time, ISC only owned only Daytona, Talladega, Darlington and half of Watkins Glen. Since then, with Lynch at the helm of much of its development, ISC has grown to own 12 tracks from Watkins Glen in New York to Auto Club Speedway in California.
"To have had the attention that I got from Bill France Jr. when I was learning how to run this place, it's hard for people to understand in the fast-paced environment we have today, how many phone calls I got from Bill saying 'What are you doing about so-and-so?'" Lynch said. "I became a much better track operator because of the attention Bill and Lesa gave me as I was coming up."
ALABAMA HAS BEEN A GREAT HOME
Even though he grew up in North Carolina, it's been Sweet Home Alabama for Lynch and his family for nearly 25 years.
"It's a place I love," he said. "The state of Alabama, when we moved here, I'm a big outdoorsman, and it offers so much in natural resources throughout the state to experience. Plus, my girls went through school here, then both went to college at Auburn and both are now in Birmingham, so that anchors us down to the area as well. It's our home."
Lynch is active in the community, serving on a various board of directors, and is involved in a number of charitable endeavors, including the Alabama Institute for the Blind and Deaf.
Sitting on a site of more than 400 acres, Talladega's overall footprint is larger than that of sister track in Daytona. Its infield is so large that some have joked you could fit a small third-world country in it.
Or, as Lynch likes to say – especially since he's deep in football country: "We can put every SEC football stadium inside Talladega … it'll hold all 14 stadiums. Now that's big!"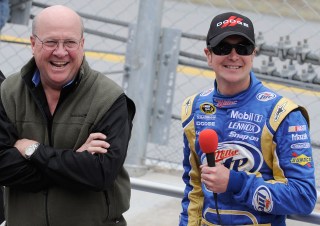 But like Dale Earnhardt Jr., Jeff Gordon and Tony Stewart, the checkered flag is slowly coming into view as Lynch eyes his own eventual retirement.
"I'm in my early 60s and I don't want to work forever, but at the same time, people are living a lot longer," he said. "I plan on working some more years. We're obviously going to be going through something with Dale Jr. retiring, which is another challenge we'll face going forward as a speedway, and I'd hate to just bail on something like that coming down the pike.
"I want to continue to work. I don't know if I want to work 10 more years, but I'm probably going to work more than one or two and then see when it's time for me to leave.
"At some point, everybody is going to ride off into the sunset and I hope to be smart about making that decision and stay long enough that I don't want to be un-useful or wear out my welcome, either."
WHAT WILL NASCAR AND TALLADEGA DO WITHOUT DALE JR?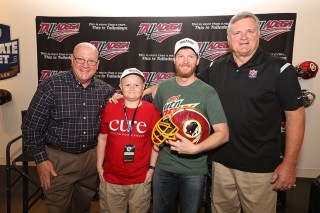 This will be a rather unique weekend at 'Dega, as it will be Earnhardt's next-to-last scheduled race at his most successful racetrack (six wins). While Lynch admits he'll miss Junior after he retires from racing, he's bullish on NASCAR's next generation.
"The greatest thing we have going for us is the names we have coming up right now and how good these young people are," Lynch said. "You see what an Erik Jones and Chase Elliott and others are doing right now.
"The teams are very strong right now, the finances are working for everybody right now, the sport is strong, we're not what we were but we're still very important in the motorsports world in the United States without a doubt. I think we're going to have a time where we're going to find some new fans that are going to attach to some new drivers and go on.
"I'm positive on the fact that we don't need to quit what we're doing here at Talladega because it's generating good interest with the race fans, we're beating most of our peers in a lot of the things we sell, and I think we have a bright future here just because of what we can do here that other people can't."
Come Saturday and Sunday, Lynch won't be in victory lane once again. But that's the way he likes it. It's not about him, it's about the drivers and the fans – and that's the way he wants it to continue.
"I've really enjoyed what I've gotten to do," he said. "I don't know what I would trade it for. I've gotten to see a lot of places and go to a lot of places and meet a lot of people and worked with a lot of great people at the track and have been involved with some of the greatest fans in the world, so that's a pretty blessed life."

TALLADEGA — HOME OF SPEED AND RECORDS
Talladega Superspeedway has seen a number of NASCAR records set there, most during Grant Lynch's tenure.
Here's some of 'Dega's most notable racing achievements:
* All-Time qualifying speed record: 212.809 mph – Bill Elliott (1987).
* Elliott also holds the record for most poles at TSS (8).
* All-Time race speed record at TSS: 188.354 mph – Mark Martin (1997, which was also the first caution-free race ever contested there).
* Closest NASCAR Cup series finish: 2011 – Jimmie Johnson over Clint Bowyer (.002 seconds).
* Closest NASCAR Xfinity Series finish: .1999 – Terry Labonte over Joe Nemechek (.002 seconds)
* Closest NASCAR Camping World Truck Series finish: 2010 – Kyle Busch over Aric Almirola (.002 seconds)
* Most lead changes in a NASCAR Cup race: 88 – April 25, 2010 and April 17, 2011
* Most Leaders in a single NASCAR Cup race at TSS: 29 – April 25, 2010