Joey Logano arrived to NASCAR amid enormous expectations.
And cake.
Joe Gibbs Racing celebrated Logano's 18th birthday with a press conference and cake at Charlotte Motor Speedway in 2008. The occasion was about possibilities with thoughts of how the heralded youngster might reshape the sport as Jeff Gordon did.
Less than three weeks later, Logano won at Kentucky Speedway in his third Xfinity Series start. He won as a Cup rookie the following year at New Hampshire Motor Speedway.
Such moments, though, were rare. Hurt by NASCAR's decision to ban testing, Logano struggled in taking over Tony Stewart's ride. Logano struggled with leading a team that included crew members old enough to be his father. Logano struggled with confidence that waned as results yo-yoed.
After four mediocre seasons, the struggles proved to be too much. Joe Gibbs Racing replaced Logano with Matt Kenseth.
Sunday, in his 300th career Cup start, Logano celebrated his 18th victory. After being applauded for the accomplishment, Logano sounded a measured tone.
"Eighteen out of 300 doesn't sound very good, does it?'' he said. "But the first 150 were pretty bad.''
No argument there but if you look at the last 150 Cup races — dating to the Bristol spring race in March 2013 — Logano has one of the sport's best records.
Only Jimmie Johnson (21 wins) has more victories during that time than Logano (16), who is tied with Kevin Harvick. No driver has more top-five finishes (71) and top 10s (103) than Logano. Not even Johnson, Harvick, Kyle Busch, Brad Keselowski can top Logano.
The 2015 Daytona 500 winner is doing this at age 26. And he's signed with Team Penske through at least 2022, creating the stability that can help a driver flourish. In this era of competitors retiring in their early 40s, Logano still figures to have 16 years or so in the series.
If he averages three wins a year during the next 16 seasons — he's averaged 3.2 wins a season the previous five years — he'd be 10 shy of Dale Earnhardt's total of 76 career wins.
If Logano averages 3.5 wins a year over the next 16 seasons, he'd be two shy of Earnhardt's total.
Former champion Dale Jarrett says that Logano has the hard-charging mindset similar to Earnhardt in that "you have the position that he wants.''
With Jeff Gordon and Tony Stewart retiring, Carl Edwards stepping away and Dale Earnhardt Jr. leaving after this season, there's a greater chance for Logano to become one of the sport's signature drivers the next decade and beyond.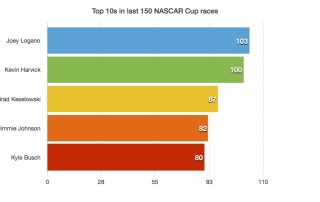 To make that leap, Logano needs championships. That doesn't mean he'll become a fan favorite — it's hard to imagine at this point the crowd at Martinsville showering him with as much love as they gave Kenseth the day Kenseth wrecked Logano in retaliation for their incident at Kansas in 2015 — but if he can collect multiple titles, Logano could become a lightning rod that will have fans, whether they like him or not, paying attention.
He's one of three drivers to make it to the championship race twice in the last years. The others are Harvick and Busch.
But before one places Logano on the pedestal with some of the sport's greats, challenges remain. As the sport goes through this transition, it creates opportunities for other drivers.
Some young drivers are getting off to faster starts than Logano. In Logano's first 150 races, he had two wins, 16 top fives and 41 top 10s.
Kyle Larson has topped Logano's totals in 120 races. Larson has two wins, 25 top fives and 48 top 10s. Chase Elliott, who has run 50 races, is winless but has 13 top fives and 23 top 10s.
When Johnson moved to Cup, he had one win in what is the Xfintiy Series. No one thought he'd tie Richard Petty and Dale Earnhardt with seven championships. Maybe Logano is the next Johnson. Or maybe the next Johnson is just starting in Cup. Or yet to race in Cup.
Either way, Logano is on a path that could see him in the top 10 in career wins when he climbs from the car a last time.
Follow @dustinlong and on Facebook