Once you've had a taste of driving a NASCAR car or truck, it's hard to resist attempts to come back.
Such is the case for action sports star Travis Pastrana, who announced Monday that he will test tomorrow (May 2) at Charlotte Motor Speedway and compete in the Camping World Truck Series race at Las Vegas Motor Speedway on Sept. 30.
Pastrana will drive the No. 45 Chevrolet Silverado for Niece Motorsports in that race.
"I love NASCAR, and Las Vegas is always a good time, so I'm really looking forward to racing there later this season," Pastrana said in a media release. "The seat time at Charlotte will be a huge help for me to get up to speed and for the team to get a solid base setup for when we show up to race later in the year.
"I've actually worked with several of the people on this team in the past. It's a fun group and we have a good rapport."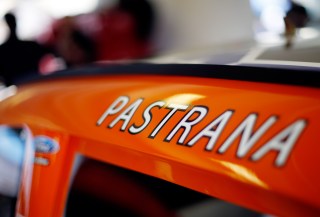 Pastrana has long sought to return to NASCAR racing, and the opportunity with Niece Motorsports is what he was looking for.
"NASCAR is something that challenges me," Pastrana said. "I've done a lot of work over the past couple of years to try and improve my pavement skills.
"I'm racing my first full year of Rally (America) since 2010, and I'm fresh off my first win in over a year, so it's really exciting to be able to get behind the wheel again and see what we can do in the Truck Series."
It will be Pastrana's first NASCAR race of any type since he competed in a Truck Series race at Las Vegas in 2015 (finished 16th).
Prior to that, he ran all 33 races in the Xfinity Series in 2013, with a season-best finish of ninth in the spring race at Richmond as well as three other tenth-place finishes. He also earned one pole that year at Talladega.
One bonus for Pastrana is he'll have Cody Efaw as his crew chief on the No. 45 truck. Efaw served as Pastrana's car chief in the 2013 Xfinity Series season.
"Any time you can team up with someone you've worked well with in the past, there's obviously a level of comfort there," Pastrana said. "I know the group of guys that Niece Motorsports has assembled is going to give me a great shot at running well."
Niece Motorsports is competing on a part-time schedule in the Truck Series in 2017, with plans to race full-time in 2018.