RICHMOND, Va. – Kyle Busch was absolutely correct.
The Joe Gibbs Racing justifiably was upset after a shot at victory was ripped away by a few guys staring at a high-definition monitor a few hundred feet above.
NASCAR was absolutely correct.
Busch broke the law by putting the right tires of his No. 18 Toyota on the pit lane commitment box.
Is it possible both NASCAR and Busch can be right despite seeming on opposite sides of a controversy Sunday?
Yes. Let's explain by starting with this fact:
A cheap foul greatly affected the outcome Sunday at Richmond International Raceway.
Busch violated a rule that also caught five more drivers in the Toyota Owners 400, but none was more damaging.
In a twisted way, this is the rigid consistency and officiating sought by Busch, who complained last year about the capriciousness of NASCAR debris cautions. It's a penalty in the same way as a pit crew member spotted going over the wall a millisecond too early. There is definitive video evidence.
But refereeing a sporting event isn't quite the same as presiding over a court of law.
Officiating is an art of resisting the temptation to meddle in the natural course and rhythm. There are calls that basketball referees abstain from making as a game gets tougher while the clock grows shorter
Busch's infraction wasn't the equivalent of a touch foul – as NBCSN analyst Steve Letarte points out, putting a tire even an inch over the commitment box is akin to a player stepping on a boundary line. It can't be overlooked in the way that officials can swallow their whistles in the closing minutes of a game when there is incidental contact.
That truly is a judgment call, or "Balls and strikes," as Busch curtly referred to them Monday on national TV in a dismissively short interview that was quintessentially him.
However, by reducing the size of its voluminous rulebook, NASCAR could provide more dispensation and acknowledge it isn't wise to disrupt the outcome with a game-changing call for something so ticky-tack as this.
The spirit of the commitment rule, spawned more than a decade ago in fuzzy origins traceable only to the rise of insanely competitive pit stops, is to dissuade drivers from aggressively diving into the pits. Such moves have put pit crews at risk and increased the likelihood of trailing cars in fender-benders.
Not the case with Busch, who fully was committed to making a pit stop when he barely grazed the orange box. Even race winner Joey Logano conceded the second-place car is in a difficult position when the leader cuts hard left.
"I was able to get down" under the box, Logano said. "But when you're the trailing car, you're looking at a rear spoiler, so you're not 100 percent sure where that box is. It's a tough situation."
NASCAR's enforcement of the rule is strictly by the letter with a passive-aggressive vengeance that would have made Bill Lumbergh proud.
"Hey, Kyle. What's happening? Did you get the preseason memo on pit road entry? Yeah, we're going to need you to enter with all FOUR tires below the box, umm kay? Thanks. And if you could avoid throwing a punch at Joey in victory lane, that would be great."
Busch broke the rule.
Whether there should be such a rule is another discussion.
There has been leniency in this application before – drivers have been allowed to put their tires on the box, and a cone also had been used at some tracks prior to this season.
After some grumbling from several drivers (though this wasn't a lobbying effort by the Cup Drivers Council), NASCAR made a well-intentioned attempt to streamline pit commitment and implemented uniform rules to avoid confusion from track to track.
It was a nice thought … but did the result – four tires below the orange box, ALWAYS — really need to be so rigid?
The overarching problem – from cars specs to pit procedures — is there are too many rules. More importantly, too many need as much simplifying and updating as the U.S. tax code.
NASCAR should continue taking a cue from golf, which is overhauling its Byzantine rules of play for 2019 into something that any duffer can comprehend. This was in the wake of some questionable applications of the law.
Sports isn't always served so well by strict constructionism. Better to play the role of an Oliver Wendell Holmes than William Rehnquist.
There are repercussions for layering a rulebook with too many confounding codicils.
But regardless of that, there also are consequences for breaking the rules, too, as they currently are written.
Maybe that's why Busch said only three words while marching past the scene of the crime Sunday on his way to the garage.
A few other observations the past weekend at Richmond International Raceway:
XXX
NASCAR chairman Brian France's impromptu appearance in the Richmond media center Sunday was notable if only because he didn't address the retirements of Jeff Gordon and Tony Stewart in the same manner as with Dale Earnhardt Jr.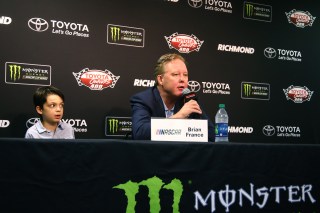 There are many reasons for that – Earnhardt was the last of the lot to announce, and it comes amidst a timely youth movement in Cup – but this also was another side of France, who brought 6-year-old son Luke to the dais.
The stock-car czar was more disarming and graciously thanked the news media for its coverage (in a stark departure from his state of the sport address last November when he was combative and fiery).
Outwardly, this means little for France, who is at 54 and in his 14th year of running the show. The third-generation leader won't be changing his approach or style, but it might be indicative of a positive shift in how NASCAR tells its story in the future.
XXX
When asked by NBCSports.com Sunday about the team sponsorship environment, France was sanguine about the prospects.
"It's only April," he said. "Those kind of decisions from Corporate America are typically made in August or September.
"Pick a year, we always see somebody — Richard Petty at one point — we always see at one point, why are they not doing well in that area for one reason or another. We've always had that. That's not anything abnormal. It always gets worked out over time because the property works in a way for many companies that they can't do in any other sport. They can't own a team in any other sport as they can here.'"
Those are encouraging words, but they might bear weeks of repeating while awaiting significant movement on the outlook for the 2018 finances of many teams.
Stewart-Haas Racing still needs a long-term major backer for the No. 10 Ford of Danica Patrick, and the team has struggled to bring Clint Bowyer's No. 14 to the level of sponsorship enjoyed by predecessor Tony Stewart.
At Hendrick Motorsports, Lowe's is in a contract year with seven-time champion Jimmie Johnson (who has hinted he would like to drive a few more seasons), and Kasey Kahne's No. 5 will need to replace Farmers Insurance and fill out some other holes for 2018.
Meanwhile, Chip Ganassi Racing is trying to keep Target with points leader Kyle Larson.
The calendar has flipped to May since France's news conference – hopefully the Fortune 500 cash spigot soon flips on again, too.
XXX
Denny Hamlin recently put the odds at 50-50 that Carl Edwards would return next season, but the odds seem less likely that his Cup comeback occurs at Joe Gibbs Racing in 2018.
Though his contract status remains uncertain, there have been some concrete signs that Matt Kenseth, 45, wants to drive beyond this season. It still might be dependent on sewing up sponsorship (the recent signing of Circle K is encouraging), but Kenseth and Joe Gibbs Racing seem committed to working things out.
That still wouldn't leave Edwards, 37, lacking for Cup opportunities if he tires of the farming life in Columbia, Missouri. If Hendrick decides on a big name and big salary (perhaps in hopes of snagging a big sponsor) to replace Dale Earnhardt Jr., the affable and corporate friendly Edwards would make the most sense.
XXX
A high-quality race for the second consecutive year in daytime at Richmond still drew a disappointing crowd. The Richmond Times-Dispatch quoted track president Dennis Bickmeier declaring a move back to a Saturday night slot is "on the table."
It would be better if it weren't.
Just for sheer diversity, it's good to have annual day and night options at the 0.75-mile oval (a la Bristol Motor Speedway). But beyond that, how do RIR and parent company International Speedway Corp. walk away from the Sunday sunshine that produced four-wide racing on a short track?
From 1992-2008, Richmond sold every one of its seats for 33 consecutive races. The racing in the past two late April races has been as strong or stronger than it was then – and there are far fewer seats to sell now.
In a mother lode of race fans such as the Old Dominion, there's a path forward to attracting the crowds that once flocked to Richmond in the spring. But it isn't by reverting to Saturday night.