Daytona 500 winner Kurt Busch has led one lap since his season-opening victory, dealt with alternator issues in back-to-back races, and was eliminated by an accident in another race.
The result is that the five-time Bristol winner enters this weekend's Cup race at the high-banked, half-mile track 15th in points.
"We've got to be better as a race team,'' crew chief Tony Gibson said Tuesday on "Tradin' Paint" on SiriusXM NASCAR Radio. "We don't feel like we're running strong enough. (Teammate Clint) Bowyer has been carrying the flag over here at our place, he's been doing extremely well.''
Bowyer, who joined Stewart-Haas Racing this season, is the team's highest-ranked driver in the points. He's ninth. Kevin Harvick is 10th, Busch 15th and Danica Patrick 29th.
Things have not gone well for Busch since his last-lap victory in the Daytona 500. After placing seventh at Atlanta, alternator issues thwarted his efforts at Las Vegas (30th) and Phoenix (25th). He placed 24th at Auto Club Speedway and was 37th after he was collected in a crash at Martinsville. He rebounded to finish 10th at Texas before Easter.
Gibson said the holiday break came at a good time for the team.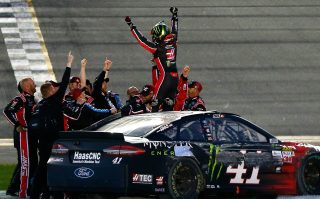 "I believe that everybody just needed to catch their breath because so many things had happened, the highs and the lows and they were coming so fast,'' Gibson told SiriusXM NASCAR Radio. "You just need downtime no matter what. It's the guys that are winning every weekend and running top five every week that don't want the break. I felt like we were kind of middle of the road. We had two good weeks, and we had three bad weeks and another good week.''
Gibson admits a challenge for SHR has been the switch from Chevrolet to Ford this season and understanding the car.
"We knew that there would probably be some ups and downs and we were kind of preparing ourselves for that,'' Gibson said of the manufacturer change."Daytona, a lot of it is luck, preparation meets opportunity, that's luck. We did our homework there and all our cars ran really well. We dodged some bullets. We fixed some damage and won it and were on a high, but in the back of your mind, going into Atlanta and those places, it was such an unknown for us as a company what we were going to have going into some of these other racetracks.
"We know that if at least one of our cars is running good or two of them, we can do it. Our company has the capability of running up front. We've just got to find something. This aero balance has been really, really messing with Kurt a little bit. It's been a different, different program for him. We've been in the Ford simulator a lot trying to work on balances and things to do to try to catch up.
"We are getting better. We're learning. Went to Texas and had a great race there and a good solid day. I think we learned some things. We'll try to take this momentum from this last race at Texas and build on that.''