Eight months after Lauren Stewart's "world had crashed" with the death of fiancee Bryan Clauson, Stewart met the man whose life continued because of it.
Clauson, a two-time U.S. Auto Club national sprint car and midget car champion, died Aug. 7 at 27 from injuries sustained in the Belleville Midget Nationals a day earlier.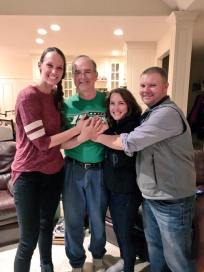 Clauson competed in the Indianapolis 500 three times, including last year, and made 26 starts in the Xfinity Series from 2007-08.
Stewart wrote about her experience of losing Clauson – who was an organ donor – and working up the courage to meet "Dan the Heart Man" on her blog.
"My heart was full, bursting, overflowing with love. Last night, my heart felt healed for the first time in eight months. My heart was happy because I got to feel and hear Bryan's heartbeat again. Bryan's heart is living on – beating inside of Dan the Heart Man."
Stewart traveled to Omaha, Nebraska, to meet "Dan the Heart Man" and his family during the Easter weekend, but the idea of the trip was one she debated with herself.
"I didn't want to meet Dan. I did at first, but in the last month or so, I decided I didn't want to make the trip to Omaha. I was doing it for my family – mainly for Bryan's mom. I wanted to be there to support them because they have done everything to support me over the last eight months. I was scared. Anxious. Nervous. All of that. But the real reason I didn't want to meet Dan was simple – he wasn't Bryan."
During her time with Dan and his family, Stewart learned he shared a few personality traits with Clauson and that he calls the heart he received "Bryan."
"When Dan tells his life story, he has a way of making it sound almost boring (but he didn't fool me!)…. almost like someone else I knew. Bryan always downplayed his career and accomplishments, especially when talking to new people. In that regard, Dan reminds me so much of B."
Read the rest of Stewart's blog to learn how Clauson's legacy is being kept alive by "Dan the Heart Man."