Richard Petty has been through a lot in nearly 80 years of life and 35 years of NASCAR racing.
"The King" has broken bones, had parts of his stomach and gallbladder removed and survived a brush with prostate cancer in 1995.
"I got a really good DNA as far as healing," Petty said last month at the NASCAR Hall of Fame.
After all the battle scars sustained through 1,184 Cup races and afterward, Petty feels like he did the day he retired in 1992.
"My daddy (Lee Petty) always said,' I don't know how you're supposed to feel when you're this old,' " Petty said. "So, I don't know if I'm 80 or 70 or 50. Basically, physically … I don't hurt nowhere right now. … I don't feel like I feel any different than 10 years ago, 20 years ago or 30 years ago."
Still a constant presence on the Cup circuit, the seven-time NASCAR champion can be seen in the garage and pits in his trademark cowboy hat and sunglasses serving in his roles of team owner and NASCAR ambassador.
And don't expect that to change anytime soon.
"That is part of it," Petty said. "If you own the team and you're not interested in going to see what happens, that can't be good morale for the team. I go because I want to go, too. I enjoy being around and watching all the stuff. You go in there and try to give them … they don't listen to what I want them to do. At least give them support, 'You guys can do this, you can, just keep working at it.' It's a confidence-builder for them to know I pay the bills, but I'm also interested in what comes out in the end."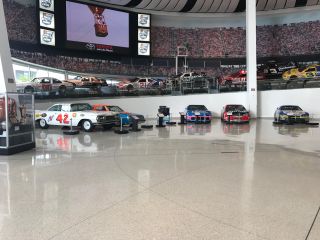 Three months from celebrating his 80th birthday (on July 2), Petty is able to see his family's story documented in the Hall of Fame's "Petty: Building a Family Legacy" exhibit, which runs until July.
But according to NBC Sports analyst Kyle Petty, his father wouldn't have made it this far if not for fulfilling his desire to keep tabs on Richard Petty Motorsports and NASCAR.
"My sisters and I have talked about it," Kyle Petty said. "If it wasn't for racing, he wouldn't make it to 80. … Because he would just sit down and stop. He wouldn't have anything to do.
"If it wasn't for racing people and being able to walk through that garage and talk to people, yeah, he wouldn't have made it this far."
His father agrees.
"Mentally, I couldn't do it," Richard Petty said. "I'm a strong believer in mind over matter. You do what your mind tells you to do, whether your body wants to do it or whatever. I think that's what kept me going from that standpoint."
If not for racing, the Petty family's trajectory might not have taken them far from Level Cross, North Carolina, where Lee and Elizabeth Petty raised their family. Richard and Kyle attended the same school in Randleman. The small student body meant Richard was one of 13 or 14 members of the football team and a performer in the marching band that played at halftime.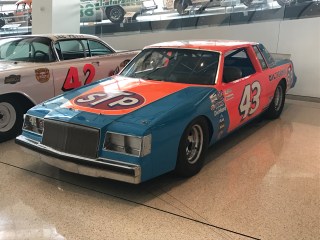 This part of "The King's" life is touched on in the Hall of Fame exhibit by his trumpet.
But it was the music provided by stock-car engines that fueled the Pettys.
"We lived on a dirt road and all the guys around us were the same way," Richard Petty said. "They had nothing. So I didn't know that until dad started racing. We'd go to Greensboro, we'd go to Martinsville or we'd go to Philadelphia. They had indoor plumbing, this is great. We grew up in that era. So that made you appreciate all the stuff going on. … Racing was all I ever knew. We raised a garden, so I knew how to raise a garden, but I didn't know how to farm. I didn't know how to be in the lumber business like my granddaddy was. I didn't want to be in the liquor business."
Because the Pettys pursued racing instead of farming – and liquor – the Buick Regal driven by Richard Petty to his seventh and final Daytona 500 win in 1981 sits next to a replica of the 1959 Oldsmobile Lee Petty drove in his own Hall of Fame career.
Not far away is the No. 42 Pontiac Grand Prix Kyle Petty drove to one of his eight Cup wins. Next to it is a No. 45 Monte Carlo Kyle's son Adam drove in his tragically brief career.
Display cases show letters, typewriters, pictures, trophies and oddities that make up the Petty story.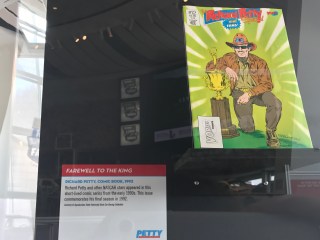 Not many athletes, in auto racing or any sport, can say the end of their career was honored by a comic book.
The exhibit chronicles the family dynasty and its many contributors, from Richard's brother and engine builder, Maurice Petty, to his cousin and crew chief, Dale Inman, and his late wife, Lynda.
What does Richard Petty hope today's generation of drivers can learn from the family oriented exhibit and the Hall of Fame as whole?
"I would like for the next generations coming in to go back and appreciate what Bobby Allison, David Pearson, Lee Petty and Fireball Roberts did," he said. "Because if it hadn't been for them, they wouldn't be doing what they're doing. I hope they don't get away from who built the fan base. I was just part of the foundation. … It took all of us to do it. I hope that they don't think they're the ones making it happen."
But Richard Petty still is helping to build the sport, 25 years after he last took a checkered flag.
Don't expect him to ever hold a news conference in Daytona announcing he's stepping away from the sport full time.
"That would go over like a lead balloon," he said. "I don't want to start a new life. I've been going to races for 68 years since 1949. I don't know I wouldn't cut back on going to all the races. But I'm still interested in being nosy enough to know who's doing what."