Tony Stewart retired at 45. Jeff Gordon retired at 44, returned to help out Dale Earnhardt Jr., and retired again at 45.
Jimmie Johnson, 41, says it's unlikely he'll be racing by the time he reaches 45. Don't be surprised if 42-year-old Dale Earnhardt Jr. isn't far behind his teammate.
Then there are drivers such as NASCAR icon Harry Gant. "Handsome Harry" retired from the NASCAR Cup and Xfinity Series in 1994 at the age of 54 and then returned to drive 11 races in the Camping World Truck Series two years later at the age of 56.
"My last win at Atlanta in a Busch car, I was 54," he said, adding with a laugh, "Then I didn't want to quit."
He retired again at the end of the 1996 season and spent his "retirement" racing on short tracks across the country until he was 70 in 2010.
Now, the 77-year-old Gant officially is retired from all forms of racing, but he's as busy as he was when he was behind the wheel. These days, Gant tends to a herd of 100 Black Angus cattle on his 300-acre ranch in Taylorsville, North Carolina, rides his motorcycle around the country and is enjoying the good life.
He still follows NASCAR racing somewhat, but where the sport was the end-all and be-all for Gant for 30 years – from his first race as a sportsman driver at Hickory Motor Speedway in 1966 – now Gant is more of a casual observer.
"I watch the races on TV when I can," he told NBC Sports. "I like to watch the Truck and (Xfinity) races. I don't go out of my way, but if I'm not doing anything, I'll watch it then."
Then, he adds with a laugh, "Sometimes, I'll go to sleep at night watching the night races."
STILL A FAN FAVORITE
Since his last Truck race in 1996, Gant has attended only two NASCAR Cup races in person. One was a few years ago at Texas Motor Speedway, and the other was late September when he took part in the Throwback Weekend festivities at Darlington Raceway.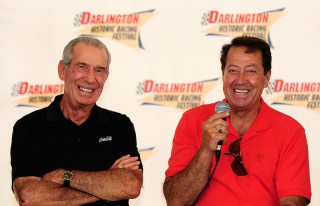 One of the biggest highlights of that weekend was when Gant swung back behind the wheel of his legendary Skoal Bandit car and took a parade lap, which drew huge applause.
It was apparent that even though he hadn't raced in 20 years, Gant was still a fan favorite at the "Track Too Tough To Tame." He received some of the loudest applause of the NASCAR greats who attended and was swamped by fans welcoming him back as if he never had left.
Yet Gant also noticed something. While he enjoyed the attention, Gant admitted that the NASCAR of his era is not the same NASCAR of today.
"It was very strange being there because I really didn't know anybody there," he said. "I didn't know any of the crew guys, crew chiefs, drivers, didn't know anybody except just a few older people I knew and older fans.
"It's a somewhat different ballgame when I was racing. It's hard to put your finger on anything, there's just so many little things that were different back then."
Gant's former crew chief, Andy Petree, brought back the old gang together in this tweet last year from Darlington:
SHORT-TRACK SUPERSTAR BEFORE HE CAME TO WINSTON CUP
While it was in NASCAR Cup and Xfinity races that Gant earned the most notoriety, he was a short-track driver first and foremost.
Sure, he earned 18 wins in the Cup Series and finished a career-best second in the season standings in 1984 and won another 21 races in the Xfinity ranks. But Gant earned more than 300 wins in the lower tiers of NASCAR racing, including the Sportsman championship in 1972-74. He also finished runner-up three times in what is today the Xfinity Series (1969, '76 and '77).
He paid his dues and served his racing apprenticeship before he cashed in with the then-Winston Cup Series.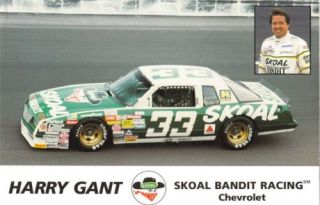 "Back in the day, you had David Pearson, Cale Yarborough, Bobby Allison, Richard Petty – all them drivers – they started out not as young as they do now," Gant said. "I started racing when I was 24 in a hobby car at Hickory.
"When I got to Winston Cup, I ran for Rookie of the Year in 1979 (at the age of 39 and competed against fellow rookies Dale Earnhardt and Terry Labonte), and when I first ran for (longtime sponsor) Skoal, I was 41 years old (1981).
"I was 42 before I won my first race in Cup (1982 Martinsville)."
TODAY'S YOUNG DRIVERS NOT PAYING ENOUGH DUES
Gant said that young drivers of today are jumping to the Cup Series much earlier than his era. In so doing, the young guns are not able to build the same type of large and loyal fan bases that drivers developed from their early days of Sportsman racing before moving up to Cup.
"We raced a lot of years, early years, with Sportsman cars, things like that," he said. "Now, you see a guy who's 20, racing in a Truck and then racing in NASCAR Cup, they haven't had enough time to get a fan base. That's what I think right now the problem today is the fan base for the new guys coming in to race.
"The other part of the problem is you have young guys that aren't really car guys. Like me, I have always been into cars from the age of 18 or 19 years old, racing short tracks, dirt cars, sprint cars, all them things. I think the young people now don't really associate with the young people that race, and the models of cars don't matter to a lot of them."
Gant still likes NASCAR racing but readily admits, "It's just a lot of difference. Unless you were there, you can't really pinpoint everything. Everything is more business-like today than it was.
"And the cars are so much different, looking at it on television. The cars are so much lower. I did not like running with restrictor plates that came out the last few years I raced. It puts you in a box, just like it is now. All the cars are the same in horsepower and the bodies are all the same.
"Back when I was racing, I liked the way it was. We had a stock car. We'd go to Daytona, and it'd be a Monte Carlo, Pontiac, Chevrolet or whatever was running."
GANT REFLECTS ON HIS TOP CAREER HIGHLIGHTS
Of his career, Gant said there were two high points that stand out to him, both markedly different from each other. First was in the Modified Series, while the other was in the Cup Series.
"We had so much fun racing prior to Winston Cup racing," he said. "The first big race was when I won the Modified race at Daytona, and then also won at Charlotte. Winning at both those tracks were probably the biggest things of my career. A lot of people ask, 'What about your Winston Cup career?' Well, you wouldn't have been there if you hadn't won somewhere else to start with."
As for his Cup tenure, it was winning four Cup races in a row in September 1991, along with two Busch Series wins in the same month. He earned his other famous nickname as a result; "Mr. September."
"I felt like we couldn't be beat," he said. "We were coming up on the end of the year, and I could not wait to start the next season then."
SOON TO BE BACK ON THE ROAD AGAIN
Gant once again is preparing to take part in the 23rd Kyle Petty Charity Ride Across America, which starts May 13 in Portland, Oregon, and finishes in Milwaukee, Wisconsin, on May 19. Gant has been part of the Charity Ride each of the previous 22 years.
"We've been just about everywhere you can go," Gant said.
But Gant will be far from the oldest driver on the Ride. Fellow former NASCAR racer Hershel McGriff will take part again in at least one or two segments of the Ride at the age of 89. McGriff competed in a short track race in California as recently as five years ago at the age of 84.
* * * * * * * * * * * * * * * * * * * * * * * * * * * * * * * * * * * * * * * * * * * * * * * * * * * * 
THE HARRY GANT FILE
Harry Phil Gant — also known as "Handsome Harry" and "Mr. September" 
–Age: 74
–Home: Taylorsville, North Carolina
–NASCAR Cup stats: 474 starts, 18 wins, 123 top fives, 208 top 10s, 17 poles.
–NASCAR Xfinity stats: 128 starts, 21 wins, 52 top fives, 71 top 10s, 14 poles.
–NASCAR Camping World Truck Series: 11 starts in 1996, four top 10s.
–Notable: Holds record as the oldest driver ever to win a Cup Series race (52 years, 219 days) and as the oldest driver ever to earn his first career Cup win (42 years and 105 days).