With seven races in the books and a weekend off from racing, it's allowed NBC Sports analyst Steve Letarte time to examine the stage format and figure out which drivers have been most successful under it so far.
"For years, it was always average finishing position," Letarte said on NASCAR America. "Where did you run? If you run the top 15, the top 10. If you finished in the top 15, top 10 you found success and you were playoff bound. But when I looked at the numbers this year, average finishing position didn't work. I had to find a new way to measure success.
"What seems clear to me is points earned per event."
Letarte determines this through the average points earned by a driver in the first two stages of the race and their finishing position.
In the first two stages, 10 points are given to the stage winner, nine to second place, eight to third place and down to 10th place earning one point.
Kyle Larson leads the point standings with 315 points and an average of 45 points per event.
"When I came up with points per event, it seemed clear to me the goal was 45 points," Letarte said. "But then I was a little lost about what 45 points meant. How do you score 45 points in an event?"
Here's a look at two ways to reach 45 points.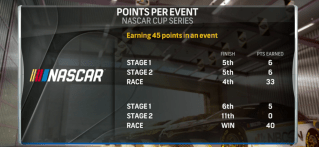 Letarte also looks at Dale Earnhardt Jr and his average of 19 points per event.
Watch the video to see more of the discussion between Letarte and analysts Greg Biffle, including drivers who have won races, but not stages and vice versa.