A trend is developing, actually being rewarded, with the advent of stage points.
Qualifying is playing a significant role in who scores points in the first stage of NASCAR Cup races.
More than 60 percent — 61.9 percent to be exact — of drivers who reach the final round of Cup qualifying go on to score points in the first stage of a race. That could play a big factor at the end of the regular season when bonus playoff points are awarded.
"Qualifying definitely for that first stage has been very important,'' said points leader Kyle Larson, who is tied with Martin Truex Jr. with a series-high 45 points in Stage 1. "Qualifying before in a 500-mile race, if you spin out like Jimmie Johnson did and start in the back, you're not really that concerned. Now with the stage points, if you spin out, you're upset. Not only do you get a bad pit stall, the odds of you making stage points isn't that great.''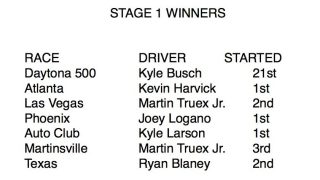 The driver starting on the front row has won the first stage five times this season, collecting 10 points and one playoff point. Three times — Kevin Harvick at Atlanta, Joey Logano at Phoenix and Larson at Auto Club Speedway — the pole-sitter won the opening stage.
Pole winners are scoring an average of 6.9 points in the opening stage. Only twice have they finished outside the top four in the opening stage.
Those points are meaningful. When the regular season ends in September, the top 10 in points will receive playoff points that carry through each round. The regular-season winner will receive 15 playoff points. Second place earns 10 points, third earns eight playoff points and it decreases by one after that to one point for 10th.
Teams are noticing the value of stage points, particularly Stage 1 and how it relates to qualifying.
Doug Duchardt, general manager of Hendrick Motorsports, told NBC Sports last month that qualifying was an area the team needed to improve because of the Stage 1 points they were not scoring. Johnson has scored 64.9 percent of his 37 stage points in Stage 2. The reason for the disparity is that he has not advanced to the final round of qualifying this season.
Team Penske's Travis Geisler told NBC Sports last month that the team was realizing how important stage points have become, noting that when Brad Keselowski finished second last month at Auto Club Speedway, he scored fewer points than seven other drivers that day because of the difference in stage points.
Truex has benefitted from good qualifying efforts. He has scored 61.7 percent of his stage points in Stage 1.
Kyle Busch has scored 61.1 percent of his stage points in the opening stage, followed by Ryan Blaney (59 percent) and Jamie McMurray (58.8 percent). Busch is the only one among those four who does not have an average starting spot of 12th or better. His average is 13.6.
McMurray's crew chief, Matt McCall, says qualifying well has provided numerous rewards.
"It builds confidence with our team and our driver,'' McCall said. "Confidence sometimes overrules everything. We're trying to keep that going.''
McMurray's 6.4 average starting spot ranks second this season to Keselowski's 4.4 average start. Keselowski has been in the final round of qualifying all six times (Martinsville qualifying was rained out) and his 44 Stage 1 points are second only to Larson and Truex.
Others who have not fared well have noticed. Daytona 500 winner Kurt Busch has yet to score a point in Stage 1.
"When I heard the stages and the points the way they were going to be awarded, I immediately thought that qualifying was going to be more important,'' said Busch, who has failed to advance to the final round of qualifying three times. "If it's a 60-lap stage, 85 laps, it's hard to make it from the back because everybody is running that much more aggressive to gain those points in that first segment.
"Qualifying can almost hand you a stage win if you're up front and able to hold that track position.''