The news that NASCAR might eliminate counting caution laps between stages for 2018 is the latest encouraging development of the best tweak made to the Cup Series in years.
With NASCAR entering its Easter weekend break, now is a good time to appreciate how stage racing has transformed the circuit … and how it can continue to shape the future.
At Phoenix Raceway, stages ensured some of the most compelling action witnessed in a race during which one driver led 85 of the first 87 laps. At Martinsville Speedway, stages provided several days' worth of talk-radio fodder about the ethics and etiquette of a lapped car moving the leader.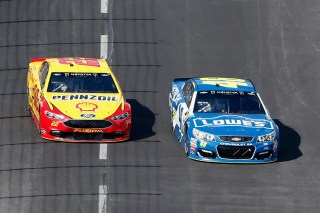 At Texas Motor Speedway, segmentation helped encourage the brilliant gambit by Joey Logano and crew chief Todd Gordon, leaving the outcome in doubt until the final 20 laps. And (much to the chagrin of Ryan Blaney) it magnified how a team can let a great result slip away on a bad pit stop and a critical strategy call.
Stage racing has added a fresh (but substantive) sheen to Cup, and it can advance the cause next year if NASCAR changes the manner in which stages are divided.
In a SiriusXM interview, executive vice president and chief racing development officer Steve O'Donnell was candid that the primary reason for stage breaks are to avoid commercial breaks under green.
If NASCAR keeps those timed breaks but doesn't count the laps (a sound move, given that generally six to seven laps are burned between each stage on a speedway; naturally more on a short track), it will extend a race's duration by at least several minutes, depending on the track.
This isn't a hard and fast rule – this year's spring race at Texas actually was 13 minutes shorter than last year despite the stages – but the elimination of yellow-flag laps in stage breaks presents a logical opportunity for getting aggressive with cutting race distances and subsequently adjusting stage lengths for a better blend in Year 2.
Some tracks, such as Fontana and Pocono Raceway, already have moved – with much success – in the direction of shorter being better
Though Texas didn't feel nearly as interminable Sunday as in other 500-mile races of the past, there still remains a need for shorter events.
Such a movement will be met by resistance from fans who insist that shorter races devalue a ticket. Texas president Eddie Gossage has intimated the push for shorter races stems from those who want to work less.
Actually, it's because many of us want to keep working as NASCAR strives for relevance at every turn.
One way to ensure that is by tightening the product (and these wouldn't need to be drastic reductions). Yes, a shorter race will mean fewer green-flag laps … and it means the remaining laps will have heightened importance.
It also will place a greater emphasis on performing well throughout the course of a race.
Hey, that sounds familiar.
XXX
Someday, Kyle Larson needs to run the Indianapolis 500.
It'll be a boon to the Greatest Spectacle in Racing to showcase a generational talent just as it did with Tony Stewart (who has predicted the greatness of Larson for years). And it'll help NASCAR because it benefits from a jolt of exposure and also gets to keep its emerging superstar.
But 2017 isn't the right time for Larson as team owner Chip Ganassi told reporters in Long Beach last week.
Some of the reasons are obvious: Chip Ganassi Racing is enjoying one of the greatest starts during its 17 seasons in NASCAR's premier series. And Larson, 24, has learned how to extrapolate his prodigious ability well beyond the limits of a 30-lap feature race.
Why disrupt any of that with a doubleheader?
There is another less obvious reason, though: The sponsorship cloudiness around Larson's No. 42 Chevrolet beyond 2017. Target is in a contract year after leaving Ganassi's IndyCar team.
Presumably, Ganassi could be seeking an Indy 500 sponsor that also would be interested in funding Larson in Cup. If Larson were to excel at Indy, it would be a tough sell to ask a new sponsor to back him in NASCAR when IndyCar offers a comparably discounted annual sponsorship rate.
"Why should we run him in these more expensive stock cars if he just dazzled us in the world's most famous race?" a prospective CMO might ask Ganassi. "Why can't you just keep him in one of your Indy cars?"
There are various counterpoints to be made, of course, but the scenario would seem fraught (at best) with tricky hurdles that could undermine the organization. Until the sponsorship situation is solid long term, it makes sense to wait on bringing Larson to the Brickyard in May.
XXX
After a race in which its highest finisher (Kyle Busch) was 15th, why is Joe Gibbs Racing lacking speed?
It was difficult to find illumination Sunday when none of the team's four drivers appeared on the postrace release from Toyota. Each manufacturer distributes postrace quotes from its drivers, and it's unusual for a multicar team to have no representation. JGR, the flagship team for Toyota Racing Development, has three top fives in 28 starts (including none for Denny Hamlin and Daniel Suarez).
It would be convenient to place some blame on the new 2018 Camry's performance on 1.5-mile tracks. But that hasn't been a problem for Furniture Row Racing's Martin Truex Jr., who swept the stages in winning at Las Vegas Motor Speedway and led 49 laps in an eighth at Texas for his No. 78 (which paced the Toyotas).
Teammate Erik Jones (22nd) also struggled so perhaps there are handling woes across the board to address with a car developed in tandem by Furniture Row and Gibbs Racing.
It certainly seems fair to wonder, though, if JGR is suffering through understandable fallout from the unexpected departures of No. 19 driver Carl Edwards and crew chief Dave Rogers (who is on indefinite leave from the road).
XXX
There are myriad reasons why nine cars didn't make qualifying laps at Texas. There's only one thing that truly matters, and veteran scribe (and the author of another new racing-themed novel) Monte Dutton nailed it.
Sure, some blame can be laid at the feet of teams for attempting to push the boundaries of clearly defined specifications. But that also is the objective of any team with aspirations of winning.
This is one of those situations when even when NASCAR is "right," the result still is wrong.
Yes, there is merit to enforcing the rules. But no one paid admission Friday at Texas to watch cars frantically rolled through the garage and across the Laser Inspection Station platform, either.
XXX
It was obvious from Jimmie Johnson's playful yet terse answer last month that Seven-Time would take great glee in finally reaching victory lane for the first time this season. When the opportunity arrived, he didn't disappoint in his first words on national TV.
It makes perfect sense when pro athletes use perceived slights as motivation for excelling. Tony Stewart virtually has made a career out of it.
That said, all of the questions about Johnson's slow start this season absolutely were warranted.
This is a No. 48 Chevrolet that has run well only in spurts (notably, the final 10 races last year) over the past two seasons. The prognosis was grim enough last summer that team owner Rick Hendrick actually considered splitting Johnson and crew chief Chad Knaus.
Asking whether the surefire Hall of Famer has lost a step isn't ridiculous, as some have suggested. What is ridiculous would be to avoid asking about it – particularly in a contract year for Johnson, who turns 42 in September and has been hinting strongly that he won't drive beyond 45.
Asking if Johnson is showing the inevitable signs of age isn't a sign of disrespect. It's quite the opposite.
The threshold of what constitutes a slump is much lower for Johnson than any other driver in the history of NASCAR – as it should be.
XXX
Why was Johnson seemingly mostly behind the pace of Hendrick Motorsports teammate Chase Elliott through the first six races? Knaus offered a very telling answer Sunday, noting that it was difficult to make improvements to his cars during the West Coast Swing of Las Vegas, Phoenix and Fontana.
It's a reminder that minute adjustments to the underbody of a Cup car can make a difference between just being competitive vs. contending for wins. And it also bears remembering if the West Coast Swing remains intact in future seasons.
XXX
Team Penske's appeal Wednesday morning at the R&D Center probably will have minimal impact on the No. 2 Ford's fortunes: Brad Keselowski is qualified for the playoffs, and he probably can weather the absence of Paul Wolfe at Bristol and Richmond (tracks where he has won) if the crew chief's suspension is upheld.
But the case will be watched closely by the NASCAR industry. After Keselowski's win at Martinsville, team owner Roger Penske plainly made it clear that he was challenging the penalty as much on principle as a reduction of the punishment.
Because Keselowski's Fusion was allowed only one attempt at being legal after Phoenix, Penske will argue on the grounds of consistency and fairness that NASCAR erred. If the appeal succeeds, it could embolden other teams on the circuit.