With NASCAR's excursion to the West Coast done, and the first five races run, Cup teams can begin to take what they've learned and apply it for upcoming races.
This opening five-race stretch can prove vital in helping a team throughout the rest of the year. Teams often say that with so little turnaround time for cars before races at Las Vegas, Phoenix and Auto Club Speedway on consecutive weekends those cars have to be prepared well in advance.
NBC Sports talked to the those who oversee the competition departments for NASCAR's top Cup teams to have them assess their strengths and areas of improvements based on the opening five races.
Thursday, NBC Sports will have what those team officials said they'll be focused on in this next five-race stretch, which features three short tracks, a repaved (and reconfigured )1.5-mile track and a restrictor-plate track.
CHIP GANASSI RACING
Consider this: Had Kyle Larson not run out of fuel on the final lap of the Daytona 500 and not been impatient on the final restart at Phoenix, he could have won three of the season's first five races. Larson's car has been among the fastest this season. Teammate Jamie McMurray also has shown a lot of speed, giving this organization something to be excited about.
It's a marked change from the start of last year when Larson had three finishes of 26th or worse in the first five races, and McMurray had four finishes of 16th or worse in the same stretch.
This year, Larson has finished second or better in each of the last four races. McMurray has three top-10 finishes in the last four races.
Wins: 1 (Kyle Larson at Auto Club Speedway)
Key Fact: Kyle Larson ranked first in restart speed in each of the last two races, Phoenix and Auto Club, and ranked third in that category at Las Vegas and fourth at Atlanta, according to NASCAR's Loop Data.
Team Manager Tony Lunders: "We've had the chance to test our stuff and our car's ability and our team's ability and happily have been pretty pleased with that so far.
"We'd still like to improve our restrictor-plate stuff. I think we took a pretty big step from last year's performance at Daytona and Talladega. Jamie's car was good enough to win but got in a wreck there. Kyle, obviously, was leading with a lap to go and ran out of fuel. We'd like to see a little bit of a step forward there come Talladega.
"I would say our pit crews have come together and have stepped up over the last few weeks as well, and they're rolling. It's hard to point to (a weakness) right now, it sounds maybe arrogant, but our stuff has been running pretty good at each of these tracks that we've seen.
"I look at last year's performance at about this time of the year, we were struggling. The group has been doing its own chassis here for as long as the place has been around. We took that as one of the main components. You have a hundred items or whatever that is. We went to work on all of them from brakes to fuel systems. You name it, we dove into every component of the car and tried to figure out what can we improve on it.
"On the chassis, we had room on it like everything else. At this level it's all small gains. Probably the difference maker is when you can polish the details out.''
FURNITURE ROW RACING
Martin Truex Jr. has been fast, but it's the performance of rookie Erik Jones and his team that stands out.
It's not easy to add a team to what had been a single-car operation and continue to perform as well as the team did last year.
Also, the team overcame an issue with its templates that caused building its cars incorrectly, something that was a factor at Daytona. Even with having to redo its cars, this team maintained the speed it has had.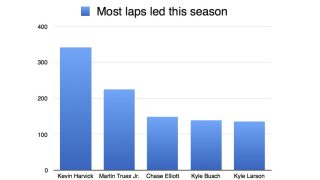 Wins: 1 (Martin Truex Jr. at Las Vegas)
Key Fact: Martin Truex Jr. has led 225 laps this season, second only to Kevin Harvick, who has led 342 laps.
Team President Joe Garone: "I think now that we have these races behind us, we can clearly see we have speed in the 77 car  (Jones) and certainly the 78 (Truex) at least on the tracks we've been on.
"As far as the growth that we went through in the offseason leading into this year, everything went really well right up to Daytona, and we kind of had a snafu coming out of the shop with our template grids, which was a disaster because we had several cars already built, and we had to come back and basically start over. When you go through something like that, it was pretty intense, there were a lot of hours spent by the guys at the shop. In some ways, it really rallied the guys together. We hired close to 40 people (with adding the second team), and everybody dug down and got in the trenches and got ourselves bailed out.
"Now that the dust has kind of settled, and we're through that, I think we're better for that. I don't want to ever go though something like that, but I really liked what I saw as far as how the guys handled it in the shop to recover, and it really brought everybody together.
"The important thing is through all that is that the cars have speed. We expected that with Martin. We didn't know what to expect with Erik. He should have had top 10s in all these races had we not had issues on pit road and other areas.
"Right now the weakest point is our pit stops, and that's not just the pit crew, it's a little bit of working with Erik on getting in and out of the pits, optimizing pit road. I think he would tell you that one of the differences between Xfinity and Cup, everything is on kill in Cup, there's nowhere to relax. You have to come down pit road right on the brink of speeding, you have to get in your box right on the point of sliding out of it. Everything has got to be perfect, or you lose a massive amount of track position.
"The stops, we're working on getting them better like you would expect with a new team. We're going to have some ups and downs for sure. The key is keeping speed in the cars, and we have got speeds in the cars, so we're happy with that.''
HENDRICK MOTORSPORTS
This is only the second time since 2010 that Hendrick Motorsports has not scored a win by the season's fifth race. The only other time it happened was in 2012 when the organization didn't win until the 11th race of the year.
Other than Chase Elliott (63 stage points), the Hendrick drivers have not fared well in the stages. Jimmie Johnson (18 points), Dale Earnhardt Jr. (12) and Kasey Kahne (zero) all rank outside the top 10 in stage points. Johnson is 11th, and Earnhardt is 14th. That's an area that has gained the attention of Hendrick Motorsports.
Wins: 0
Best Finish: Chase Elliott, 3rd at Las Vegas
Key Fact: Chase Elliott is the only driver to rank in the top five in green-flag speed at Atlanta (third), Las Vegas (fourth), Phoenix (fourth) and Auto Club (third), according to NASCAR's Loop Data.
General Manager Doug Duchardt: "The 24 team (of Elliott) has done a really good job … been very competitive, led laps, been a factor basically in about every race that we've run. So very happy with that.
"I would say that our engines have shown well between Chase and Kyle Larson (Chip Ganassi Racing gets its engines from Hendrick Motorsports). I feel like our engine shop has responded well through the beginning of this year and have been competitive.
"I think that we have shown overall decent speed. Chase has run well. (Johnson's) team obviously hasn't had the finishes that we wanted. I feel like at Atlanta they had a top-five car. At Vegas, they kind of got behind in strategy there on that second stage. In Phoenix, they were running top five and the way things ended we ended up (ninth). This weekend obviously was not what we wanted (21st at Auto Club). I think up to this weekend, I thought they were, obviously not as strong as the 24, but were pretty good.
"I think that (Kahne's) team had started strong. In the past two weekends, we didn't finish where we wanted, but the car was running better than that. I try to look at the pace of the car vs. where it finished. Where were they running? For instance at California, Kasey was ninth until the next-to-last restart and got split up and fell back to 18th in one lap. You try to look at it more how did it go through the weekend. Did they seem like they had speed? Then it's to minimizing your mistakes mechanically and on pit road, pit road speeding and pit stops and things like that. I think that the 5 team has had a good start and would like to see them bounce back here after a couple of rough finishes.
"I think that Dale and Greg (Ives) are showing signs of the car getting better. I think they're going in the right direction. Overall I think the company, we're good relative to the competition, but obviously we're going to have to continue to work and make the next step as far as speed in the cars.
"I think we need to qualify better as a group. We typically have some pretty decent long-run speed, sometimes our short-run speed isn't where we want it, it's track to track and tires and things like that, but I think just in general we need to qualify better to put us in position to get points in that first stage.''
JOE GIBBS RACING
Expectations are high at Joe Gibbs Racing, which had won 26 of the last 67 races (38.8 percent) entering this season. While not winning a race in the first five isn't the end of the world, it is a shock considering how dominant this team has been the past two years.
Last year, the team led 415 laps in the first five races. This year, the organization has led 143. Kyle Busch has led 139 laps, Denny Hamlin four laps, Matt Kenseth zero laps and Daniel Suarez zero laps.
Wins: 0
Best Finish: Matt Kenseth, 3rd at Atlanta & Kyle Busch, 3rd at Phoenix.
Key Fact: Joe Gibbs Racing has scored its first win of the year by the sixth race of the season the past nine years. Sunday's race at Martinsville Speedway marks the sixth race of this season.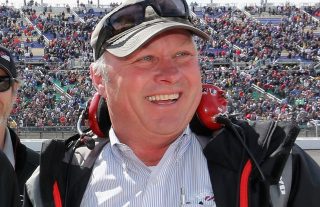 Senior Vice President of Racing Operations Jimmy Makar: "We have a great driver lineup. We've got drivers very capable of running up front and competing for wins and even with Daniel (Suarez) coming on board, I like his learning curve, the way he's approaching races. He's not getting over his head. He's coming up with some good finishes. He's improving from the beginning of races to the end of races. He's just kind of quietly and methodically doing well. That makes you feel good about our driver lineup.
"I still feel like our pit crews, the way they've been performing, they've kept us in the hunt and in good shape.
"Obviously, we didn't start off as strong as we thought we were going to be. I guess this package has hindered us more than we thought compared to other teams. We're a little disappointed in that. We've had to go to work.
"Atlanta kind of gave us the first glimpse of it. We've improved on all of our races since then, I feel good about that, that's a positive. We've been getting better week in and week out, and we've gotten to the point where we've gotten in contention to win a few of these races here toward the end of the race. That has been a good thing. I still feel like we're still a little behind the eight-ball on the way our cars drive compared to the field. I think we've got some work to do there.
"If you just look at it, it would make sense that the next reduction (in downforce), we should be able to still be on the top of our game. We've actually been talking about that a little bit.
"It may be something, I'm not saying this is it, but it could be something like our competitors, everybody has strong points and weak points, whether its chassis or setup or aerodynamic advantages that they have found depending on where they have worked the hardest at. It could be that our advantage has been our aero department and with our guys working very hard at that and we've put a lot of emphasis on that and maybe a little less emphasis on some of the other areas. Now that we're taking this much downforce away, the difference between our competitors and ourselves have gotten so narrow, we can't overcome some of our other issues that we may be behind on if that makes sense to you. I'm not saying that is it. That is a different way of looking at it, why this time we seem to be struggling a little bit more than last year obviously.''
RICHARD CHILDRESS RACING
Crew chief Luke Lambert's gamble not to pit put Ryan Newman in position to win at Phoenix and give Richard Childress Racing its first Cup win since Nov. 2013. That was important for an organization with a history of success.
Now, the work is to be the car that is dominant and wins the race because it is the best. That's the next step for this team.
Wins: 1 (Ryan Newman at Phoenix)
Key Fact: The team's average starting spot among its three drivers is 16.5 with only three top-10 starts.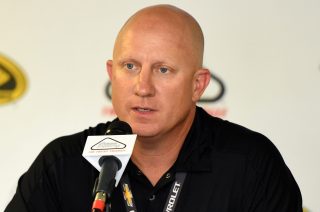 Director of Competition Dr. Eric Warren: "It's a little bit of a mixed bag I would call it. We started out, I thought we were competitive in the race for sure at Daytona, we made some mistakes there. We ran out of fuel there with the 3 (Austin Dillon). A lot of people did there. We pitted the last time ahead of the 41 and had a chance to probably put more fuel in it than we did. Felt like we were competitive there.
"Went to Atlanta and qualified great with the 3 and 31 (Newman) and really had a lot of speed. Really the 3 was passing the 2 there and 31 was good. Atlanta is a low-grip track, the first time with the aero package, I thought OK, we've really got a good start here, got a good baseline. Been struggling with the 27 (Paul Menard), getting some performance and getting that group to get something to build off of, I think that's a concern that we've got to keep working on with Paul and the 27.
"Phoenix, Vegas, you get to the West Coast swing, starting out with Vegas, we had two tire issues with Austin that were just punctures, no overcamber, no issue. We thought at Vegas we didn't quite have the speed in practice and qualifying that we had in Atlanta, so we were trying to understand what was different between the cars, what was different between the setups. Was Atlanta the fluke? Or was Vegas the fluke where we didn't quite have our package together?
"I think, overall, looking as a whole, clearly the areo package has forced us to kind of change some of our mechanical setups. A lot of things we were doing toward the end of last year setup-wise are not working as much as we would like them to.
"It takes a couple of races to understand that. We've had a bunch of mechanical issues honestly. Alternators burned up basically at Atlanta on the two cars running in the top five. Had the issues of tires on the 3 and also Newman was kind of sixth to 10th the whole race at Vegas, had a right rear flat at the very end. Go to Phoenix, Newman ran fifth, sixth-place car the whole race. Fortunate to make the right call and won the race, which was really good for us as a company.''
ROUSH FENWAY RACING
The struggles at Roush Fenway Racing have been well chronicled for an organization that has not won the past two seasons and downsized from three cars to two cars for this season. Roush has made many changes in the last year, including internally. Work remains, but there are signs of progress.
Wins: 0
Best Finish: Ricky Stenhouse Jr. (fourth at Phoenix)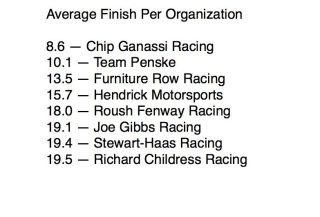 Key Fact: The organization's average finish through the first five races this season is 18.0. Last year, the team's average finish through the first five races was 21.4.
Competition Director Kevin Kidd: "So far reasonably happy with the improvement we've seen in the company as a whole. Obviously, a tremendous amount of room for improvement over the last couple of years. Very targeted areas that we went to work on: pit crews, aerodynamics, some of our race execution, engines, strategy and everything else. We've had those areas that were selected and targeted as areas of improvement, and I think we've moved the needle in all of them. We're happy that we've been able to do that.
"We're certainly better right now at the Atlanta, Fontana style tracks where the tire wear is high. We seem to have pretty good long-run pace and that's suited our needs at the moment. We ran OK at Vegas. I think it doesn't suit us quite as well. All in all, fairly pleased with where we're at, but pleased in regard of the fact that we've made progress. We're certainly not satisfied with where we're at. We've got a long ways still to go.''
"We're not bashful at going out and being aggressive at fixing problems, whether that is a problem with the race car or a problem with how we're structured here internally with how we go about our business. We're turning over a bunch of rocks and trying to fix problems. At the same time, we're trying to just build a better culture, and in doing that, we've had to sort of accept the longview mentality where we know the problems that we have are large problems and that they are going to take a lot of time to fix. We want to be aggressive and get those problems fixed as quickly as we can.''
STEWART-HAAS RACING
Stewart-Haas Racing started the year by scoring its first Daytona 500 win and seemed on pace to open the year with back-to-back wins before Kevin Harvick lost the lead because of a speeding penalty late at Atlanta.
Harvick has shown speed throughout the first five races, but it has been sporadic for his teammates. Remember, this is a team that switched from Chevrolet to Ford in the offseason, and that still has had an impact.
Wins: 1 (Kurt Busch, Daytona 500)
Key Fact: Sunday's race at Auto Club Speedway marked the first time this year that SHR had a driver other than Kevin Harvick ranked in the top five in green-flag speed in a race. Clint Bowyer ranked fourth in that category at Auto Club, according to NASCAR's Loop Data.
Vice President of Competition Greg Zipadelli: "Honestly, I think as a group everybody is working well together, and with the crackdown from a body perspective and templates, where they're trying to move, it has been a real moving target for us, especially for us building new cars, trying to learn these cars. Honestly, I feel like we're pretty scattered right now, that's just being very honest with you.
"I think our group has done a good job. The improvements standpoint, a lot of it is the tools and things behind the scenes that I would say the group has worked really hard on and done a really good job on getting things moving forward. Until we really got to Daytona, it was hard to really pinpoint what was going to happen at the racetrack.
"There's two things. We've switched from Chevrolet to Ford, so we're learning many of the little details with the Ford body. We're still learning that. Then NASCAR, we've all asked them to treat people fair and rein things in and they've been working on that. This weekend at Martinsville there are some new tolerances and some templates. From Daytona to Martinsville, they've been slowly going that way. When you're moving, you're changing everything that is done. You're learning and re-learning. For our group that doesn't have years of experience at building the car, every time we go back, we somewhat start over. I don't feel like we have a great baseline at building these cars. We're still working on our Texas cars right now. We're literally building them because I feel like we're behind.''
TEAM PENSKE
This organization has been fast. Both Brad Keselowski (Las Vegas) and Joey Logano (Phoenix) have won a pole. Keselowski has made it to the final round in each of the first five races. Also, Penske driver Ryan Blaney, who drives for Wood Brothers Racing, a satellite team, has two top-five qualifying efforts, showing that his team also has speed.
Wins: 1 (Brad Keselowski at Atlanta)
Key Fact: Team Penske led 102 laps last year through the first five races of the season. This year, the team has led 226 laps.
Competition Director Travis Geisler: "I think strength-wise I would say our general speed has been very good. It's been good to have Joey and Brad both have a pole, (Blaney) has qualified fairly well. In the races, it seems we're able to run a fairly competitive position on track and maintain competitive lap times.
"I think the biggest weaknesses is just in execution, attention to detail and execution of the event. We've had more penalties than we should have had. We've had some issues on pit road that we need to clean up. We had a part failure at Vegas that cost us a win.
"I think we're realizing how important it is to continue to stack up those (stage) points throughout the day. Like Brad did this weekend, he finished second, but we still lost points to everybody we're around. The 78, the 24 and especially the 42, they all were at the front of the stages, and they ended up putting up a bunch of points between you. That's a tough situation, but it's the reality of it, and I think we're all realizing that you have to be good all day long. You can't just finish well. That's a change of mindset.''