The most important line in NASCAR lately doesn't involve when the checkered flag waves and definitively determines the winner of a race.
No, this line is much hazier: The apparently nebulous border between being regarded a well-heeled, responsible citizen of NASCAR Nation who still gets a point across and (gasp!) an irresponsible scofflaw who indiscriminately commits revenge in the least noble of ways.
In the wake of Kyle Busch and Austin Dillon escaping punishment for attempting to handle their own administering of justice, it seems everyone is searching for a line on where the line is in NASCAR …
Or if it exists at all.
These are desperate times, kids!
(Especially with the Cup Series headed to Martinsville Speedway this weekend.)
But fear not for those worried about the future of the republic in Charlotte and Daytona. I've got a handy chart that delineates the transgressions that will earn scorn.
Ready? Let's draw some lines!
If you intentionally wreck a guy (out of the lead) while nine laps down, that's bad.
Expect a two-race suspension or worse.
Also, feel free to avoid poking Brian France on Twitter about it.
If you intentionally wreck a guy while racing for position, that's not as bad, particularly if it's well-disguised.
It might not earn you a punishment, and if it does, it probably won't be so drastic.
If you are traveling roughly 50 mph and lightly pin another car against the wall and cause so much "damage", that car still finishes on the lead lap, that is mostly OK the first time (but probably not the second).
It helps if you also finish well behind that car (which ruined your shot at winning with a rookie mistake).
But there will be some light punishment: Be prepared to spend some quality NASCAR couch time with Steve O'Donnell and your favorite series director discussing the merits of getting angry under caution.
If you swing at a guy but don't hit him flush and then fall down and wind up the only guy who is bleeding, you only will have to live with your injured pride.
If you swing and hurt someone or break their bones, you will face some sort of penalty based on the severity of the injury.
You know, as you would for any sort of physical assault in the real world.
If you scream at another guy and get held back by your team in a shoving match without much violence that goes viral, your sponsor might give you a bonus for the millions of extra impressions. But don't expect any residuals from the tracks that incessantly use those highlights to sell tickets.
Good news, though! You won't be fined as you would have been 11 years ago.
If you walk onto a hot track and angrily gesture at a driver who wrecked you, be prepared to write a five-figure check and then justifiably wonder about how that money is being spent.
Now we know where the lines are. That wasn't hard!
Kidding aside, there is only one line that truly needs delineation, and it applies not just to NASCAR but to everything in life.
Every action has consequences. Choose your actions wisely.
A few other leftovers from the past week and weekend at Auto Club Speedway:
XXX
–Courtesy of some salient points made by NASCAR on NBC analyst Steve Letarte on the NASCAR on NBC podcast, driver fraternization and prerace introductions were a hot topic on social media.
For some, it prompted the memory of a heated exchange between Danica Patrick and Denny Hamlin after a dustup in a 2015 Daytona 500 qualifying race.
"You don't have to actually hit me," Patrick said. "I like you, Denny. You're my friend."
"I know, you're my friend," Hamlin said. "I get it."
There's no removing the friendships formed in the motorhome lot from modern-day NASCAR, where most of the drivers in the Cup series are raising families on the road, and teams want to simplify and streamline their lives outside the car.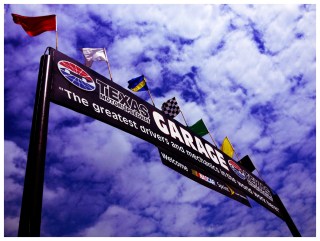 But how much of a Chinese wall needs to be built between the personal interactions of the motorhome lot and the professional workings of the garage?
At the very least, Letarte's idea is worthy of being considered by tracks. There's enough time for socialization throughout the course of a race weekend, and it probably is best done outside the view of the public.
When drivers walk out of their motorhome lot and underneath signs such as this one on the left at Texas Motor Speedway ("The greatest drivers and mechanics in the world work here!"), everyone's gloves should go on, and their guards should go up.
XXX
–Monster Energy is based in Corona, California, about a 30-minute drive to Auto Club Speedway, and the new series title sponsor made its presence felt at the 2-mile oval.
Monster erected a major hospitality display in the infield, and Clint Bowyer was among the drivers who took a tour of company headquarters.
"We had a ton of fun over there," the Stewart-Haas Racing driver said. "The brass there was eager to meet us and bench race, which is always fun with any organization you meet.
"When the brass (wants) your perspective on the job they're doing and what they can do to further enhance the impact, it's a breath of fresh air. We definitely had that. I do think you'll continue to see a bigger splash as we go on."
There were some misgivings that Monster might have made too big a splash, however, with a drivers meeting entrance at Fontana that resembled the sort of club found in nearby Hollywood (minus the midday sunshine).
XXX
—The University of South Carolina's first Final Four run will have much resonance in NASCAR, which has strong connections to the Palmetto State. NASCAR Hall of Famers Cale Yarborough, David Pearson, Bud Moore and Cotton Owens hail from South Carolina.
Late Darlington Raceway president and NASCAR PR executive Jim Hunter played football and baseball at South Carolina, and NBCSN analyst Dale Jarrett was offered a golf scholarship there.
Among those active in NASCAR who hail from South Carolina: Kerry Tharp, Darlington Raceway president; Brett Griffin, spotter for Clint Bowyer and Elliott Sadler (and an active Gamecocks fan on Twitter); Jason Ratcliff (crew chief for Matt Kenseth);
Donnie Wingo (crew chief for Landon Cassill); Steve Addington (longtime crew chief);Michael Nelson (vice president of operations at Team Penske); Jeremy Clements (Xfinity driver for family's Spartanburg-based team).
XXX
–It might have been prompted by being the leadoff to his media availability Friday, but the answer had the sort of edge unaccustomed from Jimmie Johnson.
"People are questioning your performance this year. Are you guys at a point where you could get that seventh win here?" asked Kickin' The Tires.net editor Jerry Jordan (in a blunt but fair question).
"Sixteen years, 80 wins, and seven championships and people want to question us? I mean, come on," Johnson immediately responded with a slight laugh, before telling Jordan, "I know it's not you. You can't be on top forever.  I think that we do have some work to do, especially on the short run.
"We haven't executed as cleanly as we need to.  Daytona, we are running second or third and get crashed, last week we were a good top five, maybe top three car on the long run, but finished with some short restarts that was our weak point.  Yeah, sure, absolutely we have work to do, but nobody should panic."
Of course, those turned out to be famous last words on a lost weekend in which Johnson crashed in practice, didn't make a qualifying lap in a backup car and finished a nondescript 21st.
The future first-ballot Hall of Famer is right that it's too early to ask too many questions about his lack of results. But his answer made it natural to wonder whether some questions have crossed his mind, too.
XXX
—Buried in the multimillion-dollar countersuit Kurt Busch filed last Friday against his former management agency was this nugget: When he entered into a 2010 contract extension with Sports Management Network, the firm received 4% of Busch's base salary at Penske, or $250,000.
Kudos to colleague Dustin Long (who has more than two decades of experience combing through legal documents with these sorts of details) for noting that means Busch's base salary was $6.25 million at Penske. Such driver compensation rarely comes to light.
XXX
—The best racing of the weekend was in the Xfinity race, which featured a stirring duel for the lead between Kyle Busch and Joey Logano, and then another fierce battle at the front in heavy traffic between winner Kyle Larson and Logano (who rallied three times from deep in the pack).
Yes, all those drivers are full-time Cup regulars. There are some who will make the case that should disqualify the Xfinity race from being evaluated as stellar, but it's impossible to deny it delivered the highest entertainment value (regardless of who was racing the cars).
XXX
–NASCAR's Snapchat account Sunday was filled with Hollywood types pledging their allegiance to stock cars, and roughly four dozen celebrities were in the pits for the Auto Club 400.
This isn't new for Fontana, which has a long history of trying to attract the beautiful people from the west side of Los Angeles (with mixed results). But it's good to see NASCAR actively leveraging their attendance into something tangible (even if in the most ephemeral of social media mediums).