Las Vegas Motor Speedway and sister Speedway Motorsports Inc. track Charlotte Motor Speedway may both be in line for facelifts, according to media reports.
A story in Sunday's Las Vegas Review Journal speculated that a number of seats could be removed after this season.
According to the newspaper, "Seats at LVMS were widened on the front straightaway before the sweeping grandstand between Turns 3 and 4 (were) shoveled under in 2015, reducing capacity to around 108,000. Attendance for last Sunday's Kobalt 400 was estimated at 70,000. (NASCAR stopped releasing attendance figures in 2013.)
"If the sections in front of the terraces are eliminated, it would trim LVMS capacity to around 80,000."
NBCSports.com reached out to Las Vegas Motor Speedway officials for comment. In an email reply, Jeff Motley, the speedway's vice president of communications, stated:
"At this time, we haven't made any final decisions on what changes, if any, we are going to make," Motley said. "We are considering making some changes. That's really all I can tell you at this point."
Las Vegas Motor Speedway officials announced less than two weeks ago that it would host two NASCAR race weekends in 2018 for the first time in its history, taking away one of two annual race weekends from sister track New Hampshire Motor Speedway.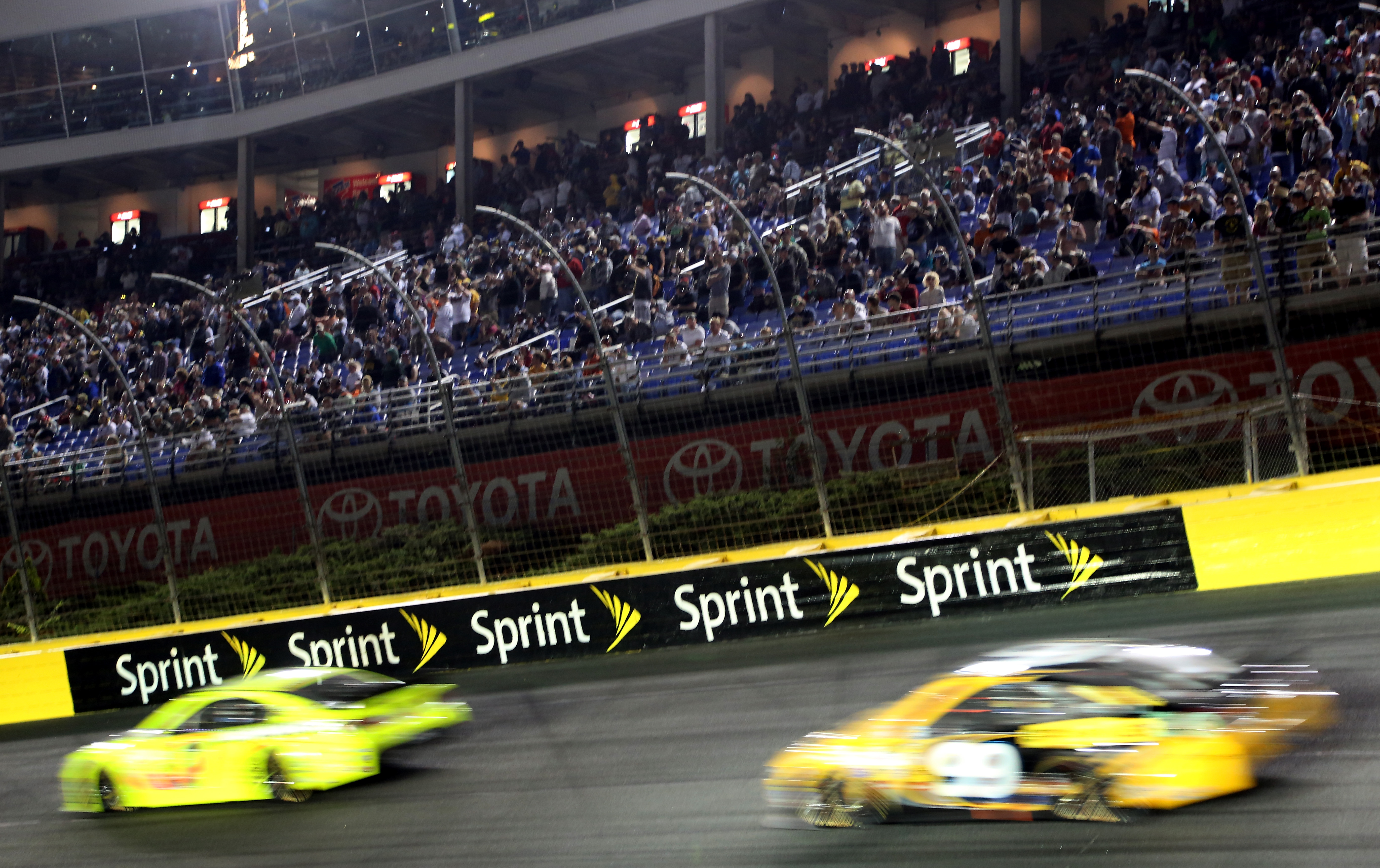 And then there's Charlotte Motor Speedway.
According to Monday's edition of The Charlotte Observer, SMI – which owns nine racetracks including CMS and Las Vegas Motor Speedway – is expected to remove an unspecified number of seats primarily in the area of Turn 4, as well as suites that have lower demand.
The newspaper cited a recent Speedway Motorsports Inc., securities filing that stated that it had repurposed or are repurposing "certain low demand seating areas and suits" at Atlanta Motor Speedway, Charlotte Motor Speedway, Kentucky Speedway, Las Vegas Motor Speedway and New Hampshire Motor Speedway.
"We often use these areas for premium hospitality, advertising and other facility revenue generating uses, and removal also reduces depreciation and certain other operating costs," the filing stated. "For example, (Charlotte) plans to offer new premium hospitality and entertainment activities, and possibly install solar panels as part of our 'green initiatives,' after removal of certain fourth-turn seating in 2017.
"We believe seat removal and alternative use of desirable advertising space help improve pricing power, and provide increased marketing appeal from fuller grandstands because those areas are frequently displayed during television broadcasts, in photos, and are viewable by large numbers of fans attending our speedways."
Charlotte Motor Speedway vice president of communications Scott Cooper told The Observer, "Every year, we look at ways to modernize the facilities, enhance the fan experience and increase revenues."