Facebook founder and CEO Mark Zuckerberg made a lap through NASCAR country Tuesday afternoon – and literally around Charlotte Motor Speedway with Dale Earnhardt Jr.
After touring Hendrick Motorsports, Zuckerberg rode around the 1.5-mile oval as Earnhardt's passenger and called it "an amazing experience" upon exiting the car (watch the video below).
"Did you enjoy it?" Earnhardt asked Zuckerberg during the event, which was broadcast on Facebook Live.
"Yeah, that was amazing," Zuckerberg said. "I think there probably would be millions of people who would die to do what I just did."
Zuckerberg then slid behind the wheel to make a few laps in a NASCAR Racing Experience stock car with coaching from Earnhardt via a radio headset. Zuckerberg hit the rev limiter on the second lap to Earnhardt's delight ("You actually ran to the limit of the car … as fast as it can go!").
"Thank you so much, this is a small glimpse of what is a really important community and industry in the country," Zuckerberg told Earnhardt.
The social pioneer's visit to the Charlotte area was part of a New Year's resolution to visit and meet people in every state by the end of 2017. In a Facebook post explaining the project, Zuckerberg said he needs to travel to roughly 30 states this year to "talk to more people about how they're living, working and thinking about the future."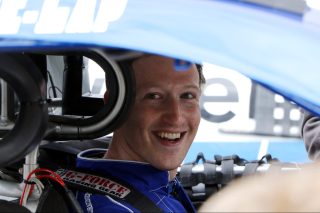 Zuckerberg said he wants to use Facebook to spread positive influence through communities, which is why he was attracted to NASCAR.
"NASCAR and driving and sports in general form the basis of a lot of communities," he said during the Facebook Live broadcast. "It's probably the biggest sport in the country that people go to and attend live.
"We all need to be a part of something bigger than ourselves. Certainly all the fans, the 3 million fans on Facebook who follow Dale Jr., for them NASCAR is a huge part of their identity. A lot of people pin their hopes on (Earnhardt) going out and winning."
Noting that he compares his fans' experience to his as a Washington Redskins fan ("If they win or lose, it makes or breaks my week."), Earnhardt credited the communal spirit of his supporters. He also noted the community aspects of NASCAR.
"It's one big circus that goes from town to town to town," he said. "We all work in it together and understand how to put the sport in front of us individually. And the health of the sport is what's paramount. So the fans are the beginning of that. If they don't come watch us race, there's no race. We try to cater and tend to the fan as much as we can so they come back next year and go to more races."
The 14-time most popular driver also credited the motorhome lot with making NASCAR tight-knit among drivers, crew chiefs and team owners.
"That forms a lot of bonding, trust and camaraderie," he said. "A lot of drivers work out together to stay fit. Just this week, Matt Kenseth and Jimmie Johnson are in Colorado skiing together. So the drivers interact away from the track. All because we have to live together in such a close circle.
"We're all in tune with what each other's doing and everyone is part of each other's lives. It's brought a lot of the family atmosphere to the sport."