He has angered Kevin Harvick and Tony Stewart, frustrated Ryan Newman and Kurt Busch and pissed off Matt Kenseth and Kyle Busch.
And that's not the complete list of those who have been upset with Joey Logano at one point or another.
Add Denny Hamlin, Martin Truex Jr., Cole Pearn and Tony Gibson to that list. Also, don't forget Greg Biffle and Robby Gordon. And if you want to go further back, add Peyton Sellers' name.
Logano's career features a trail of heated exchanges, threats from competitors and a few wrecked cars. While not always blameless, that doesn't make Logano the devil either. 
Sunday's altercation with Kyle Busch after the NASCAR Cup race at Las Vegas Motor Speedway adds another element to Logano's legacy but begs a question: Why is Logano such a lightning rod to his competitors?
Critics already have their answer.
It often is not as simple as one wants to make it, though.
Logano finds himself in such situations because he's often running at the front late in races. He and Jimmie Johnson each have won the most races (14) since 2014. Logano also has a Daytona 500 win during that time. 
It's easy to say that Johnson hasn't had as many incidents with competitors and look at his success. That is a fair point, but not everyone races the same way. Logano exudes a different style. An old-school style.
"He's almost two generations late to his style of driving,'' NASCAR on NBC analyst Dale Jarrett said about Logano. "It's almost like he should have come along in the late '70s, '80s or '90s. You just don't see that many people this day and time get out and race the way he does.''
"He doesn't mind taking it to the edge. He's going to do everything he can do to try to get around you. They didn't have to implement the new rules to make him drive hard. He's been that one that does that. When you do that, and probably because of situations, he might get raced harder than other people get raced in those situations, but he's not backing down.''
Look at the high-profile incidents in which Logano has been involved. He was racing for the lead or near it in each.
Sunday's duel with Kyle Busch was for fourth place when they raced down the backstretch on the last lap. Busch, bloodied in the scuffle on pit road, later said: "He's going to get it.'' Of course, that overlooks the contact Busch initiated on the backstretch that sent his former teammate offline and eventually into Busch's car.
Logano and Hamlin made contact racing for the win on the last lap at Auto Club Speedway in 2013. That came a week after an incident at Bristol between the two former teammates.
Logano angered Martin Truex Jr. last year at Auto Club Speedway as they raced for fourth with 50 laps left. Said Truex afterward: "I'm going to race him differently from now on.''
Kurt Busch was upset with Logano after last July's Daytona race when contact from Logano caused him to spin on the last lap as he ran second.
And there was the duel with Matt Kenseth in 2015 as they raced for the lead at Kansas five laps from the scheduled end. After having been blocked earlier, Logano made contact from behind. Kenseth wrecked. A few weeks later, Kenseth exacted revenge by wrecking Logano at Martinsville.
 "He ran me hard,'' Logano said of Kenseth after his Kansas win. "I ran him hard back. That's just the type of driver I am, the type of racer I'm going to be.''
Some will suggest that such incidents are the result of a careless driver. What it shows is a driver who doesn't back down late in a race.
"I know I wouldn't want to work on someone's car that's going to roll over,'' Logano said after that 2015 Kansas race.
With that driving style, Logano has advanced to the championship race in two of the last three years. 
It also could help him become the sport's next superstar.
Beyond Johnson's seven championships, no active driver has more than one Cup title. The sport awaits its next great champion with multiple titles. There are other candidates, but none is as young as Logano, who is 26 and has shown the ability to compete for a championship at this point.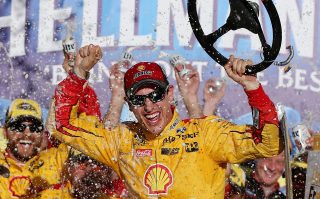 "He could get four or five (titles),'' said NASCAR on NBC analyst Kyle Petty about Logano. "If you go off that theory that he's the guy challenging the establishment, he's the guy who can take championships away from the establishment.''
Consider those who have had run-ins with Logano. They're part of the establishment.
Even though this is Logano's ninth full season in Cup, he doesn't turn 27 until May. Kenseth is 19 years older than Logano. Harvick is 16 years older. Hamlin is 10 years older. Kyle Busch is 5 years older.
It's just like on the schoolyard, the youngest often has to fight hardest to be considered an equal, and no one likes to be upstaged by someone younger.
Logano faces that and other challenges while in the best situation in his career. When he moved up to Cup in 2009 at age 18, it was to replace Tony Stewart at Joe Gibbs Racing. That was Stewart's team, not Logano's.
When he went to Team Penske in 2013 — after no other Cup teams made much of a pitch for him — it was his team. Taking the knowledge of his Xfinity success and Cup struggles, a wiser Logano could be a leader even though he was 21 years old at the start of that season.
"I think that's part of what Joey struggled with (at JGR) is you need to be able to put your identity on something and say that may work for him, but it's not what works for me," crew chief Todd Gordon said. "I think he and I sat down and talked more about what do you need in a race car to be successful. We focused on that. Him (saying) 'This is what I want. This is what I need.' We worked very hard at a lot of things in that respect."
The confidence is markedly different from his Gibbs days and comes from the support of teammate Brad Keselowski, owner Roger Penske, Gordon and the rest of the organization. It's also backed by a commitment. Team Penske recently extended Logano's contract to beyond 2023, matching the deal with sponsor Shell-Pennzoil.
"Joey has taken some undue criticism from my perspective based on some of the things that have happened,'' Penske said last July after Logano's incident with Kurt Busch at Daytona. "I can name three or four things that certainly weren't his fault. Quite honestly, I think he's one of the best drivers on the racetrack out there day in and day out.
"Lot of these drivers can knock somebody off the track and they say, 'I'm sorry,' and they move on. They don't let Logano do that. As far as I'm concerned, I'm behind him 300 percent.''
With such support, Logano will keep racing the way he has. It's just as he said in Sept. 2012 after it was announced he would join Penske's team in 2013.
"I think if you shoot for a top-10 finish, the best you're ever going to do is get a top-10 finish,'' Logano said. "You're always wanting more. They call me greedy, but I think that's the competitiveness in me, to always want to be better.''