DAYTONA BEACH, Fla. – Marty and Myatt Snider marked the first father-son guest duo on the NASCAR on NBC podcast, discussing the family's rich history in racing and Myatt's burgeoning career.
Myatt finished 10th in his Camping World Truck Series debut Feb. 24 at Daytona International Speedway, the first of several starts this season in the No. 51 Toyota for Kyle Busch Motorsports.
Marty is a longtime sports broadcaster who is most well-known for his work on NASCAR and the NBA with NBC Sports and TNT. He also owns a production company in Charlotte.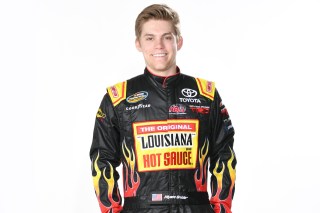 During the podcast, the Sniders also addressed:
–Being part of a family that has been a part of racing for more than 50 years with roots in the Piedmont Triad region of North Carolina;
–Why the driving career of the father was much shorter than his son's;
–Myatt's efforts to be invested in the sponsorship side of racing;
–How Marty would handle his reporting job if Myatt reaches the Xfinity Series.
You can listen to the podcast by clicking on the AudioBoom embed below or download and subscribe to the podcast on iTunes by clicking here. The free subscription will provide automatic downloads of new episodes to your smartphone. It also is available on Stitcher by clicking here and also can be found on Google Play, Spotify and a host of other smartphone apps.