When Kurt Busch crossed the finish line to win the Daytona 500 Sunday, Tony Stewart was sitting on the pit box next to Busch's crew chief, Tony Gibson.
While Stewart was jumping up and down in celebration of the win, for a split-second, he wondered if Gibson was alright or if maybe he should call paramedics.
"He was comatose," Stewart said of Gibson. "He doesn't move. He put his head back. Did he pass out? I had to shake him a bit.
"He just sat there the whole last lap and when I saw the door open, I started jumping because I knew what was coming. He just never flinched until it was over. He just laid his head back like he was getting a suntan."
Of the 100,000-plus people at Daytona International Speedway and millions more watching on TV as the exciting finish played out, Gibson was arguably the coolest. It was almost as if he was channeling Mad Magazine's Alfred E. Neuman and his trademark line, "What, me worry?"
Nah, not Gibson. He and Busch had this. It would be their fourth Cup win together, but the biggest by far.
When the checkered flag waved – and while Gibson said Stewart "was like a frog jumping up and down" – Gibson just sat there for a few moments, soaking in all the sights and sounds, still not totally convinced that he and his driver had just won The Great American Race.
"You won the 500," Stewart told Gibson, who responded with a smile, admitting, "I wasn't sure I did or not."
Over his long NASCAR career, Gibson had been part of previous Daytona 500 wins with Jeff Gordon and Dale Earnhardt Jr. as a team member.
But Sunday was something he never had experienced before: it was the first time he – Tony Gibson, NASCAR's self-professed "Old Man" – would leave his hometown of Daytona Beach as a Daytona 500-winning crew chief.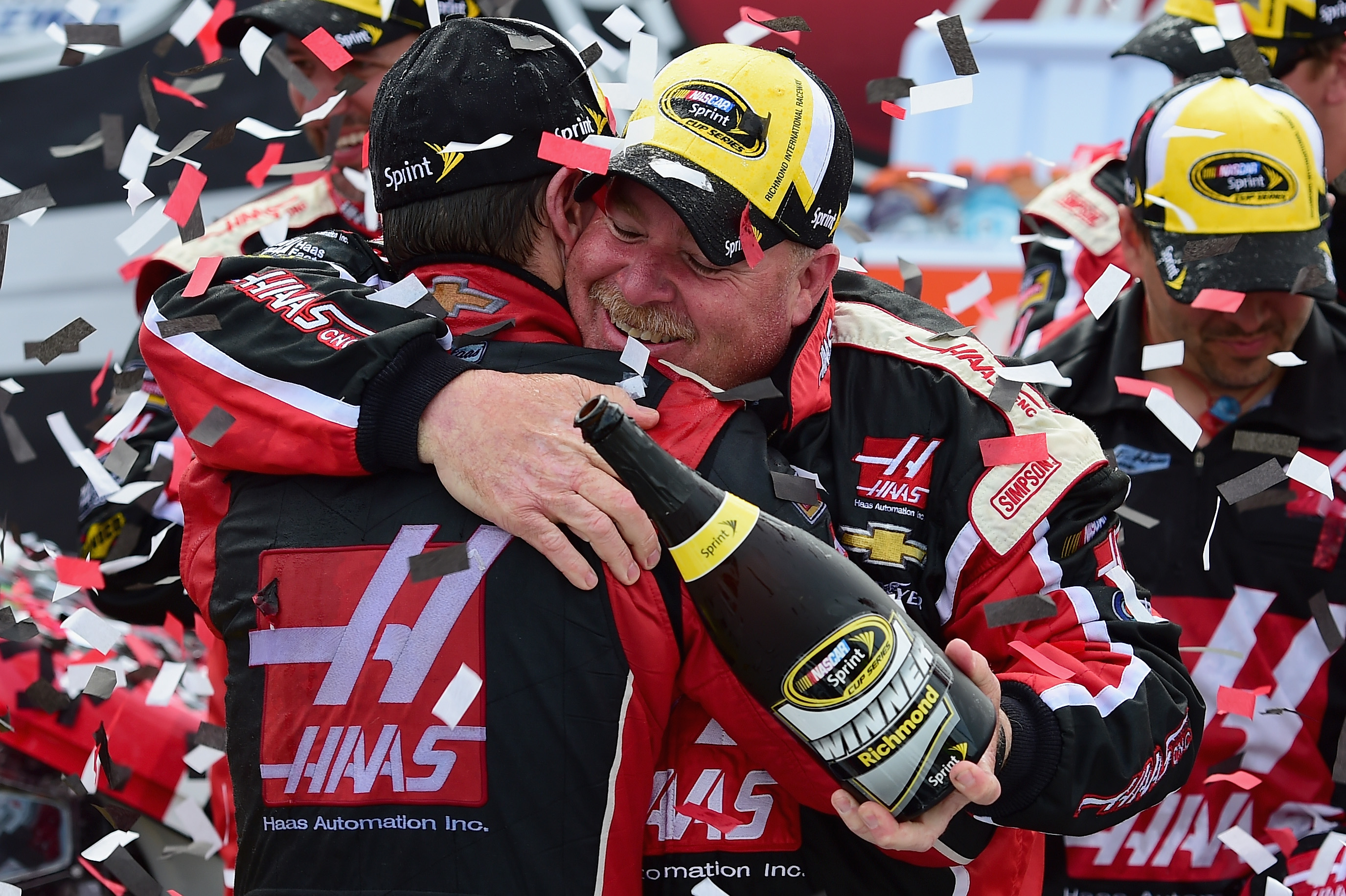 It also would bring back tons of memories of his life and all the time he's logged in and around the "World Center Of Racing."
"This is where I grew up," Gibson said. "I was born in Halifax Hospital across the street. My mom retired from here. My dad raced here all his life. To come here and do this is amazing.
"I had two other brothers that raced. Dad had to work night and day and everything he had to make sure we could race and have fun. So my mom and dad are the ones I thought about the very first thing (after Sunday's win)."
The 52-year-old Gibson has seen and done a lot in his NASCAR life. But never what happened Sunday.
"I've been on the road for 33 years in this business in NASCAR, and I've put my life and soul into it," Gibson said. "I've won the Daytona 500 before and it's awesome, but to win it as a crew chief, I can't describe how it feels, to take your team, put everything together and to make it happen. … It's just phenomenal as a crew chief. It just means so much to me.
"Growing up, where I'm at today, my wife Beth, she's been my biggest supporter for the last 26 years, sticking with me when things are bad.  I'm laid up in the hospital (recently with kidney stones), whatever.
"All those emotions just clamp on you at one time. It takes a few minutes for it to sink in. It's pretty incredible."
Indeed, not only was Busch's and Gibson's achievement incredible, it was one of the best feel-good stories that Daytona has seen in many a 500.
While winning Sunday was one of the greatest accomplishments of Gibson's life, two other stories came to light after the victory celebration that further illustrates the kind of guy Gibson is and why he's so beloved in the sport.
First, when Dale Earnhardt Jr. left the soon-to-implode Dale Earnhardt Inc. in 2008, Gibson promised Junior that he would do everything he could to keep "his guys" together, that he'd find them jobs somewhere else."
Indeed, Gibson did, convincing Gene Haas and Tony Stewart, who recently had joined as partners in the then-fledgling Stewart-Haas Racing, to hire most of the former DEI expats – a group that has now been together for more than 13 years.
"I was determined to keep these guys together," Gibson told NBC's Marty Snider after Sunday's race. "That's what I wanted to do and that's what I've done.
"I'm more proud of that, to keep these guys' jobs when things were really, really bad in the industry. To be able to stay together and come back to win the Daytona 500, I can't say enough about them."
Added Stewart, "They all came from DEI and that shows the kind of leadership Tony Gibson has. They'd go to the end of the earth for him."
Gibson has worked with a number of NASCAR greats, dating back to one of his first jobs as car chief for Alan Kulwicki when he won the 1992 Winston Cup championship.
Along the way, there were many others, some of the biggest names of the sport, including Jeff Gordon, Jimmie Johnson, NASCAR Hall of Famers Bill Elliott and Mark Martin, Stewart, Ryan Newman and Danica Patrick.
But it was Busch that gave Gibson the one thing he never had earned in his life: a win in NASCAR's biggest race in Gibson's hometown.
Which leads to the second story about the kind of guy Gibson is.
Some other crew chiefs may have been hesitant to work with Busch, given some of the controversy that has occurred in his career – most of it off-track and in his personal life.
But not Gibson. He didn't judge Busch by what happened in the past. All he was concerned about was Busch's immense talent and what he would do in the future – and with Gibson atop his pit box.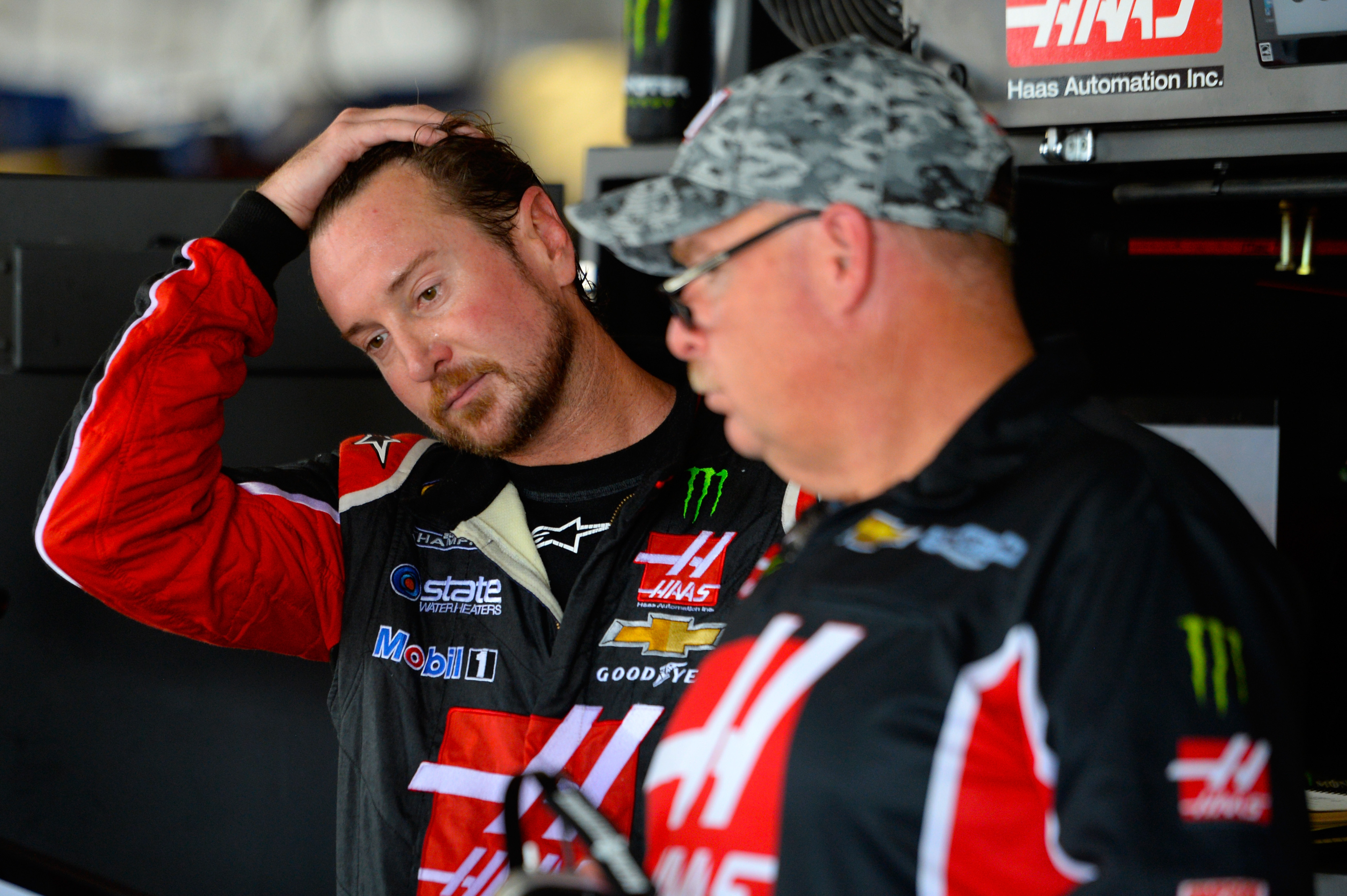 "I love him to death," Gibson said of Busch. "When I took that job on a couple years ago, we sat down and had a come-to-Jesus talk right off the bat. And since Day One we've been money.
"We respect one another, I respect what he's accomplished and he respects what I've accomplished. And we mesh good together. I wouldn't have nobody else driving my race cars than Kurt Busch. There's nobody better. … He's going to drive the wheels off it no matter what. You never have to second-guess is he giving you 110 percent?"
After 17 years, Busch finally earned NASCAR's most prestigious honor to go along with the championship he earned in 2004. He came back to Daytona Beach year after year, with several different crew chiefs, including finishing runner-up three times.
But no one could get Busch the one trophy he and Gibson both craved the most – until Sunday.
Damage from an earlier accident in Sunday's race and fears that he was about a half-lap short on fuel caused Busch great concern. But with "Old Man" atop the pit box, Busch's concerns were allayed.
"When you have a crew chief that grows up in the shadows of the grandstands here in Daytona, you know you have the best guy because his heart is in it," Busch said. "That's what Daytona is about. You have to give it your heart."
Sunday, Busch and Gibson both put their hearts into the win. And even though Stewart briefly wondered if something may have happened to Gibson's heart on the pit box, he wasn't exactly far off in a way.
After giving more than three decades years to the sport he loves, Gibson's heart was in the best place it ever could be.