One of the best elements of the Daytona 500 is how unexpected drivers – some may call them underdogs – can emerge to win the "Great American Race."
Over the last half-century, several unexpected drivers went on to win the 500, including Pete Hamilton (1970), Geoffrey Bodine (1986), Derrike Cope (1990), Ernie Irvan (1991), Sterling Marlin (1994-95), Michael Waltrip (2001, 2003), Ward Burton (2002) and one of the biggest underdogs to ever win the race, Trevor Bayne (2011).
Heading into Sunday's 59th edition of the Daytona 500, two drivers stand out as underdogs: Canadian driver D.J. Kennington and Corey LaJoie.
Kennington, 39, a native of St. Thomas, Ontario, will be making his second career NASCAR Cup start Sunday. His previous start was last fall at Phoenix (finished 35th).
The 25-year-old LaJoie, son of former Xfinity Series champ Randy LaJoie, will be making his third career start in the NASCAR Cup Series. His other two starts came in the fall of 2014 (41st at New Hampshire and 35th at Charlotte).
Kennington will start Sunday's race 28th, while LaJoie starts 31st, both drivers beginning ahead of Paul Menard, Erik Jones, Martin Truex Jr., Ryan Blaney, Chris Buescher, A.J. Allmendinger, Brendan Gaughan and Elliott Sadler.
Kennington may be relatively new to the Cup series, but he's a veteran of CASCAR, NASCAR's Pinty's Canadian Series (108 starts, eight wins), the Xfinity Series (50 starts) and the Camping World Truck Series (five starts).
Don't be surprised if Kennington is a bit wide-eyed and awestruck heading into Sunday's race.
"It's a dream come true," said Kennington, who is driving for Gaunt Brothers Racing. "I can't explain it really. Coming off of four (of Thursday's Duel), I wasn't in the race.  When we crossed the line, I was, so just an unbelievable feeling for us."
Kennington's achievement is made all the more outstanding given he wasn't able to practice prior to Thursday's Duels.
"Never being in one of these cars, never drafting out here before, it was a pretty big deal for me, a lot of learning, I tell you," he said. "At the end we made it in. That's huge for us.
"The hard part is over. We're going to have some fun now."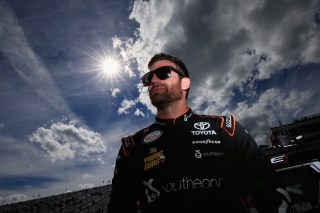 Kennington is not only racing for himself and his team, he'll also be racing for his country.
"There's only been eight of us Canadians that have made the 500, so that's huge for us," he said
As for LaJoie, he qualified for BK Racing even though he was involved in a late crash with Reed Sorenson in the first of Thursday's two Can-Am Duel races.
"Every kid in a race car dreams of racing in a Daytona 500, and I get to do that on Sunday," LaJoie said.
He gets to race against his idols in the sport's biggest race.
"Man, you come here idolizing Jimmie (Johnson), Dale (Earnhardt) Jr., all of these guys," LaJoie said. "I'm fans of all of these guys and I get to race all of them on Sunday. It's amazing. The big man has got a plan. I'm excited to get up there and dice it up.
"It's been a hard road and I've still got a long way to go, but it starts Sunday."
Follow @JerryBonkowski