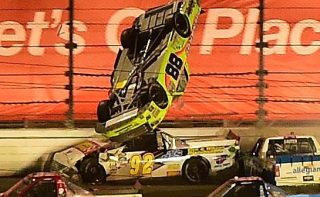 Kaz Grala escaped a huge crash on the last lap of the NextEra Energy Resources 250 to become the youngest winner in NASCAR national series history at Daytona International Speedway.
Grala, 18, was running near the front when a 12-truck crash broke out that saw Matt Crafton go airborne, flip and land on the back of Johnny Sauter's No. 21 truck.
Grala, who sat on the pole, managed to evade the mayhem in his No. 33 GMS Racing Truck and take the checkered flag. The native of Boston was the youngest Daytona pole-sitter in NASCAR history.
The win comes in Grala's 10th Truck start and is his first top five.
"I wish you could tell me (how I won the race)," Grala told Fox Sports 1. "I didn't know what I was doing out there. I don't know how to go a donut. I don't know how to do a victory lap like that. I just know that I'm Polish, so I figured I should drive backwards."
Grala followed his teammate, Sauter, for most of the night until a two-lap shootout after a late caution. Grala said his radio chord came undone on Lap 79 and he wasn't able to get it functioning again until right before the final restart of the 100-lap race.
"Honestly I got lucky coming out of (Turn) 2 there, I just didn't lift and everything went crazy around me," Grala said. "I can't believe we won Daytona. This completely changes the season in a way we can play it."
Grala was followed by Austin Wayne Self, Chase Briscoe, John Hunter Nemechek and Joe Nemechek.
Grala was the first official winner of a NASCAR national race since the introduction of the new stage race format.
Stage 1 winner: Johnny Sauter
Stage 2 winner: Johnny Sauter
MORE: Truck Series points standings
WHO HAD A GOOD NIGHT: Most of the drivers who were not involved in the two massive wrecks that marked the beginning and end of the race … Chase Briscoe was the driver the triggered a 14 car accident on Lap 2, but he finished third. Myatt Snider and JJ Yeley finished in the top 10 … Regan Smith was involved in the last-lap crash, but finished sixth … John Hunter Nemechek rebounded from a Lap 95 spin to finished fourth. He was followed by his father, Joe Nemechek.
WHO HAD A BAD NIGHT: Most of the 14 drivers involved in a crash at the beginning of the second lap. Noah Gragson, Austin Cindric, John Hunter Nemechek, Clay Greenfield, Stewart Friesen, Ross Chastain, Stewart Friesen, Tommy Joe Martins, Tyler Young, Chase Briscoe, J.J. Yeley, Terry Jones, Cody Coughlin, Snider and Bobby Gerhart.  The wreck began when Cindric turned Gragson into the outside wall as the field approached Turn 1. Gragson then came back down the track as cars began collecting in the wreck …
The end of the first 20-lap stage saw a crash involving Brett Moffitt and Christopher Bell, with Bell going airborne. Bell continued, but Moffitt's night ended with the expiration of the five-minute damage clock … Bell was involved in a second crash with Korbin Forrister with 29 to go. Bell finished eighth on the lead lap.
Twelve drivers were involved in the lap crash: Crafton (14th), Sauter (15th), Ben Rhodes (12th), Travis Kvapil (24th), Regan Smith (sixth), Bell (eighth), Self (second), Myatt Snider (10th), Cody Coughlin (11th), Timothy Peters (17th), Gallagher (13th) and Grant Enfinger (16th).
NOTABLE: GMS Racing has now won two straight season-opening races at Daytona. Sauter won last year's race.
QUOTE OF THE NIGHT: "It got wild. We all knew it was. The whole race was really wild. It was just a matter of being in the right place at the right time, and fortunately I was able to find the right place and be there at the right time, and that's why we came home second." – Austin Wayne Self, who finished second for his first top five in 17 Truck Series starts.
WHAT'S NEXT: Active Pest Control 200 at Atlanta Motor Speedway at 4:30 p.m. ET on March 4 on Fox Sports 1.