DAYTONA BEACH, Fla. – Joey Logano keyed the mic, and it wasn't because he suddenly was lonely — though you couldn't blame the Team Penske driver for feeling that way.
The first caution flag of the 2015 Brickyard 400 had flown, and Logano's No. 22 Ford was the lone vehicle of the top six to stay on track as virtually the entire field entered the pits.
"We're the only car on this strategy?" Logano radioed with befuddlement.
"Yep," replied crew chief Todd Gordon.
OK, thought Logano.
"I guess my job is to hold everybody off."
The Team Penske driver led the next 16 laps and managed to stay at or near the front for the next two hours, finishing second to Kyle Busch and nearly scoring Penske's first Cup win at Indianapolis Motor Speedway.
Score it as another moral win for the most simpatico crew chief-driver combination in NASCAR.
"That call made sense," Gordon said. "It just was not normal. We do some things that are not normal, but most are successful."
Whether it's choosing an unpopular pit stall (sometimes to the chagrin and ire of rivals), trying an unconventional race tactic or just generally acting like goofballs who could be sitcom characters, Gordon and Logano are making a strong case that their partnership could become the most formidable on NASCAR's premier circuit.
Reigning series champions Jimmie Johnson and Chad Knaus have a much longer track record of success — and a sibling rivalry-type relationship that has stood the test of 15 seasons, 80 wins and seven titles – but even they might not be on the same page as much as Logano, 26, and Gordon, 47.
Despite the latter being old enough to be the former's son, it's a friendship that features the camaraderie, deference and trust of lifelong chums.
"I ask him about things all the time, but I've realized now he's a lot smarter than me," Logano said. "Before I used to say, 'What the hell are you thinking?' Now I say, 'Please explain to me why we're doing this because I don't get it yet.' I need him to explain it because there are things that are just odd."
He's gotten used to enjoying the fruit of doing the unaccustomed with Gordon over four seasons.
Since arriving at Penske, Logano has 15 victories (trailing only Johnson (20) and 2014 champion Kevin Harvick (16) in that stretch) and is one of only three drivers with two appearances in the championship round of the playoffs.
Though he won't reveal his team's trade secrets, Logano said being "different" is the key to the success with Gordon.
"We do things in a different way than the majority of the field," he said. "We do things very differently. Car setups are different. I know our strategies are different. Our approach to a weekend is odd, but we found what works for us."
That they found each other was felicitous given the situations that each left behind.
After four mostly unfulfilled seasons at Joe Gibbs Racing, Penske was the second and final shot at stardom for Logano, the former wunderkind marked for greatness since Mark Martin proclaimed him ready for Cup as a 14-year-old.
Gordon, meanwhile, was coming off a 2012 season marked by a turbulent sequence of cockpit roulette in the No. 22, which had been through four drivers in four seasons.
"I think that what Joey Logano and his crew chief have is great timing," said NBC Sports analyst Steve Letarte, who helmed the Chevrolets of Jeff Gordon and Dale Earnhardt Jr. for 10 seasons. "I think their moves (to get paired up) were needed, just like Kyle Busch was (in leaving) Hendrick. When he moved to Gibbs, he was allowed to close that closet.
"The skeletons of (success) that didn't happen, of closed-door meetings, of the things you say you'll put behind you, but you never can. They're kind of gone. You have a fresh start."
As Logano put it, "Todd had to make something happen. I had to make something happen. It was do or die in a similar position for both of us."
And with the addition of stages and playoff points in NASCAR this season – ratcheting up the opportunities to capitalize on strategy plays and aggressive maneuvers behind the wheel — another fortuitous moment might be arriving for the pair.
"With the segments, there is going to be a lot of opportunity for someone to stand out and be different," Logano said. "It's going to take a lot of work and studying to figure out when that time is and when it makes sense to do it. But there are going to be plenty of opportunities when you look at someone and go, 'Holy moly, there's only one guy who did that.'
"That's where I think Todd is going to thrive because he thinks about that stuff a lot."
A curious selection
Look no further than the pits of any Cup race.
To be precise: The No. 2 pit stall that usually nobody wants.
In 142 starts with Logano, Gordon has chosen the second pit stall a staggering 51 times, or 36% of the time.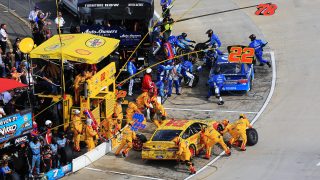 At first blush, this would seem to suggest Logano is a poor qualifier, which is disproved by 13 pole positions and an average starting position of 10.3.
Instead, what it means is the crew chief for one of the best qualifiers in NASCAR intentionally is choosing what is perceived to be one of the worst pit stalls, which are selected based on starting position.
Generally, the pole-sitter always chooses the first stall in the pits because it allows for the most seamless, swiftest exit. The next half-dozen qualifiers usually choose the pit stalls that have pit-wall openings in front or behind to allow for easier entry or exit. Those are located throughout the pits and aren't adjacent to stronger cars.
The No. 2 stall is avoided by the best qualifiers because there is an understood deference to the pole-sitter and a tacit understanding that avoids having two fast cars pitting nose to tail and potentially increasing the likelihood of an incident.
Gordon, though, puts such theories to shame.
In an astounding 12 races the past three seasons after Logano has qualified second, Gordon has selected the second pit stall – putting him directly at odds and behind the driver that beat Logano for the pole.
"If you look at how many times he did that, it's unbelievable," Letarte said. "Any guy who will pick the second pit stall time and time again … he doesn't have to have respect for the pole-sitter. There's no gentlemen's agreement. He's trying to win a race, and he thought that pit stall was better, so he took it.
"The other crew chiefs might get frustrated, but they respect him for having enough guts to say, 'That's where I'm going to pit.' He's not here to be everybody's friend."
Gordon said he initially took guff from other crew chiefs, but "they all expect it now."
So what is the rationale for being second?
Gordon is coy about all the reasons but said it goes beyond just being unique.
"I'll tell you one of the reasons is that we're creatures of habit," Gordon said. "There's a reason a production line works for car manufacturing. You have the same person doing the same thing every day, they do it very well.
"If every time you come to pit road, you know you're going all the way down to stop, your routine is the same. My pit crew's routine is the same."
Logano said it's an example of Gordon "doing something he truly believes is right.
"Todd's a salesman. Todd can sell. He can get me to buy into about anything."
Team players
Gordon can get the team to buy in, too.
Ask the driver and crew chief of the No. 22 what they are most proud of over the past four seasons, and it's the ability to maintain continuity.
Aside from team members leaving to escape the rigors of the road, no one has quit or departed for another team since Gordon and Logano joined forces – which is somewhat astounding given that teams often poach talent from each other.
"No one has said I don't want to be on this team and went to a different team," Logano said. "That's something that I take personal (pride). I don't need a pat on the back, but that's something we pat ourselves on the back about."
Gordon said an independent firm that tracks pit crews' speeds has shown the No. 22 among the two fastest in NASCAR every season since 2013
"It's tough when you've got really good people and good team chemistry, it can be broken up by one or two (people)," he said. "Fortunately, we've got a group that they just love to be together.
"They've been approached (by other teams). But we've been successful keeping that group together with the belief that a lot of them understand that Joey really appreciates them. When you take care of people around you, they take care of you. Joey gets that."
Logano has taken many steps to help ensure his guys – and their families – are appreciated. His wife, Brittany, organizes boat outings on Lake Norman for team members, and the couple took the extra steps of buying rings for significant others to signify Logano's victory in the 2015 Daytona 500.
"We understand the spouse really has a huge role in this," Logano said. "It's hard, because if your wife hasn't bought in, that reflects on everyone on the race team. So we try to make sure that we understand that pressure that is in each of their families and try to make sure we share that appreciation.
"You have to put your wife and kids first. It's important for us to acknowledge that and do something about it as a leader."
Gordon and Logano also have organized team-building around charitable activities such as building homes for Habitat for Humanity and helping less fortunate families.
"We've got some things that fundamentally we both agree with in how we live our lives and how we believe people should be," Gordon said of Logano. "We line up in that respect. We're a generation apart, but he's old for his generation."
The crew chief and driver have lunch together every Monday near Penske's shop in Mooresville to debrief about the previous weekend, and they also ride together from the airport to the track every week because Gordon gives his rental car to his crew so he spends more time with Logano. Their motorhomes always are parked alongside each other, too.
"Our personalities are very similar," Logano said. "I use him a lot to bounce ideas off outside racing. When you spend time and become friends with someone, you start to know what the person is thinking before they say it. He can tell by the tone in my voice how severe something is with the race car."
The native of Middletown, Connecticut, is an old soul whose idea of a killer Saturday is spending the morning browsing antique shops, the afternoon tinkering on classic automobiles and a night of watching Boy Meets World reruns (seriously; he's partial to Topanga).
Gordon, meanwhile, is a native of Camden, New York, about 40 miles north of Syracuse. ("It's where all the lake effect snow from Lake Ontario dumps. My hometown averages over 200 inches a year.")
The son of two principals (mom was at high school; dad at elementary) was raised with a strong sense of education and discipline. "I didn't get away with much," laughs Gordon, who graduated from Clemson with an engineering degree.
Logano, who didn't attend college given that he was becoming the youngest starter in Daytona 500 history eight years ago, likes that Gordon is "very rule-driven and organized. He's the smartest guy I know. He's very methodical on the way he thinks of things."
'We're both kind of dorky'
They also ride together after races, sometimes to the agony of Logano's wife in the backseat.
"We're both kind of dorky," Logano said. "I don't know any way to put it. We'll start laughing about something during the race, but Brittany will be in the back and have no clue because it's this funny lingo. She says, 'You're like the people from The Big Bang Theory.' It's funny to them, but it's so dorky that no one else would get this joke.
"We're laughing our heads off. We have that in common. We have a similar sense of humor and way of approaching life. That's something enough in common to be friends."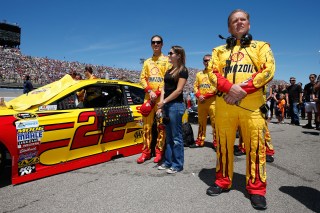 Gordon said the team enjoys teasing Logano about the in-car videos that show the driver constantly bouncing his leg before qualifying or practice.
"The bond our whole team has is part of what makes us successful," Gordon said. "Because there's no questioning of each other. A marriage works when two people understand that's what it is going to be and work at it. As long as you're focused on how we're getting forward, great things happen."
It's hard to avoid comparisons with the situation Logano left at Gibbs, where he stepped into the No. 20 ride vacated by future Hall of Famer Tony Stewart. An impressionable teenager with no experience, he hardly had a chance to thrive – though he refuses to point fingers.
"Everything that happened over there was my fault because I didn't do things the right way, but I learned from it, and I wouldn't trade it for anything now," Logano said. "I'm not the same person I was at 18 years old. I'm still Joey and a lot of things are similar, but the way I approach a meeting, I have so much confidence.
"Today if you put me back in (a Gibbs car) but knowing what I know now, it'd go completely different and so much better. But I was 18 years old, what did I know? I had no clue."
Said Gordon: "That was Tony's car. And Tony's guys. And that group had been together. Tony leaves, they put Joey in and say 'Well, this is how it works.' I think that's part of what Joey struggled with is you need to be able to put your identity on something and say, 'That may work for him, but it's not what works for me.' "
A driving force
Logano's restlessness is more than just a nervous tic, according to Gordon, who believes it is the mark of someone who "can't be restrained," and it's been reflected in the team excelling through the playoffs the past two years.
In the nine rounds of the NASCAR playoffs since 2014 that have featured advancement through wins, Logano has victories in five of them.
With NASCAR now awarding points twice during the course of the race before the checkered flag, Gordon believes his driver's mentality will mesh well with the new format.
"Joey has one speed, and it plays in our favor," said Gordon, who nearly always puts Logano on four tires to keep him on offense. "He's not going to ride for half the race. When you look at how Joey is wired, there's no slack in his game from green to checkered flag, he's 100%. That's just his way. The few times we've talked about an alternate strategy and saving fuel, it's not successful. He understands how to run at 99.8% and not put himself in trouble. That's one of his strengths."
"It's no different than a college football coach that's got a quarterback with arm and accuracy. With Peyton Manning, I'm not going to run on first down, I'm going to start throwing. … I put Joey in a category that there's very few elite athletes that can perform at a level for the entire game, and when the shot clock comes down to 3 seconds left, they can elevate. Michael Jordan was that guy. Tom Brady is that guy. Joey Logano can do that. You get down to end of race, I've got no one better than him at finding another level."
Logano believes with Gordon's guidance, he will reach new heights this season that never could have been anticipated.
"I don't think people would expect us to run as good as we did because neither one of us had the history," he said. "Put Kevin Harvick and Rodney Childers together you expect them to be good. Put Logano and Todd Gordon together, no one is thinking of a threat at all.
"Now we're a threat because we work together so well. We just want to be racers, and we've got a good race team. A really good race team."