UPDATE 11:40 p.m. ET
Justin Fontaine, who was involved in a late multi-car crash during Saturday's ARCA race at Daytona International Speedway, suffered a mild compression fracture of his L1 vertebrae, his team announced late Saturday night. Fontaine would be kept overnight at a local Daytona Beach, Fla. hospital for observation.
"Justin is awake and alert following a hard crash at Daytona International Speedway," said Win-Tron Racing owner Kevin Cywinski said in a media release. "Justin is in good spirits and we hope to be able to provide a further update on his recovery time when it's appropriate."
Fontaine added, "I just want to let everyone know that I'm okay and I'm thankful for the outreach of support. I also want to thank Win-Tron Racing for building me a safe race car. … It looks like I'll be out of the car for a while."
ORIGINAL STORY FOLLOWS:
A scary accident with five laps remaining brought an early end to Saturday's ARCA Racing Series season-opening Lucas Oil Complete Engine Treatment 200 at Daytona International Speedway.
Austin Theriault was declared the winner after 75 laps of the scheduled 80-lap event. Terry Jones was second, followed by Shane Lee, Dalton Sargeant and Tom Hessert.
With five laps remaining, ARCA veteran Bobby Gerhart, Codie Rohrbaugh, Fletcher and Justin Fontaine, making his ARCA debut, were involved in a crash on the frontstretch.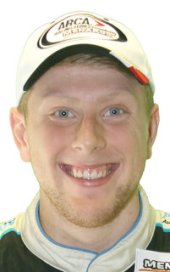 The three drivers were fighting for 12th place when the crash occurred in the restart zone and brought out a lengthy red-flag race stoppage.
Fontaine's Win-Tron Racing No. 33 ProMATIC Automation Toyota Camry was collected in the wreck, was turned on its side and then slid down the frontstretch for several hundred feet before it flipped on its roof and came to rest.
Gerhart and Rohrbaugh were both able to climb from their own cars, were taken to the infield care center, were checked and released.
Because of the heavy damage and delicate nature of the rescue — including being forced to cut off the roof of the car — safety personnel needed several minutes to right Fontaine's Win-Tron Racing car to allow him to be extricated.
After hanging upside down, the 19-year-old Fontaine took off his helmet, was placed on a stretcher and put in a waiting ambulance, which transported him to a local Daytona Beach hospital for treatment and evaluation
Because the stoppage was so long, plus there was damage to a SAFER barrier, officials ruled the race official.
In addition to Saturday being his first career start in the ARCA Racing Series, Fontaine is also slated to return to run a limited series of races for AM Racing in NASCAR's Camping World Truck Series this season.
Follow @JerryBonkowski