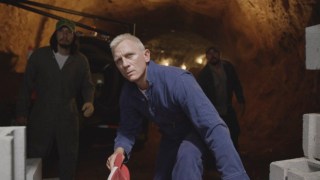 The Night Race at Bristol Motor Speedway won't be the only NASCAR action you'll be able to see the weekend of Aug. 18.
That's also when the NASCAR heist movie Logan Lucky will be released, Variety reports.
A new publicity shot from the movie has also been unveiled.
Directed by Steven Soderbergh (Ocean's 11-13, Magic Mike) the movie stars Channing Tatum (21 Jump Street, Magic Mike) and Adam Driver (Star Wars: The Force Awakens) as brothers who plot a heist of Charlotte Motor Speedway during the Coca-Cola 600.
The movie also stars Daniel Craig of James Bond fame.
NASCAR drivers who will make cameos in the film include Kyle Busch, Carl Edwards, Kyle Larson, Brad Keselowski, Joey Logano and Ryan Blaney.
Production of the film took place at Charlotte last year during both of NASCAR's race weekends at the 1.5-mile track. Atlanta Motor Speedway was also used as a shooting location.