When she climbs behind the wheel, NHRA Funny Car driver Courtney Force is used to going straight on a racetrack.
But Force will be doing a lot of turning Saturday night when she serves as honorary pace car driver for NASCAR's Advance Auto Parts Clash at Daytona International Speedway.
The clash is the annual non-points event that features the top drivers in the Monster Energy NASCAR Cup Series. Saturday night's field will include 2016 pole winners, past Clash champions, past Daytona 500 pole winners who competed full-time in 2016 and last season's drivers that qualified for the playoffs.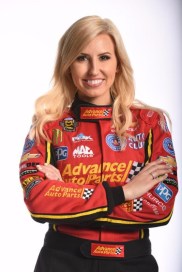 Force, who drives the Advance Auto Parts Chevrolet Camaro SS Funny Car, is the daughter of record 16-time Funny Car champion John Force. Courtney is coming off a strong run in last weekend's NHRA season-opening race in Pomona, California, reaching the final round.
She'll go from a 1,000-foot dragstrip to a 2.5-mile tri-oval on Saturday.
"I'm extremely nervous but honored at the same time to be driving that Chevy pace car before the veterans and young up-and-comers take on the track," Courtney Force said in a media release. "Being a girl that races the NHRA in a straight line for a living at over 330 mph, I hope I can keep the pace in front of the pack and keep turning left."
Follow @JerryBonkowski