When they first came into the NASCAR Cup Series, drivers like Kurt Busch, Martin Truex Jr., Kevin Harvick, Denny Hamlin and Chase Elliott were given advice on what to expect.
Now, with Erik Jones, Daniel Suarez, Ty Dillon and Gray Gaulding making up the 2017 NASCAR Cup rookie class, it's time for Busch, Truex and others to be the advice givers.
During the recent NASCAR Media Tour in Charlotte, several drivers were asked by NBC Sports about what advice they'd impart upon the rookies.
2004 Cup champ Kurt Busch had one of the best replies, followed by a serious addendum.
"Just pull in behind the 41 car and I'll take you to the front," he quipped.
On the more serious side, Busch added: "Being a rookie in the NASCAR Cup Series, it's a responsibility and there's a lot to learn, but you deserve this right to be here.
"You've raced well in the Xfinity Series. Daniel, you're a champion, Erik Jones you're a winner, Ty you're a winner. Welcome to the club. This is a tough group, but you're going to be just fine."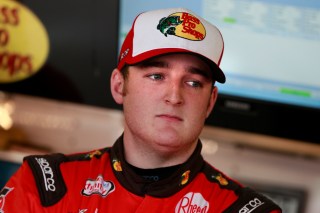 Busch's teammate at Stewart-Haas Racing, 2014 Cup champ Kevin Harvick, had some observations, as well.
"As you look at rookies in general, in my mind you see this a lot," Harvick said. "You see guys come in and they will have a very good start to the year and they'll get excited about everything that is going on and they'll put a lot of effort into what is going on.
"The hardest thing for a rookie is having to manage their time as you get into the grind and through the year; really the second year would be harder than the first year. It takes drivers with experience and knowledge – and sometimes the young drivers have it and sometimes they don't have it – to help your race team to grow, to push your team in the right direction, to progress your cars to where they'll run faster."
Last but not least, Harvick noted, "Learn how to manage your time and it's okay to say 'no'. … It's important to take care of yourself."
Martin Truex will have two rookies as Toyota teammates. Jones will be a teammate with Truex on the Furniture Row Racing team, while Suarez will drive the No. 19 car for Joe Gibbs Racing.
"(My) advice is just keep an open mind, enjoy yourself, try not to let the pressure get to you," Truex said. "It's such a big step, going from Xfinity to the Cup Series.
"Really, it's like going from the first rung of the ladder to the top and I'm talking about a 25-foot ladder. It's a big change. It's a big jump, lot of pressure and a lot of people expecting you to do things. Just try to enjoy it and take it all in and learn as much as you can."
Denny Hamlin will have Suarez, who replaces Carl Edwards in the No. 19 car, as one of his teammates at Joe Gibbs Racing.
"I think Daniel is more prepared than I ever was," Hamlin said. "So I would imagine he would have a lot of success."
But Hamlin also warns that Suarez could have a significant learning curve.
"No matter what, it's a giant step and eventually you have to take it," Hamlin said. "He just won the Xfinity championship. He was running in the top five every single week.
"So, like my dad said, what is there to accomplish? Move up to the next level and challenge yourself again. I think this is going to be a challenge for Daniel and Erik, but they're as prepared as anyone I've seen in a while."
And then there's last year's NASCAR Cup Rookie of the Year, Chase Elliott. As he enters his sophomore season in the Cup series, the son of a NASCAR Hall of Famer says this year's rookie class is well prepared to make the jump to NASCAR's marquee series.
"They've been racing long enough, they know what to expect," Elliott said. "I don't think me sharing something with them is going to be news to them. I think they have a good grasp of what's going on."
Follow @JerryBonkowski