A two-day test that featured three promising young drivers who will be racing full-time in the NASCAR Xfinity Series for the first time this season, ended Friday at Atlanta Motor Speedway.
William Byron, Cole Custer and Spencer Gallagher, who all jumped to the Xfinity Series after previously having competed in the NASCAR Camping World Truck Series, welcomed the opportunity to learn about one of the sport's most well-known race tracks.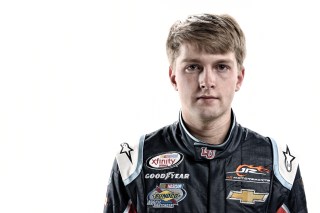 Byron, who won seven races in a Truck last season and was named the series' rookie of the year, is now in the JR Motorsports fold.
"It's great to know they've had that history and I know they bring good race cars to the racetrack," said Byron, who will drive the No. 9 Chevrolet Camaro for JR Motorsports. "Every time that you know you're going to sit in something that's going to be successful, that definitely makes it exciting."
As for the new racing format being brought to NASCAR this year, featuring three stages to a race, Byron is looking forward to it.
"I think it's going to be new for all of us, but I think it's going to make it more exciting," Byron said. "There's going to be more on the line early in the race, so you definitely have to push yourself to get those segment wins and try to get some bonus points."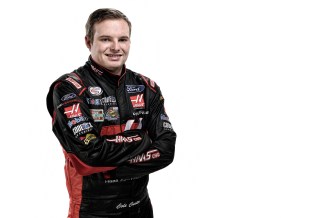 Custer, meanwhile, will highlight Stewart-Haas Racing's first foray into the Xfinity Series. While there likely will be a learning curve for both Custer and his team, he's confident that things will fall into place quickly.
"I think we have some really great people and a lot of great resources with Ford and at Stewart-Haas, so I think we're going to have some awesome cars and we're going to see what happens," Custer said.
With three-time Cup champ Tony Stewart as team co-owner, along with former Cup champs Kevin Harvick and Kurt Busch, as well as Clint Bowyer and Danica Patrick, Custer has a strong group of drivers to learn from.
"They've kind of volunteered," said Custer, who will drive the No. 00 Ford Mustang. "Kevin has tried to help me a little bit. He's definitely one of the greatest ones to ask because he's run so many Xfinity races. He's also been awesome in the Cup series. He's obviously one I really want to talk to."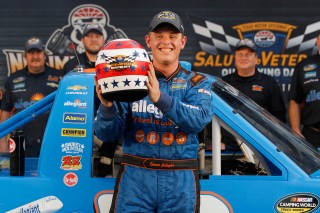 Gallagher, who will drive the No. 23 Chevrolet Camaro for GMS Racing, will have fond memories of his previous tenure in the Truck series.
"I'm certainly going to miss running around in the Camping World Truck Series," he said. "But being able to get into these Xfinity cars and show the series what GMS Racing has to offer is a real opportunity and privilege for me. I cherish that and look forward to it."
While he'll be at Daytona for the Xfinity Series season opener on Feb. 25, Gallagher values the two days he had at Atlanta because it will be more like the other tracks he'll be racing on for most of the season.
"Plate racing is really its own gig," Gallagher said. "The first time you come to Atlanta, to an intermediate track, one of the styles you're going to be running the rest of the year, that's where you see a lot of people's programs are really shaken out."
The Xfinity Series races at Atlanta on Saturday, March 4 in the Rinnai 250, part of a doubleheader that day that also includes the Active Pest Control Camping World Truck Series. The Folds of Honor Quick Trip 500 Monster Energy NASCAR Series race takes place on Sunday, March 5.
Follow @JerryBonkowski