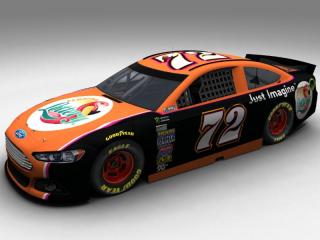 Cole Whitt will drive full-time for TriStar Motorsports in the NASCAR Cup Series this season in the No. 72. TriStar returns to the Cup level after a three-year absence.
It will be Whitt's third full-time Cup season in four years. He ran 26 races in 2016 for Premium Motorsports and in two Xfinity Series races for TriStar.
Whitt, 25, will be sponsored by the Florida Lottery for the Daytona 500 and by RTIC Coolers, Rinnai and Carolina Skiff throughout the season. Frank Kerr will be the crew chief.
TriStar and Whitt are guaranteed a starting spot in the 40-car field after leasing a charter from Front Row Motorsports that it acquired BK Racing.
"I'm looking forward to being back in the seat at TriStar Motorsports for the Monster Energy Cup Series for 2017," Whitt said in a press release. "We are glad to have Florida Lottery back with us for the season opener at Daytona and are fortunate to continue and expand our relationship with Rinnai, RTIC Coolers and Carolina Skiff throughout the year."
Whitt has 112 starts in the Cup Series since 2011, but has yet to record any top five or top-10 finishes.
Owned by Mark Smith, TriStar Motorsports has fielded cars in 197 Cup Series races since 1989. In 2013, it competed in 15 races with Mike Bliss, Alex Kennedy and Jason Leffler, who was killed three days after his lone start at Pocono Raceway in a sprint car race at Bridgeport Speedway in New Jersey.
"We are taking a different approach and expanding our competitive platform for 2017," Smith said in a press release. "It is an opportunity we feel is the best direction for this season and we are pleased to have Cole and his partners involved in those efforts."
Whitt will attempt to make the Daytona 500 in one of the Feb. 23 qualifying duels.