Phoenix Raceway confirmed Monday that it will move its start/finish line to Turn 2, just before the track's dog leg, as part of renovations that will be completed in November 2018.
NBC Sports first reported in November about plans for the track to move its start/finish line to Turn 2.
"It will make it more exciting," Joey Logano said of the new start/finish location. "There are going to be high-energy restarts."
That change is just part of a $178 million redevelopment project by International Speedway Corp. that will include new seating areas, escalators, elevators and additional restrooms for fans. Also being added are new suites and better in-seat Wi-Fi capability and a new tunnel to the infield for fans. 
Phoenix also is redesigning its infield, creating a fan zone while moving victory lane and the garages. Pit road will be moved in closer to the infield in Turns 1 and 2.
"This is a great day for ISC and Phoenix Raceway, but more importantly, for racing fans in the state of Arizona and around the world," ISC Chief Executive Officer Lesa France Kennedy said in a statement. "A project of this magnitude is monumental for our company as we get to work enhancing the experience of the great fans who love to watch our races in Phoenix and enjoy this beautiful area. Having Phoenix Raceway within our prestigious stable of venues always has been a tremendous asset and source of pride for us. We are thrilled to create a best-in-class facility in Phoenix, and we're confident it will grow the fan base here and further serve as a destination track for motorsports fans everywhere."
Also, in paperwork filed with International Speedway Corp.'s 2016 Annual Report, the company lists Phoenix's spring 2018 NASCAR race weekend as March 16-18 and the track's 2018 IndyCar race weekend as April 13-14.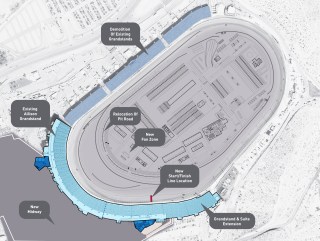 A look at some of the changes at Phoenix International Raceway. (Courtesy Phoenix International Raceway).