In 1983, Mark Martin was a "broken man" in every sense of the word.
"Physically and emotionally both … Economically," Martin said in a teleconference last week.
He was only 24.
At the time, the young man from Batesville, Arkansas, had endured three seasons with 51 starts in NASCAR's Cup Series with five different owners, including Bud Reeder and Jim Stacy.
But after five starts in '83, a $50,000 sponsorship deal Martin had fell through when the company failed to pay.
After finishing 33rd at Charlotte Motor Speedway in October, Martin returned to Arkansas. He soon moved to Wisconsin to revive his career in the American Speed Association Series, where he'd won three previous championships.
With his NASCAR dream in shambles, Martin never thought he would return to the Cup level.
"I had no intention of doing anything but making a living short-track racing the rest of my career," he said.
THE ROAD BACK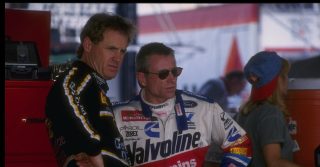 The rest of Martin's career lasted 30 years.
Within three years, Martin was on his way to his fourth ASA title. That's when NASCAR came calling in the form of a ride in the Busch Series (now Xfinity).
"I had an offer to go race the Busch Series that had potential to be a better financial situation than what I was in ASA," he said. "That really mattered to me at the time because I was just two-and-a-half years into going from a bachelor to a married man with four kids. It did make a difference."
Martin returned to NASCAR in 1987 driving the No. 31 Fat Boys Bar-B-Q Ford for Bruce Lawmaster.
But Martin, then 28, still didn't anticipate rising to the Cup level, seeing the Busch ride as "a step up from a lateral move."
Nine races into the season, Martin claimed his first NASCAR win in the Budweiser 200 at Dover International Speedway. Two races later, he won from the pole at Orange County Speedway in Rougemont, North Carolina.
He had people's attention.
"The phones starting ringing for Cup," said Martin, who won three times and finished eighth in the standings.
One person calling was Jack Roush, who had been pointed in Martin's direction by Bobby Allison. But before Roush would take chance on the resurging driver, Martin had to do one thing. He had to stop drinking.
During his first NASCAR stint, Martin had started down a beer-fueled path in part to peer pressure.
"Everybody always picked on me and teased me because I drank so little," Martin said in the 1997 Bob Zeller book "Mark Martin: Driven to Race." "I went from drinking so little I couldn't even keep from being teased about it, to where I almost enjoyed it a little bit, to having some fun once in awhile like a normal drinker does, to drinking in excess."
Alcohol became a bigger issue for Martin in his three years away from NASCAR, just as it had for his father, Julian Martin, before he became sober in the mid-1980s.
"Genetically speaking, a son of an alcoholic is five times the risk of becoming one than not," Martin told ESPN in 2009. "My dad had problems all through my childhood. I said I would never be like that.
"At some point, I had to look at myself and say, 'Either I am like that or I'm not going to be like that.' That's a hard thing."
Though Roush said Martin's problem "did manifest itself " in their first year together, Martin's last drink came in 1988 when his sponsor was, of all things, Stroh's Light beer. It was still Martin's sponsor in 1989 when he won his first Cup race, at Rockingham Speedway.
Instead of the bottle, Martin refocused his energy on his physical fitness. The pursuit helped prolong his career well into the 21st Century after most of his peers of the 1980s and 1990s had disappeared from the circuit.
"With my time freed up once I got with Jack, I had the opportunity to gain an advantage," Martin said last week. "If nobody else was doing it and I was, it's a clear opportunity to gain an advantage on the competition. Just like the guys working on the cars were staying nights and gave everything that they could give, I viewed it as an opportunity to do the same thing. To give more than the competition. Basically a lot of the success that I had throughout my early years was to outworking the competition."
By the end of his career, at 54, Martin was one of the most physically fit and respected drivers in the garage.
CROWN JEWEL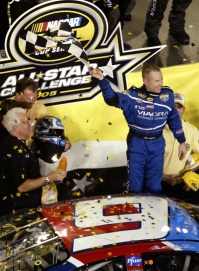 What Martin accomplished in the three decades between his Wisconsin exile and his 882nd and final start in 2013 has led to his induction to the NASCAR Hall of Fame at 8 p.m. ET Friday on NBCSN.
As part of the Hall's eighth class, Martin will be inducted with team owners Richard Childress and Rick Hendrick, driver Benny Parsons and early NASCAR team owner Raymond Parks.
"I don't know how to put it, it's the last big deal or the big win," Martin said. "It is the crown jewel of my career for sure."
Martin has 40 wins the Cup Series, 49 in the Xfinity Series and five runner-up finishes in the Cup standings. But Martin hasn't quite come to terms with having his name and career immortalized alongside fellow legends of the sport.
"Don't forget the people in that Hall of Fame are my heroes," Martin said. "The founders of the sport. The real men that did it with their bare hands, and I'm a little bit uncomfortable going in there to be honest with you, because I don't feel like I belong in that kind of company."
The fact that Martin never won a championship is not an issue for him, at least not anymore.
"(It) robbed me of an enormous amount of joy," Martins said of past regrets. "Something that I let go of in 2006. Refused to allow it to rob me of joy. I have a lot to be thankful for. And a lot to be grateful for. And I am proud of what I accomplished with my career, and I'm not sour about the things I didn't accomplish.
Martin's lack of a title doesn't diminish his career to Clint Bowyer, who was a teammate of Martin's at Michael Waltrip Racing from 2012-13.
"Mark Martin, that guy is everything," Bowyer said earlier this week. "He's such a humble champion. I know he never was a champion, but he is a damn champion. He is a champion in every sense of the word. He's represented this sport for so many years, so professional and so perfect as a race car driver. I'm glad to see him in there."
Among Martin's accomplishments are wins in two Southern 500s, a Coke 600 and two All-Star Races. But his greatest pride isn't in any single race, trophy or moment. It's in the totality of what he accomplished with his second chance.
"Fell on my face and had to go home and start my career all over again," Martin said. "So I would say the perseverance, if you want to sum it up in one word."