CONCORD, N.C. — Clint Bowyer can be loud, wild and ready for the next good time, but after a season that felt as arduous as Odysseus' journey, Bowyer's voice softens when he states a goal for this season.
"I sure hope you are watching me,'' Bowyer said as he stood next to his No. 14 Ford for Stewart-Haas Racing. "At the end of the day, relevancy in this sport is everything, and I've lost that a little bit. Not a little bit. A lot.''
Four years after finishing runner-up in the championship, Bowyer could barely finish in the top 20 in races last year for HScott Motorsports, a team no longer competing in NASCAR.
It was a stunning fall for driver who seemed on solid ground after he signed a three-year contract extension with Michael Waltrip Racing in May 2014, following back-to-back finishes in the top 10 in points.
Fourteen months later, though, Michael Waltrip Racing announced it would cease operations after the season.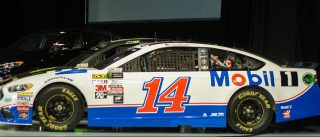 A month after that, Bowyer signed to drive for Stewart-Haas Racing, replacing Tony Stewart in 2017. That left Bowyer without a ride for 2016. With few options, Bowyer went to HScott Motorsports and suffered through a season that saw him record three top-20 finishes in the last 19 races.
"Was it the best thing in the world for me?'' Bowyer said of last season. "Probably not. It probably wasn't healthy as a matter of fact, but, nonetheless, this deal was worth it. This opportunity was worth whatever you had to go through, whether it was sitting at home or getting into something. It didn't matter, I signed on for this thing. I want to be in this car because I knew it was my soonest opportunity to be in the best possible situation to win races.''
But it has been four years since he last won, a span of 149 races.
He was asked Wednesday at the Ford Performance Technical Center if he is any good still.
"That's a real legitimate question,'' Bowyer said. "You just don't know. I think the last time I was in a good car, I was good. I think that I'm a smarter driver than I was three years ago. I think I'm plenty capable of winning races. I love what I see at Stewart-Haas.''
His team was set up for him. Mike Bugarewicz gained experience last year in his rookie season as a crew chief for Stewart. That should help Bugarewicz in the transition to his new driver. Bowyer and Bugarewicz started talking weekly in the second half of last season, discussing what setups Bowyer liked, track conditions, tires, etc. Anything to learn each other and help their communication this season.
"For me, that driver/crew chief relationship is everything and you've got to get that established,'' Bowyer said.
Bowyer also can lean on some familiar faces at Stewart-Haas Racing. He was a teammate to Kevin Harvick at Richard Childress Racing. Bowyer was at Michael Waltrip Racing when Harvick's crew chief, Rodney Childers was there. Billy Scott, crew chief for Danica Patrick, was Bowyer's crew chief, for part of the 2015 season.
About the only person he doesn't know well at SHR is Kurt Busch.
"We just never really hung out,'' Bowyer said of the 2004 champion. "He's the one guy that I really think has more raw talent than about anybody out there. I want to go out and learn as much as I can. I know he can really diagnose what's going on with the car. The depth he goes in with the debrief is probably a lot higher than I've had in the past.''
That's just part of the culture at Stewart-Haas Racing that has Bowyer excited.
"They don't take second as an option,'' Bowyer said. "They go and work hard and figure out how to go win these races.''
No longer does he have to worry about finishing 25th (his average finish last year was 23.6).
"With equipment like this, if you're 25th or something at the end of the day … there's a reason for it,'' Bowyer said. "That's the breath of fresh air. It's not expected. It's not going to happen.''
Told that Stewart sees Bowyer as calmer, the 37-year-old replies that he's "confident again.
"When 2016 finally came to an end, I was looking at Dale (Earnhardt) Jr and Amy having a good time (at their New Year's Eve wedding), and I'm like I can't wait for tomorrow morning,'' Bowyer said. "Just get all that brushed off, get it behind you and … focus on the task at the hand and using this wonderful opportunity to be good and great again.''
And relevant.
Follow @dustinlong and on Facebook