The unexpected news of Carl Edwards leaving Joe Gibbs Racing and not competing in NASCAR in 2017 is not related to a potential job as an analyst for Fox Sports, the network announced Tuesday in a statement.
John Entz, Fox Sports president, production and executive producer, said the network is "as surprised as anyone" about the turn of events around Edwards and "speculation that he may be climbing out of the car" to join Fox is "unfounded."
The current NASCAR broadcast team for Fox Sports is Mike Joy, Darrell Waltrip, Larry McReynolds and Jeff Gordon, who retired from full-time NASCAR competition after the 2015 season.
"Our team is set for the future, and we wish Carl well in whatever he chooses to do next," Entz said.
Below is the full statement.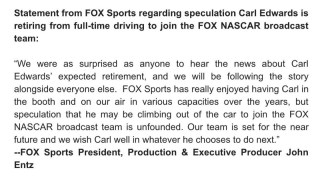 MORE: Drivers and other react to Carl Edwards news.