DETROIT – The "Win on Sunday, Sell on Monday" mantra won't hold true immediately with Toyota's latest entry in NASCAR.
Oh, the redesigned Camry – with a distinctive front end and aggressive stylings for a typically conservative automaker – might have its sales numbers goosed by strong results on the track.
But if a Toyota takes the checkered flag next month at Daytona International Speedway, it'll be several months before fans can invest their loyalty in their showroom.
That's because it'll be a 2018 Camry that will be competing in the 2017 Daytona 500.
In a Monday afternoon announcement at the North American International Auto Show (where more than 5,000 journalists were credentialed for this week's event), Toyota revealed an overhauled Monster Energy NASCAR Cup Series race car in conjunction with the unveil of its production counterpart that will make a debut in late summer.
Ed Laukes, vice president of integrated marketing for Toyota Motor Sales, said the car's design was the impetus for the unprecedented move of bringing it to track ahead of market (it likely will be available to the public in August).
"As soon as they unveiled the drawings (of the 2018 car) to us, we looked and said, 'This is such a radical design, that we really need to figure out a way to get it on the racetrack as soon as possible,' " Laukes said. "Rather than wait until the year after it went on sale."
Camry chief designer Masato Katsumata was involved in helping approve the race car design along with engineers from Calty Design Research, Inc. (Toyota's North American design studio) and Toyota Racing Development. Calty (Newport Beach) and TRD (Costa Mesa) are headquartered in neighboring cities in Southern California.
The development of the 2018 model started two years ago as TRD rolled out an update of the Gen 6 Camry that made its debut in 2013 and won 16 of 36 Cup points races last year.
David Wilson, TRD president and general manager, said the new Camry was tested last June with NASCAR and representatives of Ford and General Motors, but Monday's announcement mostly had been kept under wraps during the building process.
To preserve the secrecy of the project, Toyota had its NASCAR team members sign non-disclosure agreements. Last September, Joe Gibbs Racing installed new windows in its fan viewing area to obscure the work done with the new car on the shop floor of its Huntersville, N.C., headquarters.
Wilson said Toyota involved its teams more heavily in the car's aerodynamic development.
"We had them work with us side by side as we're designing this because they've got very, very smart aerodynamicists," Wilson said. "So the intent is to hit the ground running at Daytona with being further along than the past two generations" of the Gen 6 car.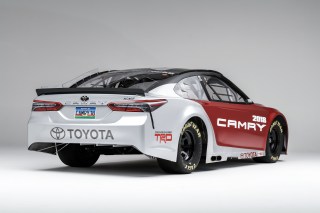 Wilson said NASCAR sets limits on the advances made with increasing downforce while lowering drag but "every time a manufacturer has a shot at building a new car and evolving a new car, you try to work closer and closer to the corner of the lowest drag and highest downforce."
Said Laukes: "Everyone operates within the box on downforce and drag, and as long as you're operating in that box, it passes the test. So there are always minor tweaks that everyone is doing as far as sheet metal, but it's still going to operate within that NASCAR-approved box of downforce and drag. I think we're always looking to try to make things better, but you can't get radical, because then you're outside the rules."
The Camry will make its competitive debut Feb. 18 in The Clash at Daytona exhibition race. There will be no preseason testing at the track for the new model, but Wilson said the high fidelity of computer simulations would mitigate the lack of real-world experience.
"The tools that each of us have available now, you know what (the car) should do," Wilson said. "There's a tangible 'We want to get it on the track' feeling, but it's not necessary."
Laukes said the next step for Toyota in NASCAR car development would be a new model for the Xfinity Series. While Ford (Mustang) and Chevrolet (Camaro) use different models in the second-tier circuit than in Cup, Toyota campaigns a Camry.
"The current Xfinity car will live on at least a year, probably two within Xfinity," Laukes said. "Then we'll redesign or talk about some other future model to unveil in that time."
The Camry has been the No. 1-selling vehicle in the country for 15 consecutive years (more than 400,000 sold last year), but Laukes said consumers overwhelmingly are moving toward trucks and SUVs away from mid- and luxury sedans.
"Things like this hopefully will stop the bleeding of people making that transition from a four-door sedan to an SUV," Laukes said.
It's the second straight year that a manufacturer has introduced an update to its Cup Series model. Ford updated its Fusion model last year.