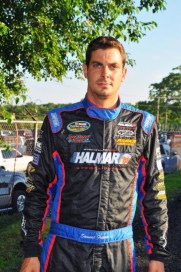 Halmar Friesen Racing has been announced as a new full-time team in the Camping World Truck Series with its day-to-day operations led by Tommy Baldwin Jr.
The team is founded by Chris Larsen and Stewart Friesen. Friesen, who will drive the No. 52 Chevrolet, is a veteran of modified and sprint car racing who made his Truck debut last year at Eldora Speedway as part of a six-race program with Larsen.
Friesen's best result was 13th at New Hampshire Motor Speedway.
"I'm super excited to be part of the Halmar Friesen Racing team," said Friesen in a press release. "We did a bit of racing last year to get our feet wet on asphalt, and we were pleased with our success. Everything we have going on with Tommy is exciting. It's great to have his experience guiding our team so we can hit the ground running in Daytona."
The team purchased the trucks and points that were used by JR Motorsports, which closed its truck program following the 2016 season.
Baldwin's managing position with the team comes after he sold Tommy Baldwin Racing's charter in the Monster Energy NASCAR Cup Series last month. TBR fielded the No. 7 driven by Regan Smith last season. Despite selling his charter to Leavine Family Racing, Baldwin says all of his Cup equipment is still in his possession.
"I have all my assets," Baldwin said on SiriusXM NASCAR Radio on Monday. "I have the Cup program just sitting there."
Baldwin said he expected to make further announcements in the coming week about more of his 2017 plans.
Baldwin's relationship with HFR began when he lent the team equipment last year.
"All of our employees that were with TBR at time, most of them have shipped over to the truck side," Baldwin said. "I let all of the guys know probably a month and a half before the season ended so they could get a head start on everybody trying to find some work. … This truck programs started probably in November gaining some momentum."
The Truck Series season begins on Feb. 24 at Daytona International Speedway.