CHARLOTTE — The four of them sat on a makeshift stage at the NASCAR Hall of Fame and were ready, if not appearing a bit apprehensive, to turn around.
There was the son who lost his father before the age of 2, Robbie Allison. Next to him sat his grandfather, 1983 Cup champion Bobby Allison. Then came a former crew chief and a close friend of both Allisons, Larry McReynolds. Finally, another friend, and son of a famous car owner, Lorin Ranier.
But the group did turn and watch as a car cover was removed. With it went the butterflies, replaced by broad smiles and a rush of memories at the sight of the No. 28 Ford Thunderbird driven by Davey Allison in his rookie Cup Series season for Ranier-Lundy Racing. The car proudly taking its place with the rest of those deemed iconic enough to be on Glory Road.
"It was just such a great feeling," Bobby Allison said of seeing the car. "I was really bonded with the car all the way through. I had driven for that team (Ranier Racing) earlier and then (Davey) got in the car, and it was the black-and-white deal and evolved from that into the black Havoline special, the Texaco star. Just so many good things about it. The good wins that he had. Just made me feel great."
Pride emanated from all four individuals throughout the event. Especially Bobby, who not only raised Davey with his late wife, Judy, but raced against him from 1985-88. Bobby took a few trips up Glory Road to get a good look at the car and shared his favorite memories of Davey with those who asked. Or at least the ones he can remember.
Bobby carries around a picture in his pocket of the 1988 Daytona 500 that he won with Davey finishing second to remind himself that, "Yeah, that did happen." (Bobby lost his memory of the win in a crash at Pocono Raceway a few months later.)
Robbie Allison has his own brief memories of his father, who won 19 Cup races in 191 starts, including the 1992 Daytona 500, before his untimely passing in a July 1993 helicopter crash. Robbie, like many others, also repeatedly has heard how his father was destined to become a champion.
Davey, Robbie said, "definitely was as good a father as he was a racer."
With his car now displayed in the Hall of Fame, it provides Robbie and the others a chance to explain why Davey was as good as many say.
"You have to think about how he grew up," said Ranier, who shared a picture of the two from when they were teenagers. "His father was an iconic driver, and Davey took advantage of his position, meaning he wasn't just floating around saying, 'Hey, Bobby Allison's my dad, and I can do whatever I want.' He went and worked his ass off and learned and understood why his dad won races.
"He knew why (Bobby) won and then he just kind of adopted that to himself. Also, too, (Davey) kind of saw the mistakes that his dad made, and he tried not to do that. He had a really cool upbringing to become a great driver, and he was talented. So you mix all that together."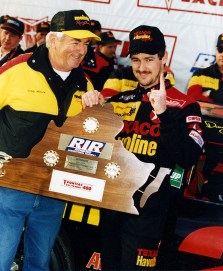 McReynolds knew Davey as well as anyone.
The two were friendly long before McReynolds became his crew chief and their relationship went far beyond the NASCAR garage. Davey and his wife, Liz, were close friends with McReynolds and his wife, Linda. Robbie Allison and Larry's son Brandon were born a few months apart and later baptized together. The Allisons were named Brandon's godparents and the McReynolds the same for Robbie.
Friday, Larry showed up at the Hall of Fame proudly wearing a leather jacket that had been given to Davey's team many years ago. McReynolds shared the sentiment that Davey was not only talented but a student of the sport.
"He lived, ate and slept racing," McReynolds said. "I said it at his funeral that we miss him, we're grieving, but if there's anybody that's left this earth that had his priorities in order, Davey Allison was that guy. He enjoyed getting away and doing a little bit of hunting and fishing, but for the most part, especially during the racing season, he would live, sleep, and eat these race cars pretty much from the beginning of February to the middle of November and even during the offseason. It was never good enough, and that's rubbed off on me."
The allure of Davey Allison also came in how he was described as a genuinely kind-hearted person off the track.
"It's funny because when people think about Bobby back in the day, Bobby was a very popular driver, he won like Most Popular Driver (six) times," Ranier said. "People liked Bobby, but they loved Davey. You know what I mean? They just loved him."
As did all those in attendance. The group of four along with those who accompanied them were the last ones to leave the Hall of Fame after taking one last look at the car. They did so sharing a common hope for the future.
To McReynolds, Davey Allison's car being in the Hall of Fame is hopefully just another rung in the ladder. He deserves Ranier said, to climb that ladder to induction into the Hall of Fame. It would give him a permanent place in the Hall alongside his father Bobby, who continues to wait for that day.
"Oh yes," Bobby said of wanting Davey in the Hall of Fame. "Yes. There's so many good guys out there, but Davey accomplished so much in that short period of time. Including the Daytona win, the wins around the other big tracks around the country. I'd love to see him in there."