When visitors walk into the NASCAR Hall of Fame for the first time in 2017, there will be a noticeable difference greeting them.
Glory Road, situated in the Great Hall, has undergone a makeover. The exhibit serves two purposes in highlighting memorable cars from NASCAR's history as well as the different degrees of banking they raced.
The unveiling of a new Glory Road marks its third generation since the Hall of Fame opened in 2010. Featuring 18 cars under the theme of ICONS, they were chosen based on the consideration of being an iconic car, an iconic driver, or an iconic race. It starts with Marshall Teague and ends with 2015 Cup Series champion Kyle Busch.
Here's a tour of Glory Road: ICONS
1952 Hudson Hornet driven by Marshall Teague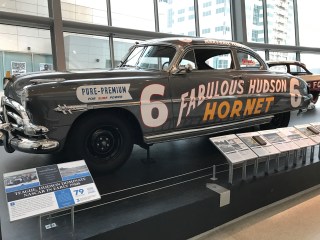 An owner/driver, Teague won three consecutive manufacturers championships for Hudson Motor Company after they began supplying him with cars in addition to developing performance parts for him.
"I feel the Hudson is the best car for my purpose, and, if any other car was better, I would drive that car," Teague said. "It's as simple as that!"
1957 Ford Fairlane driven by NASCAR Hall of Famer Fireball Roberts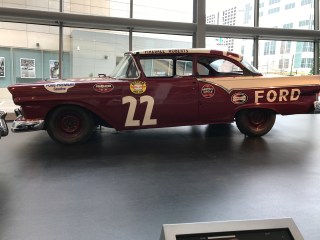 Roberts drove this car to eight premier series victories, including three in a row at North Wilkesboro, Langhorne Speedway and Southern States Fairgrounds.
"Fireball wouldn't mess with you at all," Marvin Panch, a Ford teammate, said. "You could trust him on the racetrack. You always knew right where he'd go. It was a pleasure to race him."
1964 Plymouth Belvedere driven by NASCAR Hall of Famer Richard Petty
Considered his breakout year, Petty earned his first of seven wins in the 1964 Daytona 500 and first of seven championships in a HEMI-powered Plymouth tuned by brother Maurice Petty. The Daytona 500 was the first of nine victories for Petty that season.
"In all my career, I had never had a car that was faster than anybody else … until then," Petty said.
1966 Ford Galaxie driven by NASCAR Hall of Famer Wendell Scott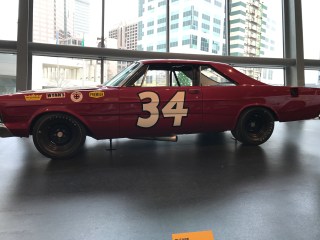 The 1966 season was the best of Scott's career as he earned 17 top-10 finishes and finished sixth in points.
"I never set out to blaze any trails or be a pioneer," Scott said. "I've always said the only race I care about is the race on the track."
1966 Dodge Charger driven by NASCAR Hall of Famer David Pearson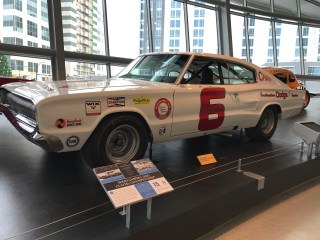 Paired with mechanic Cotton Owens, Pearson went to victory lane 15 times in 1966 including four straight at Hickory, Columbia, Greenville-Pickens, and Bowman Gray Stadium. Pearson also won the championship with the car, which ushered in a new era of race cars because of the aerodynamic advantage it had with a sloped-back roofline.
"The aerodynamics were the key to that body design … the air went over the car," Donnie Owens, crew member and son of Cotton Owens, said. "And with that sloped roof and short rear deck lid, you couldn't draft behind it. NASCAR put the first spoiler ever on it to keep the back end on the ground."
1939 Chevrolet Coupe driven by NASCAR Hall of Famer Richie Evans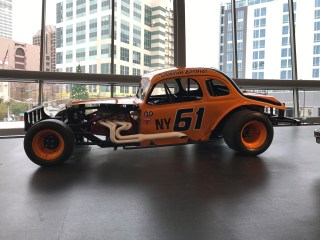 It was with this car, which he ran on short tracks throughout the Northeast in the early 1970s, that Evans' career took off. While he changed cars throughout the years, Evans kept his iconic orange paint scheme and No. 61 while winning a record-setting nine (including eight straight from 1978-1985) NASCAR championships.
"Richie was a racer's racer," said Ray Evernham. "He could build his own cars and really understood them. He was certainly way ahead of his time on a lot of things, especially tires. He'd mount dozens of tires for the big races, and then he'd settle on exactly what he wanted."
1976 Chevrolet Monte Carlo driven by NASCAR Hall of Famer Darrell Waltrip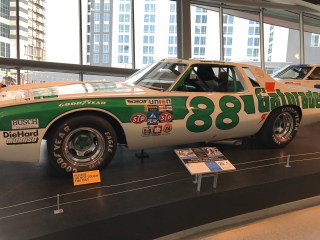 Nicknamed "Bertha," this car became synonymous with Waltrip from 1976-1980. During that time, Waltrip won 25 times and earned two Coca-Cola 600 wins (1978, 1979).
"That thing had a wheelbase of 116 inches and was 64 inches wide," crew chief Buddy Parrott said. "It really shouldn't have worked. But we busted our butt working on the weight distribution, and you couldn't knock it off the track on the short tracks. It worked good on the big tracks, too. It handled really good."
1978 Ford Thunderbird driven by NASCAR Hall of Famer Bobby Allison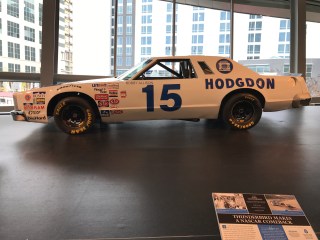 The 1978 season saw Allison paired with owner Bud Moore, and they won their second race together, the Daytona 500. This particular chassis was used in four races at Richmond, where Allison earned two wins and two runner-up finishes.
"The car handled really good … the crew responded well to my requests on what I thought would make the car better," Allison said. "Bud (Moore) was really good to work with, and he respected my requests. His engines were reliable, and we won 14 races in three seasons."
1982 Oldsmobile Omega driven by Sam Ard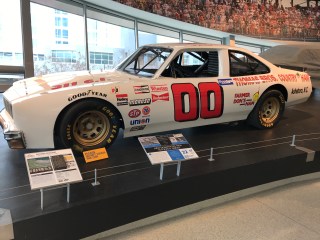 In what is now the Xfinity Series, Ard was one of its most successful drivers. He won 22 races between 1982 and 1983 was crowned champion in '83 and '84.
"Sam Ard was one of the greatest competitors I ever raced against," Jack Ingram said. "When I saw that white No. 00 come into the track, I knew I was in for a tough race. And everybody else knew it, too."
1987 Ford Thunderbird driven by Davey Allison
In his first full season at Harry Rainier Racing, Allison earned five poles and two wins on his way to winning rookie of the year. When Robert Yates took over the team in 1989, Allison remained the driver and went on to win the 1992 Daytona 500.
"From the time I was a little boy, it wasn't, 'I'm Bobby Allison's son, and I'm going to be a race car driver,' it was, 'I'm Davey Allison, and I'm going to be a race car driver,'" Allison said.
1989 Ford Thunderbird driven by Neil Bonnett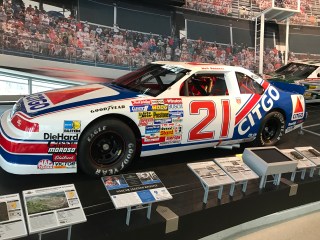 After driving for Wood Brothers Racing early in his career, Bonnett reunited with the team for the 1989 and 1990 seasons. He earned nine wins and five poles driving for Hall of Famers Leonard and Glen Wood.
"Glen Wood calling (in 1979) with two of the biggest shocks in one sentence that I've experienced," Bonnett recalled. "He said, 'David Pearson has quit the team, and will you drive for the Wood Brothers?'"
1991 Oldsmobile Cutlass driven by Harry Gant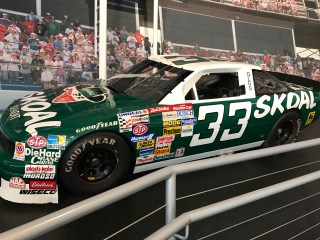 The green No. 33 went to victory lane a total of 18 times with Gant behind the wheel. That includes five times during the 1991 season. That same season, Gant earned the nickname "Mr. September" when he won four consecutive races at Darlington, Richmond, Dover and Martinsville.
"(Martinsville) was the hardest one of the four to win," Gant said. "I had to pass more cars today than I have in the others."
1992 Ford Thunderbird driven by NASCAR Hall of Famer Bill Elliott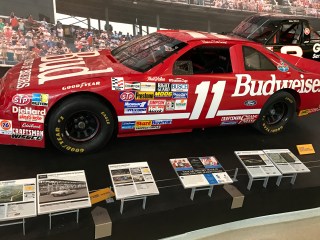 The 1992 season was memorable for many reasons, including its season finale at Atlanta Motor Speedway. Elliott won the race, his fifth of the season but came up 10 points short of Alan Kulwicki in the championship fight.
"I did all I could do," Elliott said. "I went out there and won the race (Atlanta)."
1995 Chevrolet Silverado driven by Mike Skinner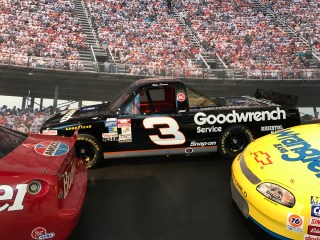 The 1995 season was the inaugural season for the Camping World Truck Series and saw Skinner win eight times on his way to claiming the championship. Skinner also won the inaugural race at Phoenix and put on his most dominating performance at Portland International Raceway when he won the pole and the race after leading every lap.
"I was a driver who wasn't getting any younger when the opportunity to drive this truck for Richard Childress Racing came along," Skinner said. "I became more focused than at any other time in my life … When we started looking outside the box, we were unstoppable."
1999 Chevrolet Monte Carlo driven by NASCAR Hall of Famer Dale Earnhardt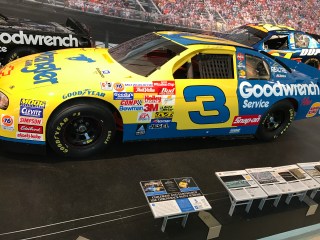 After becoming the first owner to roll out a limited-edition paint scheme in 1995, Richard Childress and his team brought out this car, featuring a throwback Wrangler scheme, for The Winston in '99.
"It was awesome to be able to represent Wrangler again," crew member Chocolate Myers said. "When Earnhardt came on board in 1984, he brought Wrangler and that 'One Tough Customer' thing with him. Everybody was excited to be running that paint scheme."
2005 Chevrolet Monte Carlo driven by Jeff Gordon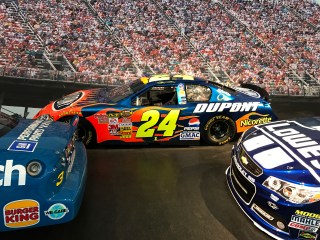 It was February 2005 when Gordon won his third Daytona 500 in what turned out to be his final win at Daytona International Speedway. He went on to win a total of four races in 2005.
"It felt very rewarding on many levels because of it being a spectacular finish, having to really maneuver around … going from first to third or fourth, back up to first," Gordon said. "Definitely getting beside that No. 8 car (Dale Earnhardt Jr.) and pulling ahead of him was amazing."
2013 Chevrolet SS driven by Jimmie Johnson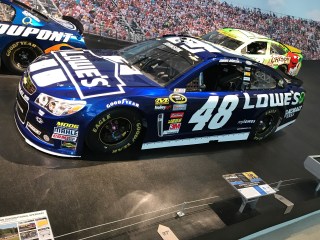 Johnson started the 2013 season by winning his second Daytona 500, the first of six wins that season. He also earned three poles and scored 24 top-10 finishes on his way to winning his sixth Cup Series championship.
"The Daytona 500 is a career-winning race," Johnson said. "It defines careers for drivers, crew members, crew chiefs and race teams. It has that power."
2015 Toyota Camry driven by Kyle Busch
After missing the first 11 races of the season following a broken right leg and fractured left foot in a crash during the Xfinity Series race at Daytona, Busch rebounded to win his first championship. Overall, Busch earned five wins on the season.
"This is just a dream come true and my family, my wife, my son – to have him this year and to have everything we've gone through this year, to be in this moment (in victory lane at Homestead-Miami Speedway) – I don't know know what else to say, but this is so special," Busch said.