Monster Energy will be new to NASCAR as a major marketing partner in 2017, but the beverage has been in the motorsports title sponsor business for several years.
Since 2008, Monster has been the primary brand backing the Supercross series, expanding exponentially while becoming synonymous the premier dirt bike series in the country.
Jason Weigandt, the host of motocross events on NBCSN and the editor of Racer X online magazine, has enjoyed a firsthand view on the sponsor's growth through an unconventional approach to marketing.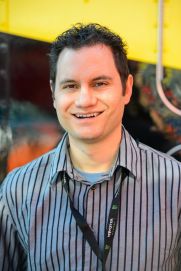 "We have learned in the motocross world to make fun of Monster's strategy at your own peril," Weigandt said during the most recent episode of the NASCAR on NBC podcast. "Because they've been phenomenally successful. … They've done it by being the anti-establishment. They generally gravitate toward the athletes that have an edge to them that are maybe not corporate friendly to a lot of companies."
With much (such as a name) still to be revealed about Monster's new sponsorship of NASCAR's premier circuit, Weigandt shared his insight on Monster's history, image and philosophy.
"You have this company that barely existed 10 years ago that now has NASCAR courting them," he said. "It's strange how quickly the world has changed there."
Other topics discussed by Weigandt on the podcast:
Whether many in the NASCAR industry attending a Supercross event at the Georgia Dome the past two years might have influenced the Monster decision;
Monster's commitment to backing "edgy" riders and athletes;
Its niche with marketing to the Millennial audience;
The company's rivalry with the Red Bull brand and how it unfolded in Supercross;
How the presence of the Monster girls was perceived.
You can listen to the podcast by clicking on the AudioBoom embed below or download and subscribe to the podcast on iTunes by clicking here. The free subscription will provide automatic downloads of new episodes to your smartphone. It also is available on Stitcher by clicking here and also can be found on Google Play, Spotify and a host of other smartphone apps.
Here are time codes for easy referencing while listening to the podcast.