CHARLOTTE, N.C. — The noise carries through the closed doors. Laughter, shouting and squealing.
The sound is tempered when the children are aligned and head into a rec room with pool tables, air hockey tables and couches. They are told to be quiet to hear the guest. Then the noise rises when Kyle Larson unveils a variety of gifts, on behalf of sponsor Target, to the Salvation Army Boys and Girls Club in Northeast Charlotte.
Wednesday's visit by Larson is part of a year of charitable efforts he and Target have focused on children. They provided toys to those affected by floods in Southern Virginia, delivered backpacks and school supplies in Darlington, South Carolina, and visited two Dallas schools to donate gift cards and books in support of Texas Motor Speedway's Speeding to Read program.
As a father — son Owen turns 2 on Dec. 22 — such causes have extra meaning for Larson.
"With having Owen, it gives me another respect when I come here to do things like this,'' said Larson, who was joined by Owen and girlfriend Katelyn Sweet.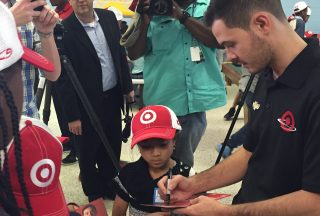 The club that Larson visited is one of eight in the Charlotte area that provides a safe place for children to play.
Will Johnson, a front tire carrier for Larson's team who also helped pass out gifts, attended such a club from ages 7-14 when growing up in Charlotte. He still talks about meeting members of the Harlem Globetrotters when they visited his club years ago.
For Larson, being around children is special because of Owen.
Larson admits parenthood provides something new every day.
"Owen knows words and stuff, but he gets so wrapped up in one word that he kind of get obsessed with it,'' Larson said. "Water and balls and have been his favorite things to say. Over the last couple of weeks he's really been starting to repeat a lot of words that we say. He's learning a lot. Not too long he'll be saying sentences.''
Larson, who is 24 years old and coming off his first season competing in NASCAR's Chase, said having Owen has helped him.
"I think it helped me grow up faster, kind of mature quicker,'' Larson said. "I don't play video games anymore, I wake up early, go to bed semi-early. You find a whole new responsibility level taking care of this child.
"You've got to learn a different language. I feel like I'm bilingual now. I can speak baby and interpret what he's trying to tell me.
"Everybody says that first year is a lot work and it is but it is easier. When they turn a year old, it's like gosh, I don't know if I have enough energy for this. He's got a ton of energy.''
Owen will be busy with his family this holiday season. They'll go to California for about a week and Larson will compete in an outlaw kart race before heading to Australia to drive in four sprint car races. He'll return to the U.S. to race in the Chili Bowl in January. He won't drive in the Rolex 24 at Daytona. He anticipates running about 25 sprint car races in 2017 along with his NASCAR duties.
"It's my relaxation, my vacation,'' Larson said of racing on dirt.