NBC Sports' NASCAR analyst Kyle Petty will be the featured speaker for next week's second annual Kulwicki Driver Development Program awards banquet.
The banquet will be held Dec. 14 in the Speedway Club at Charlotte Motor Speedway.
"Kyle had a very special and unique relationship with Alan (Kulwicki) and it promises to be a fun and memorable night," said Tom Roberts, executive director of the KDDP. "I can't think of a more appropriate way of celebrating a fantastic sophomore year for our organization on what would have been Alan's 62nd birthday."
Despite different personalities, Kulwicki and Petty became fast friends on the Winston Cup circuit.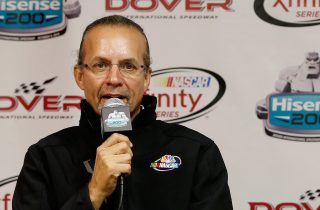 "Alan and I couldn't have been more different if we tried to be personality-wise," Petty said. "He was quiet and reserved; I was loud and flamboyant.
"I think that's why we got along so well. He was probably one of the most focused individuals I've had the pleasure of knowing. Everything he did was focused on racing, his car, winning races and building a competitive team. In the end, that's exactly what he did."
Kulwicki was tragically killed in a plane crash less than five months after winning the 1992 Winston Cup championship at Atlanta Motor Speedway.
The banquet will also include presentation of the Kulwicki Cup trophy and a check for nearly $55,000 to 2016 KDDP champion Alex Prunty, a Wisconsin native like Kulwicki.
The event will be streamed live online on www.Speed51.com starting at 7 p.m. ET. Speed51.com's Bob Dillner will serve as the event's emcee.
Click here for more information on the Kulwicki Driver Development Program.
Follow @JerryBonkowski