Another year is over. Another chance to go through the photos I took this year on the circuit and look back upon my favorite ones. Here's just a few of those that stand out from the 2016 NASCAR Sprint Cup season.
I like this one a lot because it shows the joy Matt DiBenedetto and his family experienced after his career-high sixth-place finish at Bristol. The family moved from California to North Carolina years ago, in part, to help further their son's racing career. They've been through ups and downs and DiBenedetto has had his share of start-and-park rides. But at Bristol, he took advantage of being in the right lane on some late restarts and climbed to a top-10 finish. Afterward, his family, including his brother who was on leave from the military, celebrated as if Matt had won the race.
When people look back on 2016, many will look back on what was missed – Dale Earnhardt Jr. His last race of the year turned out to be July 9 at Kentucky. Earnhardt missed the rest of the season as he recovered from a concussion. Fans missed him throughout the year. I saw this note written on the pit wall for the No. 88 team at Indianapolis Motor Speedway. It kind of summed up how many fans felt this year.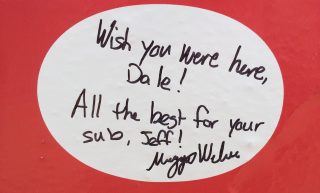 I like the below photo of Matt Kenseth because it's just Matt being Matt.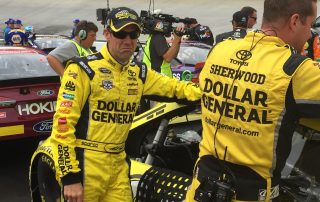 Got to love the pants the crew for Tony Stewart wore at Darlington Raceway for the Southern 500 throwback uniform. One of the best outfits of the weekend.
Ryan Newman and Tony Stewart after NASCAR told them to play nice after their Richmond incident.
One of my favorite pictures of the year. Jimmie Johnson in a quiet moment with his daughter before a race.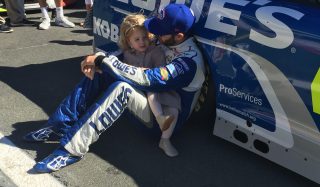 Another photo I really liked. William Byron had just suffered a heart-wrenching defeat at Phoenix in the Camping World Truck Series race. Byron was leading when his engine failed in the final laps and he failed to advance to the title race in Miami. As he walked down pit road toward an area to do interviews after the race, I caught this scene of a competitor offering his condolences to Byron on his tough break.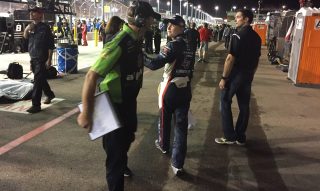 This about says it all.