In an era of parity in professional sports, Jimmie Johnson's seven NASCAR championships in 11 years ranks as among the most dominant dynasties in decades.
In one sense, it does seem a bit unusual to consider Johnson's No. 48 Hendrick Motorsports team a dynasty when it has won only two of the last six Sprint Cup titles. Even that can nearly rank as a dynasty in this era among NFL, NBA, NHL and Major League Baseball teams.
The NFL has crowned eight consecutive different Super Bowl champions. The Chicago Cubs were the fourth consecutive different team to win the World Series. The NBA has had four consecutive different champions. The NHL has had three consecutive different champions.
Add Johnson's five titles in a row from 2006-10 to the two he's won since and his total of seven in just more than a decade makes a greater case for his team's placement among sports dynasties.
The closest an NFL team has come to such dominance in the Super Bowl era was the Pittsburgh Steelers winning four Super Bowls from 1975-80.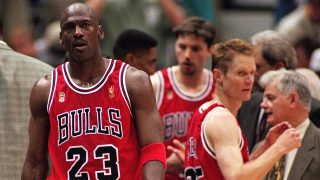 In the NBA, the Chicago Bulls won six of eight titles from 1991-98.  The only two years they didn't win the championship was one season Michael Jordan missed playing baseball and another season where he didn't return until late in the year. The Boston Celtics won a record eight in a row and 11 of 13 from 1957-69.
In Major League Baseball, one has to go back to the 1950s to find a team that won as many titles as Johnson in less time. The New York Yankees won seven championships from 1949-58. Two of the three years they didn't win the title, the Yankees played in the World Series.
The NHL's Montreal Canadiens won the Stanley Cup five consecutive years from 1956-60 and four consecutive times from 1976-79. The New York Islanders followed by winning four consecutive years from 1980-83.
For a more recent comparison, the Connecticut women's basketball team comes close to Johnson with six titles in the past eight years, including four in a row.
College football could see the continuation of a dynasty with Alabama having won four of the last seven championships and ranked No. 1 this season.
Other sports or other divisions have longer streaks, but as time passes, Johnson's stretch grows more impressive.