Former FBI agent Christopher Davis has been named the new Managing Director and Chief Security Officer for both NASCAR and International Speedway Corporation, it was announced Wednesday.
Davis is a highly-decorated FBI veteran who served in a number of roles before retiring, including assistant agent-in-charge of the Tampa and Orlando, Florida offices, as well as a Inspector.
Davis is a New Jersey native who briefly played in the NFL before joining the FBI.
"With his broad experience and proven success as a leader at every level, Chris is exactly the right fit to oversee the very complex security and risk management operations for our sport," NASCAR Vice Chairman Mike Helton said in a media release. "His involvement with the Olympics, multiple professional and college sports championships and other mass gathering events makes him the ideal choice to evolve and implement full-spectrum security strategies for our events, facilities and business."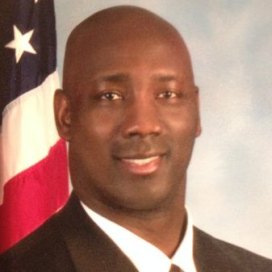 During his FBI career, Davis oversaw security and emergency preparedness operations for numerous high profile events and venues, particularly in the sports world.
Among those were:
Sector Commander of the 2002 Winter Olympic Games in Salt Lake City; directed the FBI's security detail for Super Bowl XLIII, the 2008 World Series and NBA Finals, the 2012 NBA All-Star Game and Weekend, and the 2012 Republican National Convention. He also served as Supervisory Special Agent of the Los Angeles Joint Terrorism Task Force and oversaw security and contingency planning for the 2010 G-8 Summit in Canada.
Per a media release, Davis' role with NASCAR and ISC will include leading "strategy development and execution for corporate, facility and event security, working closely with international and federal, state, and local law enforcement agencies on behalf of fans, venues, teams, and infrastructure."
Follow @JerryBonkowski