An era came to an end on Monday at Roush Fenway Racing when it was announced that the team and Greg Biffle had mutually agree to part ways.
The announcement ended a relationship between the two that began back in 1998. Biffle was the longest-tenured driver to ever serve the Jack Roush-owned team.
The native of Vancouver, Washington, competed for Roush in 14-full-time Sprint Cup seasons, but his time with organization began in the Camping World Truck Series.
Here's a look back at some of the memorable moments from Biffle's tenure with Roush.
Jan. 18, 1998: Chevy Truck Challenge at Walt Disney World Speedway – At 28, Biffle makes his debut with Roush Fenway Racing in the then Craftsman Truck Series driving the No. 80 Grainger Ford. Biffle start 20th and finished fifth in the race won by Ron Hornaday Jr.
April 25, 1998: Craftsman 200 at Portland Speedway – Biffle starts from his first NASCAR pole and leads two laps. After being involved in a six-truck accident on Lap 28, Biffle finishes 26th. He would earn four poles in 1998, with three straight at Memphis, Gateway and Martinsville.
Nov 8, 1998: Sam's Town 250 at Las Vegas Motor Speedway – Biffle ends the Truck season eighth in points with eight top fives, 12 top 10s and the title of Rookie of the Year.
May 8, 1999: Memphis 200 at Memphis Motorsports Park – Pole-sitter Biffle leads 74 laps and wins his first NASCAR Truck Series race, beating out a kid from Bakersfield, California, named Kevin Harvick. Biffle win nine races in 1999, including back-to-back races three times. He finishes second in the point standings to Jack Sprague.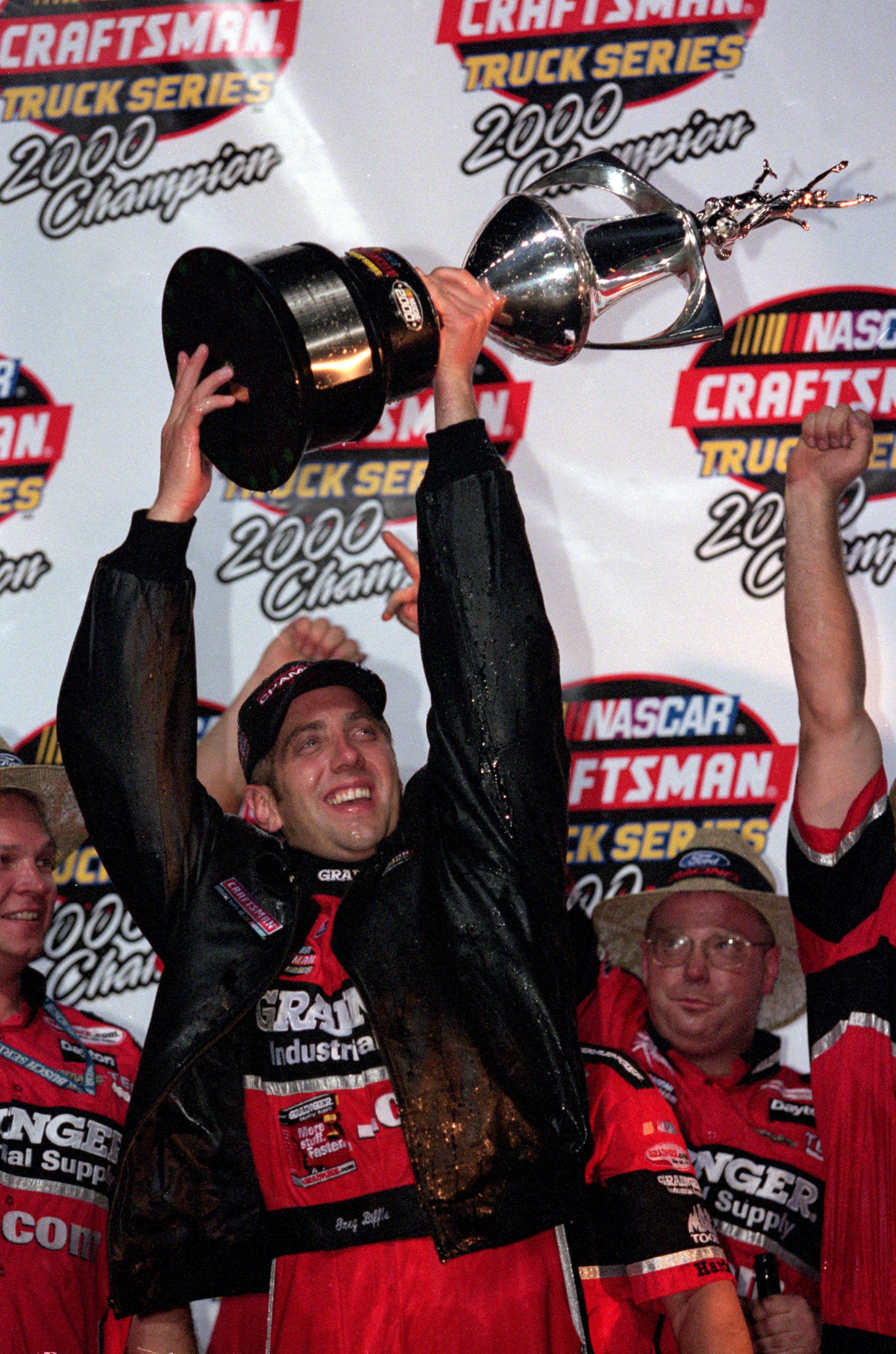 Oct. 28, 2000: Motorola 200 at Auto Club Speedway – With a fifth-place finish Biffle clinches the Truck series title, giving Roush its first NASCAR championship in any series. Biffle won five races and earned 18 top fives and top 10s.
Feb. 17, 2001: NAPA Auto Parts 200 at Daytona – Biffle makes his first Busch Series (now Xfinity) start with Roush (he made two starts in 1996). In the No. 60 Grainger Ford, Biffle starts 24th and finishes 22nd in a race won by Randy LaJoie.
April 14, 2001: Pepsi 300 at Nashville Superspeedway – Biffle starts fourth, leads 133 laps and finished ahead of Jason Keller and Scott Wimmer to win his first Busch Series race. He won five races and finished fourth in the point standings.
In victory lane, Biffle said "I hope I didn't let Mark Martin down, it took this many races to get the 60 back in victory lane."
April 28, 2002: NAPA Auto Parts 500 at Auto Club Speedway – After failing to qualify for the Daytona 500, Biffle makes his Winston Cup debut driving the No. 16 for Roush. He starts 29th and finishes 13th. Sixteen races later at Richmond, he leads his first 12 laps. He makes six more starts in 2002 for Petty Enterprises and Andy Petree.
Nov. 16, 2002: Ford 300 at Homestead-Miami Speedway – Biffle led the Busch Series point standings for the final 16 races of the 2002 season after winning four races and earning 20 top fives and 25 top 10s. He gave Roush its second NASCAR championship ever.
Feb. 16, 2003: Daytona 500 – Biffle makes his first start in the "Great American Race," rolling off 27th and finishing 21st in his first race as a full-time Cup driver.
July 5, 2003: Pepsi 400 at Daytona: After starting 30th, Biffle leads the final 21 laps after taking the lead from Jimmie Johnson and wins his first Cup race in just his 23rd start. It's his only win of the season and his only points win at Daytona.
2005: Biffle wins six races on the way to finishing second in the point standings. It's the highest place he finished in his 14 seasons with Roush. The highlight is winning the Southern 500. Biffle starts third, leads 176 laps and beats seven-time Darlington winner Gordon after a late restart that saw Biffle pass Ryan Newman with two laps to go. It's his first of two straight Southern 500 victories.
June 16, 2013: Quicken Loans 400 at Michigan International Speedway – After starting 19th, Biffle leads 48 laps and earns his 19th and final Cup win with Roush Fenway Racing. It is the 1,000th win for Ford in NASCAR.
Nov. 20, 2016 – Biffle makes his 510th Cup start in the Ford EcoBoost 400 at Homestead-Miami Speedway. He begins 21st and finishes 17th. The next day, after three winless seasons and two straight years without making the Chase for the Sprint Cup, Roush and Biffle announce they are parting ways.