There will be a hint of sadness when Tony Stewart exits his Sprint Cup car for the final time Sunday night, but those feelings will belong to his fans not Stewart.
He'll feel relief.
Beaten by bureaucracy and suffocated by success, Stewart is ready to leave NASCAR and all its rules behind. No longer will he be the voice of the garage, a position inherited from Dale Earnhardt and bequeathed to Brad Keselowski, Denny Hamlin and others willing to challenge the sport's leadership.
Now Stewart can have fun.
When he looks ahead to the dirt track racing he'll do in 2017, his eyes brighten in a way they rarely have the last few years. NASCAR was his job — a well-paying job with career winnings of more than $122 million entering this season — but it was a job.
He often wanted to be driving to a dirt track in the middle of nowhere, plopping out of the truck in shorts and a T-shirt, climbing into a sprint car that sent him sliding through the corners and finishing the night with a beer in hand, more in the cooler and BSing with the same competitors he'd covered in a rooster tail of dirt.
Then he would head to the next track to do it again.
Thing is, Stewart was too good for that nomadic lifestyle where the highlight is finding a good diner at 3 a.m.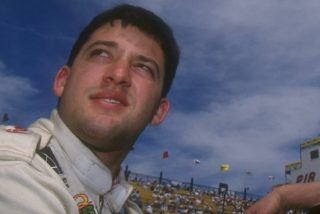 He was talented enough that he didn't need to approach car owners with money for rides. The best teams wanted him. Many observers called Stewart a wheelman, one of the highest compliments a racer can receive. 
They wanted him in IndyCar and NASCAR. He found his way to NASCAR after a recruitment that a high school football star could appreciate.
Baby-faced and thin, Stewart tried to rein his temper in NASCAR but couldn't. It grew as his success and appetite for pizzas and Coke did. He became the sport's rabble-rouser and its conscience. There's always at least one. Before him it was Earnhardt.
That's not to say Stewart was Earnhardt. It's just that Stewart was the closest thing to the seven-time champion in attitude. Stewart was the one most likely to speak up when he didn't feel NASCAR gave drivers the proper respect.
Five years after Earnhardt's death in the Daytona 500, Stewart voiced his anger at NASCAR in a sharp rebuke. Incensed at the bump drafting in a preliminary race at Daytona, Stewart said that "we're probably going to kill somebody'' with that type of racing and added "it could be me. It could be Dale (Earnhardt) Jr. It could be anybody out there.''
The comments were dramatic even when one didn't consider the backdrop, but drivers supported Stewart. Less than 48 hours later, NASCAR said it would further police bump drafting.
Even now, Stewart can tug at NASCAR, questioning its methods and incurring change.
Before the season, Stewart chastised NASCAR Chairman Brian France for not having attended a Sprint Cup Drivers Council meeting. France went to one a few months later.
Stewart challenged NASCAR in April on safety when it allowed teams to tighten fewer than five lug nuts per wheel, leading to a spat of loose wheels. NASCAR fined Stewart $35,000 the next day and changed the rule five days later.
Stewart can be most effective or annoying at such moments, but he admitted in September that he's tired of fighting NASCAR.
"I can sit here,'' Stewart said, grabbing his phone in a conference room with reporters in the NASCAR Plaza, "and I can pull up stuff on this phone that would make you cringe about the sport that drivers talk about.
"There's 39 of these guys that 99 out of 100 times won't say a thing about it to you guys or to NASCAR or anybody else. I'm the one guy that most of the time will go, 'Man this is a bad thing to talk about, I shouldn't talk about it,' but I'll get pissed off enough about it to talk about it because I believe it's worth talking about.
"That's part of the reason I'm retiring because I'm tired of being responsible for it. It's somebody else's responsibility now. I've had my fill of it. I've had my fill of fighting the fight. At some point, you say, 'Why do I keep fighting this fight when I'm not getting anywhere?' ''
Don't be confused. That hard exterior hides a softer side. Stewart often is among the first to check in when someone in the sport is hurt or in need. It could be a Facebook message, text or a call. He's offered his plane countless times to families of injured drivers so they can get to the hospital as soon as possible. After Bryan Clauson, an open-wheel driver, died in a crash this year, Stewart paid more than $30,000 at a charity auction for one of Clauson's helmets and then gave the helmet to Clauson's fiancee.
"I think that in front of everybody he's plays his hard shell tough guy and wants everybody to sort of be weary … of him, but behind closed doors he is a bit more of a teddy bear than I think people know,'' Dale Earnhardt Jr. said.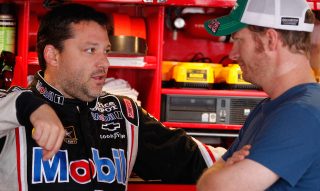 Stewart and Dale Earnhardt Jr. share a bond, a reverence for racing. Earnhardt embraces NASCAR's past, and Stewart respects the hard-scrabble life drivers had before him. Earnhardt has his collection of racing artifacts from cars to magazines; Stewart's prized possessions include more than 200 racing helmets.
Earnhardt and Stewart share more than a respect of racing's history.
They share Feb. 18, 2001.
Stewart's car tumbled down the backstretch that day in the Daytona 500, sending him to nearby Halifax Medical Center. He suffered a concussion and bruises.
After X-rays and a CT scan, Stewart was wheeled into a room where doctors tried revive another patient.
It was Dale Earnhardt.
Stewart was quickly moved to another room. He found out the fate of one of the sport's biggest stars before NASCAR's Mike Helton told fans "we've lost Dale Earnhardt.''
On a day that Dale Earnhardt Jr. lost his father, Stewart lost a hero.
Stewart has experienced loss often. Less than a year earlier, the death of a rival shook Stewart. He had raced Kenny Irwin throughout dirt tracks in the Midwest. They became rivals. At times heated. That carried over to when they both raced in the Sprint Cup level. Stewart memorably threw his heel guards and leaned into Irwin's car as it slowly drove by after Irwin punted Stewart into the wall at Martinsville.
Irwin died in a crash July 7, 2000, at New Hampshire Motor Speedway. Stewart won the Cup race two days later. He gave Irwin's parents the trophy. Years later, Irwin's mother cried, when she recounted Stewart's generosity.
Another driver's death affected Stewart in a different way. Competing in a sprint car event the night before the 2014 Watkins Glen race, Stewart ran side-by-side with Kevin Ward Jr., a 20-year-old New York racer. Ward's car bounced off the guardrail and spun. He climbed from his car and walked down the track to gesture at Stewart when Stewart's car struck him. Ward was pronounced dead 45 minutes later.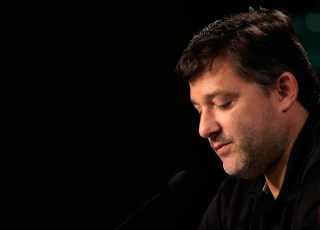 Stewart says it was an accident.
After hearing from about two dozen witnesses, a grand jury needed less than an hour to decide not to charge Stewart for Ward's death. Nearly a year after the accident, Ward's family filed a wrongful death lawsuit against Stewart. The case has yet to go to trial.
Stewart sat out three Cup events after Ward's death before returning to the driver's seat.
"It's not something that goes away,'' Stewart said six weeks after the incident. "It will never go away. It's always going to be part of my life the rest of my life.''
That Stewart returned to racing is no surprise. Racing has been all he has known. He was 2 months old when his parents put his baby carrier in the seat of a go-kart. At age 2, he placed a tupperware bowl on his head for a helmet and scooted throughout the house on his plastic motorcycle. By age 5, he was circling the garage in his Big Wheel.
Racing was with Stewart even as he slept.
"I dreamed about winning the 24 Hours of Le Mans, the Indy 500, the Daytona 500, the Knoxville Nationals,'' he once said. "You name it, I wanted to win every big race in every big division.''
His NASCAR career will end without a Daytona 500 win. He never won an Indianapolis 500, either, but he won the Brickyard 400 at Indianapolis Motor Speedway twice. He's never won the Knoxville Nationals as a driver but has won it 10 times as an owner since 2001.
What he has won is 49 Cup races — including one this year at Sonoma Raceway — and three championships.
No period marked Stewart's greatness like the 2011 Chase. He entered winless and grumpy, saying a few days before the playoffs began he didn't think he had a chance to win it. Then he won five of the 10 Chase races, dueling Carl Edwards on and off the track.
After his Martinsville win, Stewart said in victory lane: "(Edwards) better be worried. He's not going to have an easy three weeks.''
Stewart said more the following week when he won at Texas. Edwards finished second. After his press conference, Edwards doodled a goatee on Stewart's face on a poster. Stewart saw it and was told Edwards was responsible. Stewart responded by writing a message to Edwards on the poster: "Told you so.''
Stewart's pestering continued in a press conference three days before the season finale. Edwards tried to match Stewart but couldn't. When things are going well, few can banter as well as Stewart.
He can be just as entertaining on the radio. One of his favorite phrases to say on the team's radio was "Here kitty, kitty, kitty" as he closed on the leader. When he had to pit early in that 2011 Homestead finale after running over debris and falling to 40th, he calmly told his crew: "They're going to feel like (crap) when we kick their ass after this.''
Such boasts have not been heard on the radio in recent years, as Stewart's triumphs declined.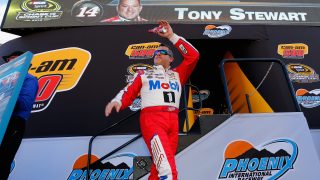 A frustrating 2013 ended that August when he suffered a broken leg in a sprint car crash, forcing him to miss the rest of the season. The following year saw more struggles before his incident with Ward.
Last season, Stewart scored a career-low three top-10 finishes. He missed the first eight races of this year because of a back injury suffered in a sand dunes injury in January. Even with this year's win at Sonoma, he enters his final Sprint Cup Series race with nearly as many finishes of 30th or worse (seven) as top-10 results (eight).
Stewart will not leave as the same driver who won Sprint Cup Series titles in 2002, '05 and '11 but few ever leave as they enter.
When he arrived, he was swarmed by fans and media as the sport's hot rookie who drove for car owner Joe Gibbs. Stewart later said there's no manual on how to adjust to the sport's demands and admitted he failed to handle those at times. Some fans who liked his brash style, soon tired of his antics and cheers turned to boos.
While there remain those who will never root for Stewart, the cheers have grown louder these final weeks in the series. His teammate, Kevin Harvick, recently decried that Stewart wasn't receiving the accolades he deserved in his final appearances at tracks.
Stewart, though, did not want the tributes Gordon received last year and Dale Earnhardt surely would have had. Stewart has rebuffed many attempts to honor him.
Stewart didn't want pity. He wanted cheers when he deserved them, as he did at Sonoma.
Most of all, Stewart just wanted to race. That's all he's ever wanted to do.