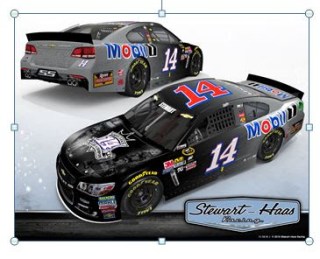 Tony Stewart's final Sprint Cup race is five days away and Stewart-Haas Racing has revealed the paint scheme he will drive in the Ford EcoBoost 400.
The No. 14 will have a dark gray, smokey look to it. On the hood will be Stewart's farewell season logo with the phrase  "Always a Racer, Forever a Champion.
The logo will be joined by pictures highlighting major moments from Stewart's racing career.
Sunday's race will be Stewart's 618th start in the Sprint Cup Series and comes 18 years after his first start, in the 1999 Daytona 500.
MORE: Smoke Stories: Friends, Foes recall favorite Stewart moments