Carl Edwards' rain-shortened win at Texas guaranteed our second title contender, but it made the overall Chase picture for Homestead even more confusing.
That's because Edwards was a dark horse to make it in. He's reduced the opportunity for a stronger driver to advance, leaving a lot of good guys on the outside looking in.
We know that only two of these five top-quality drivers can transfer after this weekend at Phoenix International Raceway: Kyle Busch, Joey Logano, Kevin Harvick, Denny Hamlin, and Matt Kenseth. Three of them are definitely going to be out. The computer model is leaning slightly toward Busch and Logano. Busch is the only one with a chance above 50 percent. Nobody in this group is a guarantee – not even close.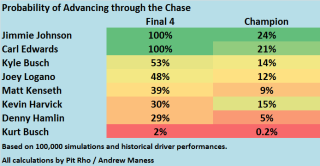 Consider this fact to see how up-for-grabs these last two spots are: There is only a 25 percent chance that Busch and Logano will be the two who actually make it. That means there's a 75 percent chance somebody from the lower group is going to break in.
Harvick in particular is intriguing. He's way behind on points (17 behind the cut line), but his 29 percent chance to advance is almost entirely due to a 28 percent chance of winning Phoenix. Harvick only has a 1 percent chance to get in on points, effectively putting him in a win-or-bust scenario.
"There's no doubt Harvick goes into Phoenix as the favorite," said Josh Browne, former Sprint Cup crew chief and current co-founder at Pit Rho. "We don't need advanced analytics to tell us Harvick has dominated at this track. Unfortunately, our model also doesn't yet account for driver paybacks – and I would be surprised to see Harvick make it through Phoenix without a bump or two from the 3 car" because of an incident last week at Texas.   
The one driver we haven't yet mentioned: Kurt Busch. He's truly an outlier. He's far back on points and isn't considered as much of a threat to win. That's why he only has a 2 percent chance to advance. If you are Jimmie Johnson or Edwards, he's the guy you want to somehow get in, because you'd hope he'd be less of a threat at Homestead than anybody else.
HOW THE PREDICTIONS WORK
With the help of Andrew Maness from racing analytics firm Pit Rho, we ran the numbers to show every driver's shot of moving through each round of the Chase. The mathematical model was designed by both Maness and me, using past driver performance to predict future results. By running 100,000 simulations of how the rest of the season might play out, we see the most likely outcomes.
Eric Chemi runs data journalism for our sister network CNBC, including a heavy dose of sports analytics. Prior to that, his NASCAR forecasts have been on Sprint Cup television broadcasts, and he has consulted for Sprint Cup teams on strategy, statistics, data, and analytics. He graduated with an engineering degree from MIT.