Now that we've made it past the craziness of Talladega, we can get back to more accurately forecasting how the rest of the Chase is going to play out.
The big news is the elimination of Brad Keselowski. He had started the Chase as the second biggest favorite to win the title. With him gone, Kevin Harvick now has a huge lead over everybody else, in terms of the odds of advancing and winning.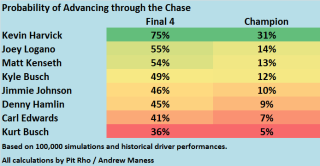 Beyond Harvick, almost every other driver has about a coin flip's chance of making it to Homestead. Remember, if the races were completely random and every driver was completely equal, that column on the left would show everyone with a 50/50 shot of advancing. What we see in reality is something very close to that, almost every driver between 41 and 55 percent.
Those numbers are based on historical results. That means the majority of the drivers left in the Chase are evenly matched against each other. Matt Kenseth, Kyle Busch, Denny Hamlin, and Carl Edwards are all in that coin-flip group – all four of them are Joe Gibbs Racing teammates.
One crazy concept to watch: There is a five percent chance for the entire JGR team to advance to Homestead.
And take a look at Jimmie Johnson, who seemed to have a lot of momentum after his win a couple weeks ago. Our model has never fully gotten behind him yet, giving him only the fifth best odds, less than a 50 percent chance to advance.
"While the odds are close to 50/50, the current model has Hamlin and Johnson on the outside looking in after this round," said Josh Browne, former Sprint Cup crew chief and now co-founder at Pit Rho. "There's no doubt that this weekend's race at Martinsville is likely the best opportunity for one of these two cars to grab the checkered flag."
HOW THE PREDICTIONS WORK
With the help of Andrew Maness from racing analytics firm Pit Rho, we ran the numbers to show every driver's shot of moving through each round of the Chase. The mathematical model was designed by both Maness and me, using past driver performance to predict future results. By running 100,000 simulations of how the rest of the season might play out, we see the most likely outcomes.
Eric Chemi runs data journalism for our sister network CNBC, including a heavy dose of sports analytics. Prior to that, his NASCAR forecasts have been on Sprint Cup television broadcasts, and he has consulted for Sprint Cup teams on strategy, statistics, data, and analytics. He graduated with an engineering degree from MIT.