TALLADEGA, Ala. — A NASCAR executive says that it would be "unlikely'' that Martin Truex Jr.'s team faces a points penalty for an improper left front jackscrew but added that officials will "go through our process.''
Scott Miller, NASCAR vice president of competition, discussed the issue with Truex's team and with three Joe Gibbs Racing cars Saturday at Talladega Superspeedway.
NASCAR confiscated the left front jackscrew from Truex's car in inspection before qualifying. Crew chief Cole Pearn said the team mistakenly used the wrong jackscrew, noting the other corners of the car were correct.
Truex won the pole for Sunday's race.
Asked about a possible points penalty to Truex's team, Miller said: "I would say it would be unlikely but it has to go through our process. We don't typically do that on a weekend. Because it is the playoffs, everyone has a heightened sense of everything. This is no different than things we have done all year, and we will treat this one like we do all year long.''
Sunday's race will trim the Chase field from 12 to eight. Although NASCAR typically does not determine penalties until later in the week, questions could remain on who the eight title contenders are if Truex leaves Talladega with a small margin over the first car that fails to advance.
So could NASCAR complete its "process" before the race begins?
"We don't have any precedent for doing that,'' Miller said. "We will be circling up and trying to figure out the best way to proceed from this moment forward until (Sunday's) race.''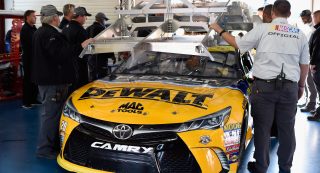 Miller also said that the cars of Denny Hamlin, Kyle Busch and Matt Kenseth had to go back to the garage before making their qualifying attempt because the right-rear quarter panels "appeared to have been messed with around the deck lid.''
Miller said the infraction "wasn't big, it never is. Again, we pride ourselves in doing a good job. It doesn't have to be big to be an infraction. It just has to be fair for everybody and that's what we strive to do.''