Matt Tifft's first sports love is auto racing. But the Ohio native is a loyal fan of Cleveland's sports teams.
Tifft, 20, was raised in Hinckley, a suburb of the city that is home to the NFL's Browns, the NBA's Cavaliers and MLB's Indians.
"Our weekends growing up, for me, you watch the race and you watch the Browns," Tifft told NBC Sports back in September. "That's just what you did."
But born in 1996, Tifft had never experienced a title by any of those teams before this year.
The city itself hadn't won one in 52 years.
"The sports teams there mean a ton more than they would anywhere else," Tifft said. "Just cause it's a very sports depressed town. The things that have happened there over time, everybody there bonds over sports. It's a bigger deal than a lot of other places because there's not a lot else to do."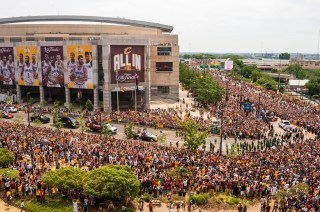 The five decades of misery ended in June when the Lebron James-led Cavaliers defeated the Golden State Warriors in seven games.
The feat took place on June 19, the same day Tifft was originally scheduled to compete in a Xfinity Series race at Iowa Speedway. But the Joe Gibbs Racing driver sat out the race for a disk problem in his back, a condition that resulted in the discovery that Tifft had low-grade brain tumor. The tumor was surgically removed on July 1 and Tifft is already back racing.
The Cavaliers' victory and the resulting parade turned the streets of Cleveland into a sea of humanity the city had never seen before.
"That was awesome," Tifft said. "That was cool. I was down here (in North Carolina). I wish I could have been up in Cleveland to see that and see the parade when they had 1.3 million people out in the city, that was just insane."
But the sports highs aren't over yet for Tifft and the other Cleveland faithful.
On Wednesday, the Indians completed a 4-1 series win over the Toronto Blue Jays in the American League Championship Series, advancing to their first World Series since 1997.
Tifft was just a year old then. But the Indians would provide him with his most emotional non-racing sport experience a few years later.
"I remember going to a Cleveland Indians game when I was probably 8 or 10 years old or something like that," Tifft said. "We go to a lot of the Indians games. It was a game that my dad and I were at. They were playing the Detroit Tigers and it was the bottom of the ninth inning and I think they were losing six runs or something impossible to get. I think they hit a couple of home runs in a row and ended up winning. I remember it was really cool."
That moment might have been topped for Tifft when the Indians clinched their World Series spot. But unlike the Cavaliers' championship run, Tifft has gotten to experience a piece of the Indians' title bid.
Now the Indians and their faithful wait to find out who they'll face in the World Series. The Indians, who haven't won a title since 1948, will play either the Chicago Cubs, who are without a title since 1908 and haven't been to a World Series since 1945 or the Los Angeles Dodgers, who haven't been to a World Series or won one since 1988.
The only thing missing from Tifft's Cleveland sports bliss is his Browns. The AFC North team has never been to a Super Bowl and is 0-6 so far this season.
"When you're a Browns fan, you don't remember anything good because nothing good ever happens," Tifft said.
But the Ohio native is ready for when that day comes.
"Whenever the Browns make it to the playoffs or the Super Bowl … I may be dead by the time that happens," Tifft said. "But if that happens, I will be there."