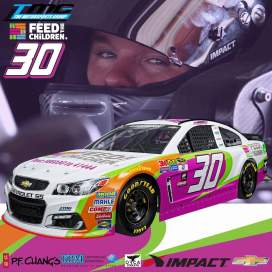 Gray Gaulding, an 18-year-old with 15 national NASCAR series starts, will make his Sprint Cup debut next weekend at Martinsville Speedway.
Gaulding, who has two Xfinity and 13 Camping World Truck Series starts, will make his debut in the No. 30 car for The Motorsports Group before also driving it at Phoenix and the season finale at Homestead-Miami Speedway. The No. 30 has been driven by Josh Wise in 27 races this season.
The No. 30 will be sponsored by Feed the Children, a non-profit relief organization.
"It's exciting bringing a new partner into the series and to be making my NASCAR Sprint Cup Series debut at a track like Martinsville (Speedway) where we've had a really good history in the past is honestly unfathomable," Gaulding said in a press release. "I'm excited to partner with Feed the Children and use NASCAR as a platform to deliver our message and work to create a world where no child goes to bed hungry. A lot has happened in a short period of time but I've never been as excited to debut this beautiful Feed the Children car next week at Martinsville Speedway."
Gaulding, a native of  Colonial Heights, Virginia, has started at Martinsville four times in the Truck Series. His best result is 14th.
In 13 Truck starts, he has one top five at Canadian Tire Motorsport Park in 2014.
Gaulding has one win in a NASCAR national or touring series, a victory in the K&N Pro Series East at Phoenix in 2013.