Kevin Harvick's biggest challenge was simply advancing to the next round, and if he could do that, he would immediately go right back to being the title favorite. It's what we talked about previously, and that's what we did.
When the Chase started, Brad Keselowski had the second-best chance at the title. But now he finds himself on the outside looking in. The story is the same with him. He only has a 31 percent chance of advancing past Talladega, but if he can do it, his title odds will jump back up to double digits. His bottleneck right now is this weekend, not the future races.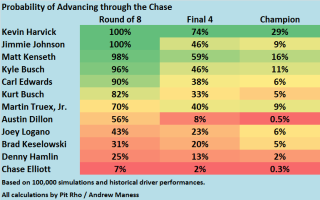 Look at Matt Kenseth. He's well ahead on points, but he only has a 98.3 percent title chance of making it. It's high, but it's not 100 percent. Remember we saw Jimmie Johnson fail to advance in a round last year even with a 97 percent shot.
Most of the other drivers down the list are straightforward. Talladega is random, it's crazy, and you really don't know what's going to happen. Anybody could win and advance. Anybody could crash and be eliminated.
Because it's Talladega there's at least a 70 percent chance that our current group of eight advancing drivers will not be what actually happens.
The one driver that we had hard a time figuring out: Chase Elliott. Because he has such a short Cup history, we had a few options for how to model it. Do we just focus on his own Cup plate career? Do we go with a combination of his Cup and Xfinity races? Or do we go with the fact that he's taken over Jeff Gordon's seat, which had top-notch equipment and solid plate results.
In the end, we decided to use Elliott's combined Cup+Xfinity record. That gave him a 7 percent chance of advancing, but the other options could have either been 0 percent or 28 percent. He's truly the wild card because we don't know enough about him yet. In any case, he's so far back in points that he's going to have to win or hope that a lot of drivers not finish.
One minor note that hasn't been mentioned much this season. There are only 40 cars competing each week, instead of 43. That means if you crash and finish dead last, you're not as far back as you would be in the past. 40th place is only 30 spots behind the top 10, rather than 33 spots. That's a slightly better cushion for bad days. And in the case of this weekend, it helps Kenseth and Kyle Busch (who are up 29 and 27 points from the cut off).
If you're really interested, here's a chart showing the history of each driver in plate races. In his limited career, Austin Dillon has the best average finish.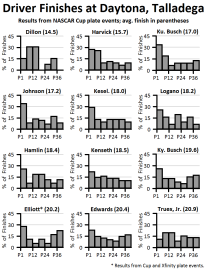 HOW THE PREDICTIONS WORK
With the help of Andrew Maness from racing analytics firm Pit Rho, we ran the numbers to show every driver's shot of moving through each round of the Chase. The mathematical model was designed by both Maness and me, using past driver performance to predict future results. By running 100,000 simulations of how the rest of the season might play out, we see the most likely outcomes.
Eric Chemi runs data journalism for our sister network CNBC, including a heavy dose of sports analytics. Prior to that, his NASCAR forecasts have been on Sprint Cup television broadcasts, and he has consulted for Sprint Cup teams on strategy, statistics, data, and analytics. He graduated with an engineering degree from MIT.